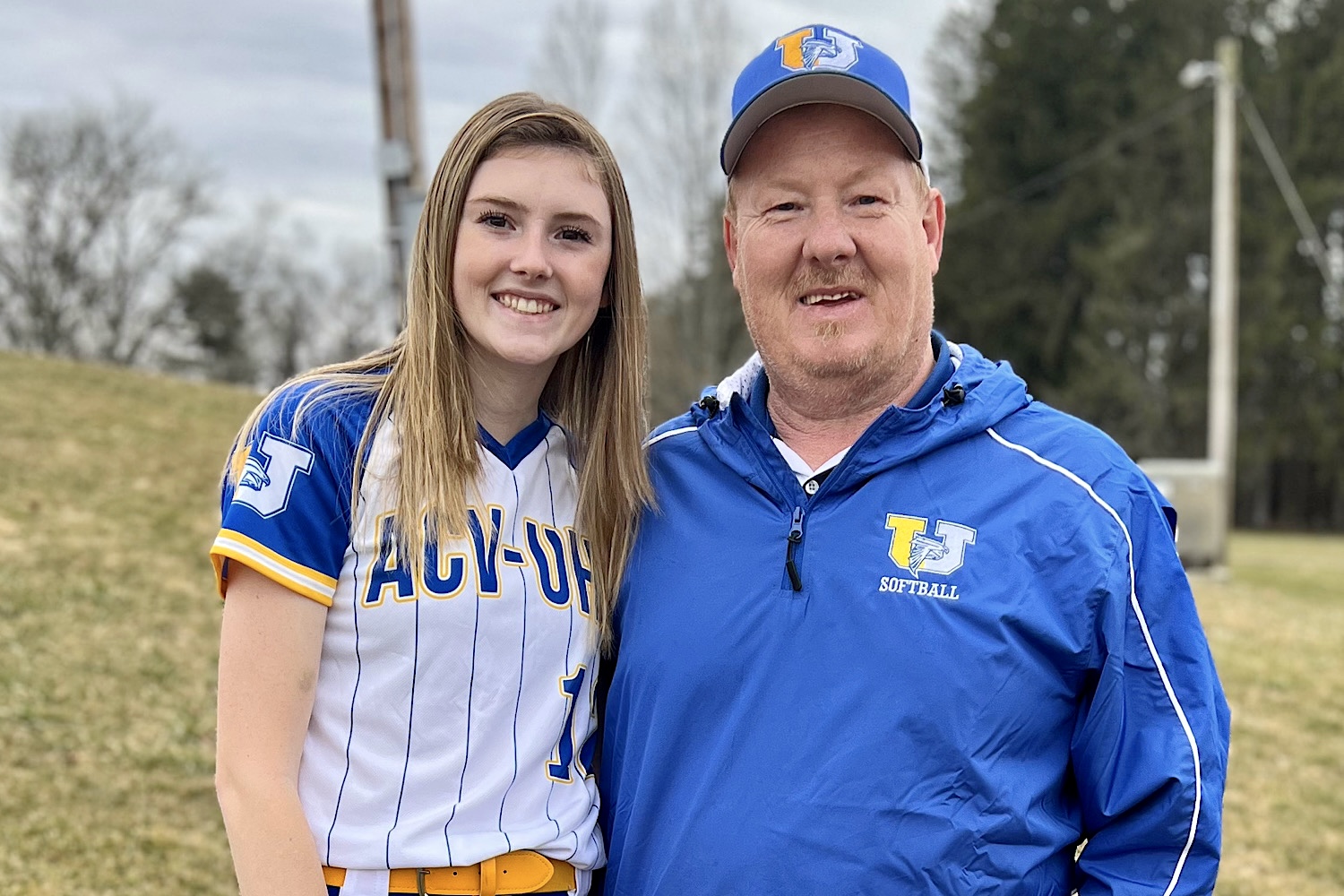 FOXBURG, Pa. (EYT/D9) — Mackenzie Parks' swing could hang in the Louvre.
It's short. It's compact. The bat whips through the zone. The softball jumps off the aluminum with the telltale ting of solid contact.
It's a work of art.
(Pictured above, A-C Valley/Union senior Mackenzie Parks with her father and head softball coach Mike Parks.)
It produces line drives and towering power. It's feared across District 9 and the Keystone Shortway Athletic Conference.
And it's allowed Parks to post some pretty big numbers the last two years for the A-C Valley senior shortstop.
Parks hopes for even bigger numbers this season for the new co-op with Union.

Redbank Valley, Keystone, and Union/A-C Valley sports coverage on Explore and D9Sports.com is brought to you by Heeter Lumber.
"I'm trying to get 100 hits (in my career)," Parks said. "That's my goal."
It's an ambitious one and one that would have been a whole lot easier to achieve had her freshman season not been a casualty of the COVID-19 pandemic.
After two seasons in which Parks batted .564 with six home runs, 14 doubles, two triples and 61 RBI in just 29 games, she's sitting at 62 career hits.
Parks knows that reaching 100 hits in her career, no matter how well she plays this season, will be tough — 38 is a lot, especially if the weather gods smite the season again with rain and gloom and limit A-C Valley/Union to just 14 or 15 games.
But to Parks, 100 hits is still a worthy goal to chase.
"It kind of just sets you apart," Parks said.
Her play has done that already over the past two seasons.
As a sophomore in her first varsity action, she hit .552 with a pair of homers and 32 RBI.
Last year, she was even better, batting .577 with four homers and a staggering OPS of 1.536.
It's come by no accident.
Parks, who also finds time to play volleyball and basketball at A-C Valley, is a softball junkie. She plays year-round, putting on the spikes and using her potent swing for one of the best travel teams in western Pennsylvania for the Pittsburgh Power.
"Basically, with my travel team, I never stop playing," Parks said. "We have practices and tournaments on the weekends. It's just constant."
And that's just fine by Parks.
With her travel team, she sees different pitching and different competition, which prepares her for the varsity season in high school.
"I learned what challenges me, what I have to work on and what I do well," Parks said. "I'm constantly working at it, seeing different things, which helps me a lot."
Parks will also pitch some for A-C Valley/Union this season.
It's not the strongest aspect of her game, but it's one she has been working on to help the team.
"I'm not a pitcher at all," Parks said, chuckling softly. "I'm trying to work on my speed so I can maybe start blowing people away and working on getting some movement. I only pitch in high school, but my travel coach is also a pitching coach and he's worked with me on some stuff, just focusing on pushing off the rubber harder and getting a faster arm circle. I'm trying the best I can."
That's the attitude of a leader, and as a senior, Parks is one as one of the team captains.
She leads largely by example.
"If I see something that I think is wrong, I will try to help them fix it, but I really don't like to tell people what to do," Parks said, pausing to chuckle again. "Some people don't like that."
Parks is hoping to play at Clarion University next year.
She will attend the school to study nursing and was being recruited by the former coach, Lis Fee, before she left after last season.
No matter what her future holds, Parks is determined to keep playing.
"Things are iffy right now," Parks said. "The coach who actually came to see me play and was in the process of recruiting me quit. They have a new coach there, so I have to do a tryout. I want to play. I'll play anywhere if they want me."
This is one in a series of articles highlighting some of the best returning baseball and softball players across District 9 for the 2023 season.

Redbank Valley, Keystone, and Union/A-C Valley sports coverage on Explore and D9Sports.com is brought to you by Heeter Lumber.