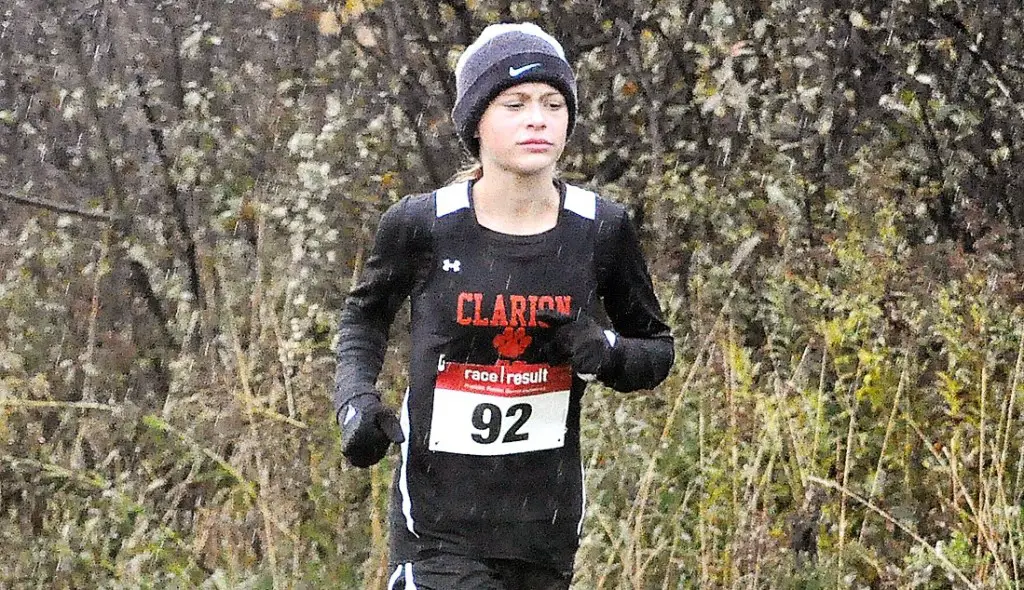 HERSHEY, Pa. – Three District 9 runners – two in Class 1A and one in Class 2A – earned All-State medals at the PIAA Girls' Cross Country Championships Saturday in Hershey for Top 25 finishes.
(Photo of Clarion's Evelyn Lerch, one of three D9 girls' medalists at the PIAA Cross Country Championships)
Class 1A Results • Class 2A Results
In the Class 1A girls' race, Northern Potter's Amanda Ford finished 12th in a time of 20:41 while Clarion's Evelyn Lerch, the District 9 champion, took 15th in a time of 20:47.
The Class 2A girls' race saw St. Marys' Samantha Hayes finish 16th in a time of 20:22.
Back in Class 1A, Cranberry took 13th in the team race with 324 points with Clarion finishing 14th with 353 points.
St. Marys was eighth in the Class 2A team race with 216 points.
Marion Center won the girls' Class 1A PIAA title scoring 96 points with Loyalsock's Isabell Sagar winning the individual title in a time of 19:12.
Central Cambria took home the girls' Class 2A team title with 92 points with Greencastle-Antrim's Taryn Park winning medalist honors in a time of 18:49
In Class 1A, five additional D9 runners finished in the Top 100 with Northern Potter's Courtney Martin taking 41st, Smethport's Jenna Gregory 45th, Kane's Raeann Asel 63rd, Elk County Catholic's Chelsea Hunt 66th and Cranberry's Lauren Varsek 86th.
Three addition District 9 runners finished in the Top 100 in the Class 2A race with St. Marys' Brianna Grotzinger finishing 86th, Punxsutawney's Olivia Roberts taking 90th and Punxsutawney's Kate Horner 96th.