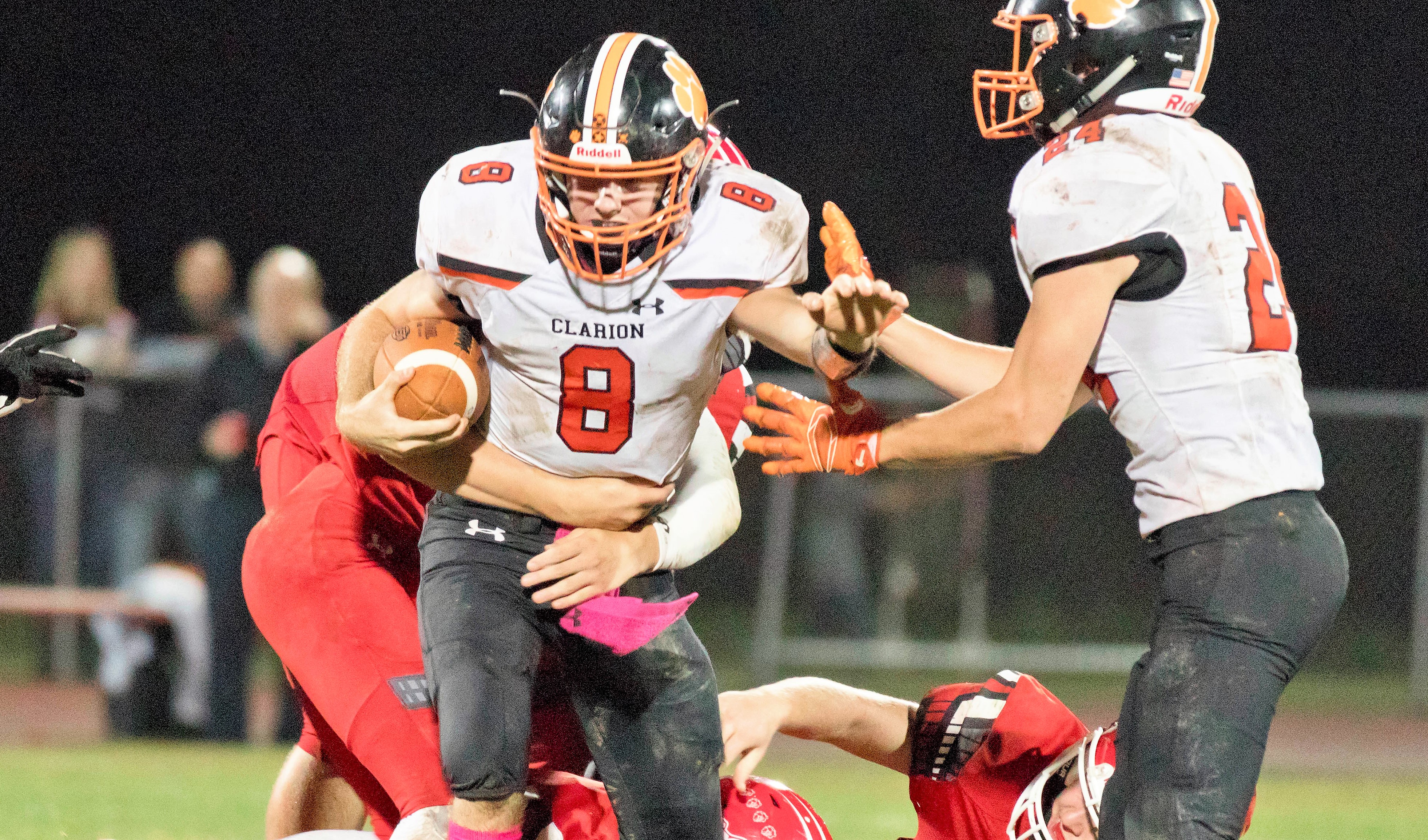 BROCKWAY, Pa. – The Brockway Old Fashioned Fourth of July kicks off on June 29 with the third annual Frank Varischetti All-Star Football Game pitting the AML vs. the KSAC.
(Photo of the District 9 Jim Kelly Award Winner as MVP, Spencer Miller of Clarion. Miller will try to help the KSAC to victory Friday night in the Varishetti All-Star Football Game. Photo by Kyle Yates www.facebook.com/YatesPhoto)
According to Varischetti Holdings' Nick Hoffman, the event started in 2016. AML has won both years — the first was a close game, 27-20, but 2017's ended in a 38-10 blowout. The Frank Varischetti Foundation hosts the event, getting support from the Brockway Gridiron Association. Scholarships will be given to some of the players during a ceremony at halftime. This will be the last year the game features the KSAC vs. the AML the two football leagues merged into one super conference starting in the Fall.
The game begins at 7 p.m. at Varischetti Field. Graduates from the Class of 2018 were selected by their head coaches to compete in the event. Former Otto-Eldred head coach Nick Labella will guide the AML while Brookville's Scott Park leads the KSAC.
All-state players for the AML are John Eakin of Bradford, Curwensville's Nick Stewart and Josh Terry, Kane's Reed Williams, Erik DeLong and Ray Maze, plus Neil MacDonald and Johnny Mitchell of Ridgway.
The KSAC sends all-state players Spencer Miller and Zak Bauer from Clarion, Clarion-Limestone's Kyle Kerle and Brenden Makray and Logan Minich of Redbank Valley.
Brockway's Alan Weible, Noah Vokes, and Pierce Yahner will return to the field to represent the hometown team for the AML.
Tickets are $5 for adults and $2 for children.
Below are the rosters for the event.
AML
Bradford: John Eakin, Isaac Gralak
Brockway: Alan Weible, Noah Vokes, Pierce Yahner, Dylan LeCates
Cameron County: Devin Palumbo
Coudersport: Jared Green
Curwensville: Nick Stewart, Josh Terry
Elk County Catholic: Brandon Reed
Kane: Erik DeLong, Reed Williams, Ange Costanzo, Ray Maze, Anthony Smith (East Forest), Tyler Snyder
Otto-Eldred: Sawyer Drummond, Dylan Close, Jordan Sherwood
Port Allegany: Treyton Stiles, Jacob Kallenborn
Ridgway: Neil MacDonald, Max Cowan, Jake Zimmerman, Drew Kilhoffer (Johnsonburg), Johnny Mitchell
Sheffield: Cale Albaugh
Smethport: Matthew Stratton, Brayden Southard.
KSAC
Brookville: Tyler Park, Brandon McGranor, Tyler Cook
Clarion: Spencer Miller, Colton Rapp, Zak Bauer, Colt Stimmell (North Clarion), Sterling Conner, Jacob Selker
Clarion-Limestone: Kyle Kerle, Brenden Makray
Karns City: Dalton Beham, Sebastian Troutman, Blaine Wilson, Clay Garing
Moniteau: Manny McLean, Steven Fawcett
Punxsutawney: Triston Bair, Levi Molinari, Alexander Neal, Carl Medsger
Redbank Valley: Logan Minich, Brock Barrett
St. Marys: Tim Beimel, Carter Julian
Union/AC Valley: Jeffrey Ginn, Greg Duncan, Nate Redding, Austin Kriebel and Brendon Price