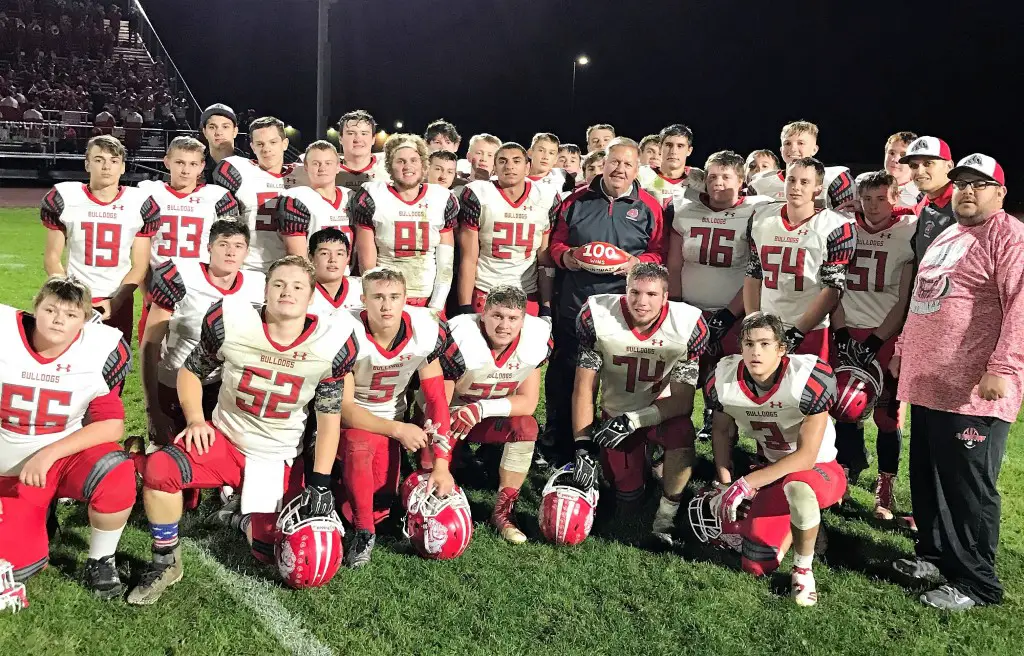 NEW BETHLEHEM, Pa. (D9Sports) – All school districts have "that guy." The person that may not hold a formal leadership position, but their mere experience and presence exudes leadership as they impact others around them. Many times this is compounded with the fact that they have taught at the school district literally for decades. Eventually, they become the most recognizable figure within the school district.
(Photo of Wasilowski after his team won game No. 100 for him at Redbank Valley)
Since 1984, "that guy" at Redbank Valley has been Mr./Coach Ed Wasilowski, or as he is more affectionally known, Coach Waz.
Coach Waz, a few years removed from Allegheny College, began his tenure at Redbank Valley as a social studies teacher in 1984. A role that he would serve in for the following 30 years until his retirement from the classroom in 2014.
Although he left the classroom as a full-time teacher, his presence in the Redbank Valley hallways continued as he served as a regular substitute teacher for the school district and continued his duties as head football coach.
While Wasilowski plans to continue to serve as a substitute teacher for the school district, he recently stepped down from his role as head football coach, undoubtedly bringing an end to an era in Redbank Valley football.
Wasilowski, who coached multiple sports at Redbank Valley during his more than 30 years with the district, served as head football coach for 18 seasons that took place over two stints from 1997-2007 and 2012-2018. Over those 18 seasons, Wasilowski compiled a career record of 108-78 with two KSAC Small School Championships in 2014 and 2016 and District 9 runner-up finishes in 2013 (Class 1A) and 2004 (Class 2A).
It was evident at the Bulldogs' season-ending banquet on Monday evening that the major contributions that were made by Wasilowski cannot be found in the record books.
At the conclusion of the banquet, past players and coaches congratulated and thanked Coach Waz for the impact he had on all of them as men.
"When they asked me to do this, the only words I could think of were 'class act'," said former Redbank Valley head coach Dave Moore who hired Wasilowski to serve on his staff shortly after he began at Redbank Valley in 1984. "Every aspect of your life from husband, dad, teacher, community members, assistant coach and head coach were completed with honor and integrity."
Ronny Geist, who graduated from Redbank Valley in 2003 and was one of the top running backs to play for Waz, noted how Wasilowski always showed class, for both his own players and opponents, on the sidelines under the Friday night lights.
"Congratulations Waz," Geist said. "Proud to say that I played for you. Proud to say that I coached with you. You never ran it up on people even though we tried to get you to. You always treated people fairly. You didn't do it by screaming and yelling, you did it by respect."
"You were a great coach," began another great running back Alex Bladel (Class of 2009). "You taught me how to be a great football player and an even better human being. I really appreciate that."
Current Armstrong High School head football coach Frank Fabian took the time to thank Waz for mentoring him as a young coach.
"I want to take this time to thank you for being a tremendous mentor to me through the years," Fabian said. "Looking back, coming out of college and starting out I realized how lucky I was to work under you and learn the right way to do things."
Check out the full tribute below.
For this author, Coach Waz was the first person I met when I began my first day at Redbank Valley High School in October of 2013. Since that day, I was able to witness the role that Coach played as "that guy" in our district and feel fortunate and blessed to have had the opportunity to learn and grow under his tutelage as a young coach.
Thanks for everything, Waz. You have impacted thousands of lives as a teacher and coach. Enjoy your retirement with your family as you transition to life after football.
Editor's Note: The author served on the Wasilowski staff and is also a contributing writer for the EYT Media Network