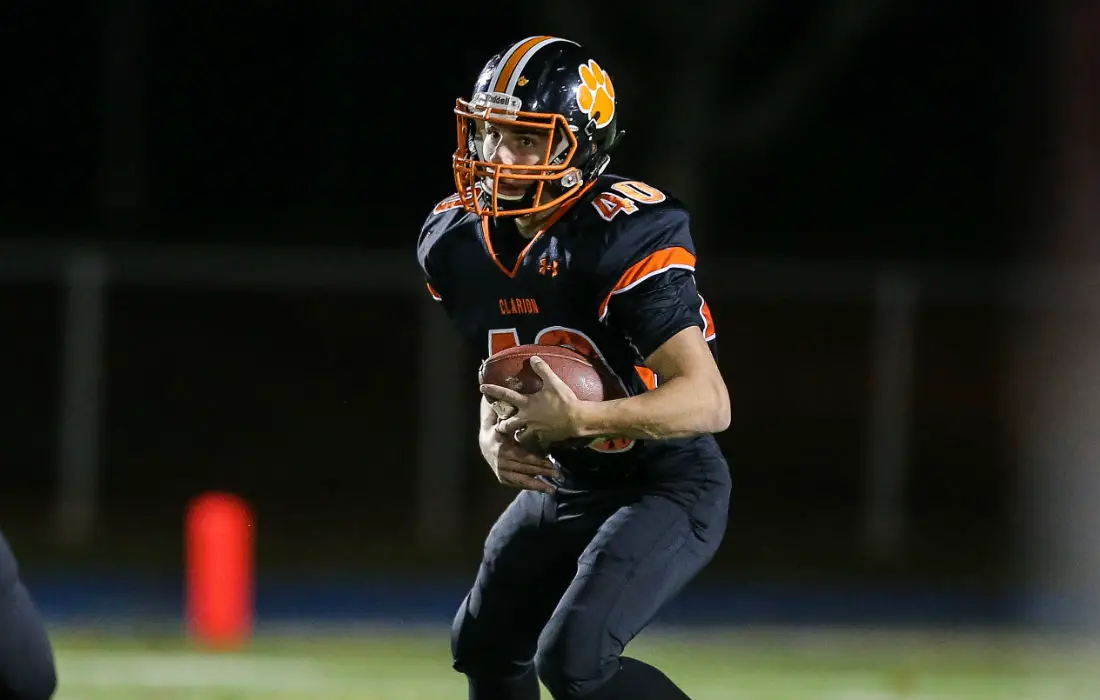 Recaps will be updated throughout the weekend; Last updated at 11:02 p.m. Saturday
Clearfield wins D9 Class AAA Title 
ST. MARYS 21, RIDGWAY 7
RIDGWAY, Pa. – Christian Steffan ran for 132 yards and two touchdowns on 26 carries to lead St. Marys to a 21-7 win at Ridgway Friday night.
Steffan scored on a pair of first-half 6-yard runs helping the Dutch (7-3) to a 14-0 halftime lead.
Pat Schlimm, who was 6 of 10 passing for 106 yards with an interception, then scored on a 1-yard run midway through the third quarter to make it 21-0 before Ridgway (4-6) got its lone touchdown on a 28-yard Johnny Mitchell to Dane Cappiello touchdown pass late in the third quarter. Mitchell finished 7 of 12 passing for 74 yards the touchdown and two interceptions but was sacked numerous times and lost 68 yards rushing. Joey Elinski led the Elkers ground game with 72 yards on nine carries and added two catches for 19 yards.
BROCKWAY 25, MERCER 7
MERCER, Pa. — Mark Latuska ran for four touchdowns and 157 yards on 22 carries to lead the Brockway Rovers to a 25-7 non-conference win over the Mercer Mustangs Friday night.
Latuska ran for TDs of 59, 2, 6 and 5 yards as the Rovers avenged last year's loss at home to the District 10 squad. Quarterback Hunter Miller completed 4 of 11 passes for 34 yards.
The Rovers (8-2) limited Mercer (1-9) to 38 yards of offense in the first half and 109 overall.
Mercer's lone touchdown came on Austin Hall's 90-yard kick return in the first half.
CLARION 58, BROOKVILLE 0
BROOKVILLE, Pa. – Clarion clinched its eighth straight District 9 Class A playoff spot with a 58-0 win at Brookville Friday night.
With the win, the Bobcats (6-4) are the second-place team out of the KSAC Small School Division and with it the third-seed in the District 9 Class A playoffs, which start next week. A loss would have knocked Clarion from the postseason.
The Bobcats wasted little time making sure a loss wasn't going to happen, though. Colton Rapp scored on a 3-yard run 54 seconds into the game and then scored again three minutes later on a 4-yard run. By the end of the first quarter it was 20-0 Clarion, and things kept rolling in the second quarter with 25 more points to make it 45-0 at the break.
Clarion didn't need a ton of yards to score its 58 points racking up just 281 thanks in part to  
six Brookville turnovers and another situation where the Raiders fumbled a punt snap but recovered on fourth down giving the Bobcats a shortfield.
Meanwhile, Brookville's offense did nothing. In fact, it did worse than nothing actually with the Raiders (2-8) finishing with minus-9 of total offense with one first down, which came with just 8:25 to play.  
Mike McCloskey also scored a pair of second-quarter touchdown runs, and Spencer Miller, Ty Burford, Josh Kriebel, Dominic Fleming and Korbin Schill each scored with Spencer Miller's was on an 8-yard run,  Burford's came on a 42-yard interception return, Kriebel's on a 21-yard pass from Bo Miller, Fleming's on a 10-yard pass from Traeson Douglas and Schill's on an 18-yard scamper.  
Kriebel ran three times for 52 yards and had two catches for 38 yards and Schill had a team-high 11 totes for 51 yards. Spencer Miller joined Burford with interceptions.
PENNS MANOR 35, KEYSTONE 6
CLYMER, Pa. – A pair of Penns Manor touchdowns in the last minute of the first half put an end to Keystone's playoff hopes and were the catalyst for a 35-6 win by the unbeaten Comets Friday night in Clymer.
The Panthers (5-5) trailed just 14-6 following a touchdown by Logan Means with 1:57 to play, but Penns Manor (10-0) scored on a 44-yard hook-and-lateral play at the 53.9-second mark and then scored again with 17.1 seconds to play in the half following a Keystone turnover to go ahead 28-6 at the break.
Jake Weaver finished off a terrific season and a terrific high-school career rushing for 157 yards on 22 carries to give him 1,565 yards on the season.
Brayden Shick was 13 of 23 passing for 159 yards but threw three interceptions with Chad Rogers catching four passes for 80 yards.
Clayton Stupic threw a pair of touchdowns for Penns Manor going 9 of 17 for 166 yards, and Bailey Mumau and Branton Beck each scored twice for the Comets with Beck rushing nine times for 86 yards and two touchdowns.
UNION 34, MONITEAU 12
WEST SUNBURY, Pa. – Dugan Gallagher ran for 235 yards and two touchdowns on 27 carries, returned an interception for a touchdown and also caused a fumble to lead Union to a season-ending 34-12 win at Moniteau Friday night.
Lucas Bowser added a touchdown pass and a touchdown run for the Golden Knights (5-5) going 5 of 13 passing for 65 yards with a 16-yard scoring strike to Gavin Hawk, and Cole Morris had an interception, his team-best fifth of the year. Daniel Roberts had 13 tackles and Tyler Murray 11.
Derek Boben ran for a score and threw a touchdown pass to Dalton Anderson for Moniteau (4-6), who it is believed will play in the District 9 Class AA playoffs.
Boben was 11 of 21 passing for 167 yards and the touchdown but also threw three interceptions. He added 68 yards rushing and a touchdown and made 14 tackles.
KARNS CITY 69, DUBOIS 28
KARNS CITY, Pa. – Chandler Turner scored four times and Collin Dunmyre twice, as Karns City finished the regular season unbeaten for the first time since 2007 with a 69-28 win over visiting DuBois.
Turner ran 11 times for 137 yards and scored on touchdown runs of 7, 20, 38 and 7 yards in the first half helping the Gremlins (10-0) to a 42-14 halftime lead.
Dunmyre then took over in the second half returning the second-half kickoff 85 yards for a touchdown to put the Mercy Rule into effect before scoring on runs of 56 and 31 yards later in the third quarter. He finished the evening with 129 yards rushing on nine carries and added two catches for 75 yards.
As a team, Karns City ran for 365 yards and eight touchdowns and picked up 479 total yards.
Matt Miller was 30 of 39 passing for 438 yards, four touchdowns and four interceptions for DuBois (5-5) with Dante Dawson hauling in nine catches for 189 of those yards through the air with a three touchdown catches (47, 12, 48). Zach Sloan added 129 yards receiving with a 7-yard touchdown catch while grabbing 11 balls.
Evan Stitt picked off a pair of passes for Karns City and also caught a 7-yard touchdown pass from Jacob King, who was 3 of 4 passing for 82 yards.
Karns City will be the top seed in the District 9 Class AA playoffs, while DuBois will be the No. 2 seed in the District 6-9 Class AAAA postseason.
CURWENSVILLE 45, BLAIRSVILLE 14
BLAIRSVILLE, Pa. — Nick Stewart opened the game with an 85-yard kickoff return for a touchdown and wound up with four touchdowns overall in Curwensville's 45-14 win at Blairsville Friday night.
Stewart, who had 127 yards rushing on 13 carries, ran for his other three touchdowns on gains of 68, 2 and 3 yards. Quarterback Jakob Terry ran for a 2-yard TD and threw a 61-yarder to Quamone Newkirk as the Golden Tide (7-3) jumped out to a 38-0 lead to start the game. Terry was 9 of 14 passing for 174 yards, the touchdown and a pick and ran for seven yards on two carries, while Newkirk had four catches for 105 yards and the touchdown.
Blairsville (2-8) got a short rushing touchdown from Orahnde Askew but did most of its damage through the air throwing for 266 yards. Dakota Sunday was 8 of 18 for 165 yards with one touchdown and two interceptions with Devin Burkhart going 5 of 7 for 101 yards. Ricky Shirley had six catches for 97 yards and a score.
OTTO-ELDRED  41, COWANESQUE VALLEY 13 
DUKE CENTER, Pa. – Heath Stewart ran 12 times for 137 yards and four touchdowns, and Grant West scored twice  as Otto-Eldred finished on a winning note with a 41-13 win over visiting Cowanesque Valley Friday night.
West had two catches for 62 yards and a touchdown and returned a fumble for a score while also making eight tackles for the Terrors (2-8).
WARREN 55, BRADFORD 28 
WARREN, Pa. – Despite 274 yards rushing and a touchdown from John Eakin, Bradford closed out its season with a 55-28 loss at Warren Friday night.
Eakin, who needed 21 carries to amass his yardage, scored on a 25-yard fourth-quarter run for the Owls (1-9), who also got 77 yards rushing from Alex  Colosimo. Bryce Skaggs added a pair of short touchdown receptions, and Kyle Kirk was 3 of 6 passing for 48 yards and two scores.
But Evan Suppa threw for a touchdown and ran for a score for the Dragons while going 10 of 14 passing for 232 yards and rushing for 32 yards on seven totes.
Solomon Gross also scored four times for Warren on runs of 8, 44 and 46 yards and on a 21-yard pass.  He ran for 168 yards on 10 carries and caught three passes for 46 yards.
COCHRANTON 25, A-C VALLEY 0
FOXBURG, Pa. – Curtis Freyermuth ran for 181 yards and two touchdowns, as Cochranton blanked A-C Valley 25-0 in the season finale for both teams Friday night in Foxburg.
Blake Miller added 119 yards on the ground, as the Cardinals ran for 309 on the night.
Lane Chalmers had 65 yards rushing to lead A-C Valley (0-10) and also caught two passes for 15 yards. Jeffrey Ginn was 13 of 18 passing for 93 yards with an interception.
Brady Terwilliger (14 tackles) and Evan Redding (13 stops) led the Falcons defense.
A-C Valley has now lost 32 in a row.
EISENHOWER 66, SHEFFIELD 20
Sheffield, Pa. – Adam Pascuzzi ran for 113 yards and two touchdowns on just six carries, as visiting Eisenhower blasted Sheffield 66-20 Saturday afternoon.
Louie Head (78 yards rushing) and Matt Huling (57 yards rushing) also each scored twice on the ground for the District 10-playoff-bound Knights.
Myquandre Stevenson had 18 carries for 84 yards and a touchdown for Sheffield (0-10), while Cale Albaugh was 12 of 20 passing for 172 yards, two touchdowns and an interception. His two scoring passes came late in the game with the final one coming with nine seconds to play to make the score 60-20.
Eisenhower, in a statement of how the afternoon went for Sheffield, then returned the game's final play, a kickoff, 80 yards for a touchdown.
Logan Connolly had one catch for 58 yards and a score, and Stevenson added two grabs for 10 yards and a touchdown.