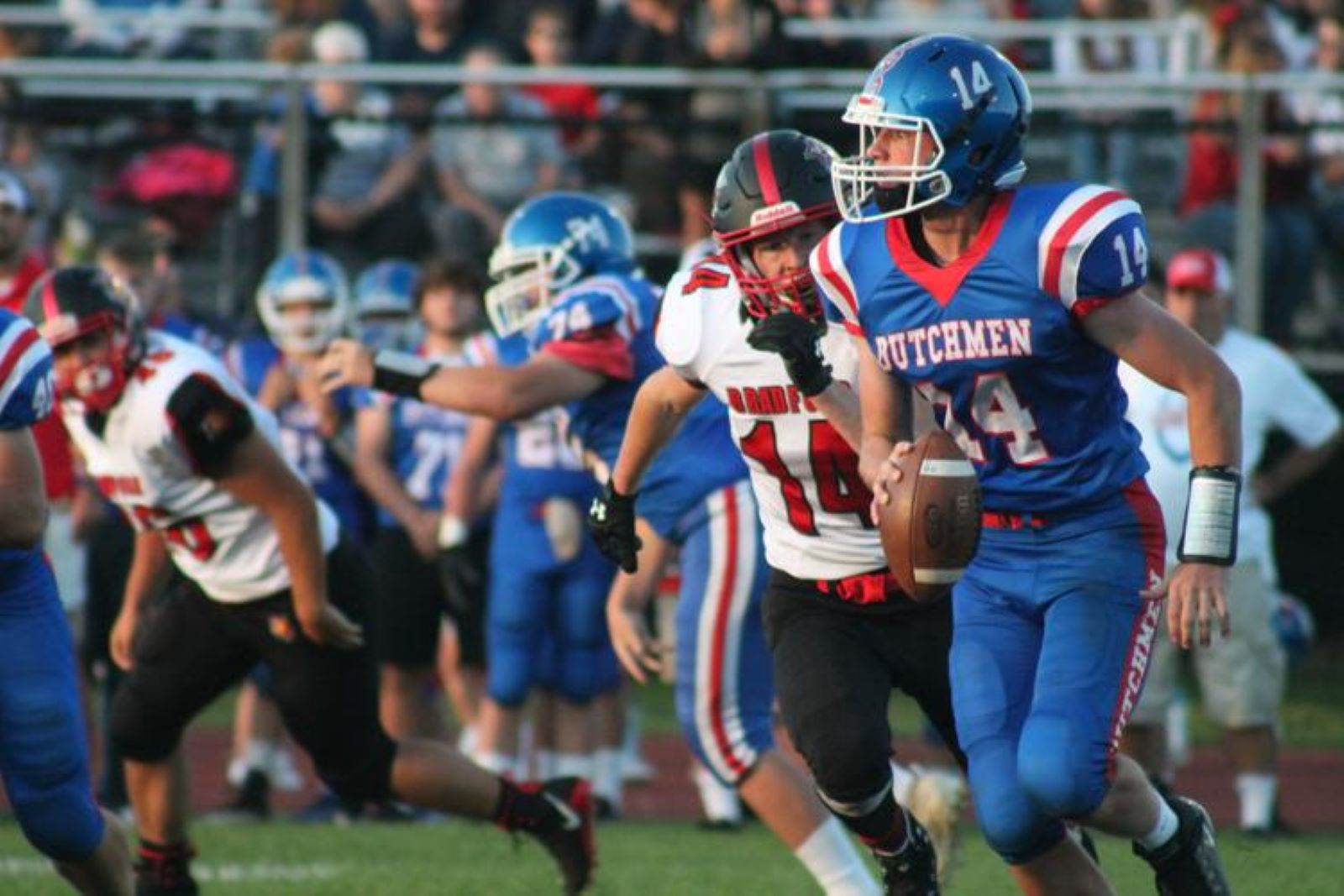 ST. MARYS, Pa. (EYT/D9) — Chris Dworek knows his way around District 9.
For more than two decades, he's been patrolling a sideline as a head football coach in the district, first at Keystone in the mid-1990s, then at Brookville for nearly two decades before landing at St. Marys two years ago.
The coach has a talented team entering his third season at St. Marys — so talented, in fact, the district's coaches picked the Flying Dutchmen to win the District 9 Big School Division this season.
St. Marys was 5-0 last year before falling to Clearfield in the D9 3A championship game.
Ridgway, though, may have something to say about that.
The Elkers were picked to finish second behind St. Marys in the Big School Division.
The two teams open up against each other Friday.
ST. MARYS AT A GLANCE
COACH: Chris Dworek
LAST YEAR: 5-1, lost to Clearfield, 41-30, in the District 9 3A title game.
STRENGTHS: The Dutchmen return seven starters on offense, but four on the offensive line: seniors Colton Swanson and Connor Bullers and juniors Carter Price and Caden Baker. … Quarterback Christian Coudriet also returns. The senior was lights out last season, throwing for 1,576 yards and 19 touchdowns in just six games.
WEAKNESSES: A lot of the skill players around Coudriet were lost to graduation, including the top two leading rushers and the top three leading receivers. The defense does return six starters, but gone is leading tackler Connor Bressler.
OUTLOOK: St. Marys still has one of the elite quarterbacks in the league in Coudriet and a solid offensive line in front of him. If the new offensive weapons around him, especially a group of relatively inexperienced receivers, shine, The Dutch could make another run at a district title.
RIDGWAY AT A GLANCE
COACH: Mark Heindl
LAST YEAR: 3-3
STRENGTHS: The Elkers have their top two rushers from last season in Camron Marchiniak and Eric Salberg. … Senior WR Will Howard is a weapon. Last year, he caught 13 passes for 326 yards.
WEAKNESSES: Rigway will break in a new QB this season in senior Jonathan Hinton. … The defense also lost its top two tacklers in Ricky Delhunty and Cole Casilio. Filling the void there will be crucial.
OUTLOOK: Last year was a challenging one for the Elkers, who played only six games under the shroud of COVID-19 and it showed — the 3-3 mark was the worst record for Ridgway since 2015. Even with a new quarterback and some uncertainty in the middle of the defense, there's no reason to believe the Elkers will have another down season.
KANE AT A GLANCE
COACH: Todd Silfies
LAST YEAR: 2-4
STRENGTHS: The Wolves have 13 starters returning off of what was a disappointing season in 2020, but those 13 got valuable experience. … Senior Harley Morris will replace Zuke Smith at quarterback. Last year Morris rushed for 260 yards and has a lot of upside in his switch to a new position. He also has a bulk of the offensive weapons back. … On defense, Kane returns its three top linebackers and defensive backs.
WEAKNESSES: The offensive line is a question mark with some spots to fill up front.
OUTLOOK: Silfies is back after a three-year hiatus and re-inherits some talent on both sides of the ball. Kane could be a prime candidate for a rebound season.
BRADFORD AT A GLANCE
COACH: Jeff Puglio
LAST YEAR: 0-7
STRENGTHS: A full offseason. The Owls completely revamped their offense and defense last year, but didn't have the time to do it properly because of COVID-19. Bradford went from a wing-T attack to a spread, no-huddle attack. That showed on the field. But Bradford got better as the season went on and with seasoning this offseason, the hope is the offense in particular can now flourish.
WEAKNESSES: Bradford will have to break in a new quarterback for its offense. Austen Davis graduated after throwing for 647 yards last year. The Owls will turn to Elijah Fitton, who was a running back last season. … The Owls gave up 41 points per game last season and must improve on that markedly.
OUTLOOK: It's always difficult to revamp an entire offensive and defensive playbook. It was even more of a challenge during a pandemic with little offseason to prepare. The Owls will measure success in improvement on the field, maybe not in the win-loss column right away.
CAMERON COUNTY AT A GLANCE
COACH: Ryan Neyman
LAST YEAR: 0-7
STRENGTHS: The Red Raiders have a slew of starters back — six on offense and eight on defense. A full offseason has helped seasoned that experience even more. … The skill positions, led by junior fullback Jamesson Britton, could be a handful.
WEAKNESSES: The trenches. Only two offensive lineman, senior guard Taylor Geitner and sophomore guard Jesop Farbaugh, are sure starters. Geitner will also start on the defensive line.
OUTLOOK: For Cameron County, it's going to come down to how the offensive and defensive lines play.
SMETHPORT AT A GLANCE
COACH: Adam Jack
LAST YEAR: 6-1, lost to Redbank Valley in the District 9 Class A title game
STRENGTHS: Noah Lent at QB. Lent, the Big 30 Player of the Year last year, passed for 617 yards and 13 touchdowns and also rushed for 813 yards and 11 more scores in 2020. …
WEAKNESSES: Smethport lost a ton of talent from the team that went to the district title game and only have three starters on both sides of the ball returning. Only one starter is back on the offensive line in Travis Cooney. … Smethport will rely a lot on relatively inexperienced players at every level of the offense and defense.
OUTLOOK: As long as Smethport has Lent and his dual-threat ability, it has a chance. If all the new starters can hit the ground running, The Hubbers can again contend for a district title.
COUDERSPORT AT A GLANCE
COACH: Frank Brown
LAST YEAR: 4-2, lost to Redbank Valley in the first round of the District 9 Class A playoffs.
STRENGTHS: The Falcons return seven two-way starters from last year, a season that saw a run of three consecutive District 9 Class A titles end. … Four of those players man the offensive and defensive lines in Allen Williams, Dylan Hazjus, Cooper Rossman and Kaden Blaniar.
WEAKNESSES: Brown in his first season is revamping the offense, going to a pro-style attack with some spread. Changes like that can often lead to slow starts. … Brown will also break in a new quarterback in sophomore Gavyn Ayers, who was a running back last season.
OUTLOOK: There's enough there to see why coaches in the league picked Coudersport and Smethport as co-favorites to win the Small School North Division. If the players adapt quickly to Brown's new offense and Ayers makes a seamless transition to quarterback, the Falcons could soar again.
ELK COUNTY CATHOLIC AT A GLANCE
COACH: Nick Werner
LAST YEAR: 4-2
STRENGTHS: The Crusaders return six starters on defense.
WEAKNESSES: Elk County Catholic only has two starters back on offense, so there could be some growing pains there. … The skills positions took a big hit, losing the top two leading rushers in Sam Kaul and Nick Crisp from 2020.
OUTLOOK: It's going to be difficult for Elk County to fill the holes from the graduation losses. But if the unknown names filling those voids excel, the Crusaders will be in the hunt again.
PORT ALLEGANY AT A GLANCE
COACH: Justin Bienkowski
LAST YEAR: 3-4
STRENGTHS: Blaine Moses returns at linebacker and fullback and Drew Evens is back at quarterback. Moses recorded an impressive 104 tackles in just seven games and was also the leading rusher with 450 yards on just 73 carries with seven touchdowns. Evens passed for 1,156 yards and nine TDs last season.
WEAKNESSES: The Gators are young at certain key spots, like the offensive and defensive lines.
OUTLOOK: Evens is a dangerous weapon and if the offensive line holds up, he could have a big season — and so could the Gators.
OTTO-ELDRED AT A GLANCE
COACH: Troy Cook
LAST YEAR: 4-3
STRENGTHS: The trenches. Otto-Eldred returns a wealth of experience on the offensive and defensive lines, highlighted by two-way senior star Jacob Coffman at offensive and defensive tackle. Coffman is 6-5 and 250 pounds. … Otto-Eldred also returns junior Isaac Shaw at guard/linebacker, senior Brett Taggard at defensive tackle and senior Cohen Walker at guard/defensive end up front.
WEAKNESSES: Skill positions. There is a lot of inexperience there after the Terrors lost their starting quarterback, top three rushers and top four receivers from a year ago. … Brendan Magee and Andrew Schenfield were locked in a battle for the quarterback position.
OUTLOOK: Otto-Eldred is formidable up front, which any coach worth a bag of whistles will tell you can go a long way in helping a team win. If the young skill position players mature quickly, the Terrors could be a terror for the rest of the Small School North Division.
CURWENSVILLE AT A GLANCE
COACH: Jim Thompson
LAST YEAR: 1-6
STRENGTHS: Junior quarterback Danny McGarry took some lumps last season, but he is back with another year under his belt. He did complete 59% of his passes for 736 yards, but he also threw eight interception. Helping him is running back Thad Butler and wide receiver Ty Terry, who also return. Butler rushed for 431 yards on just 52 carries and Terry hauled in 33 passes for 340 yards.
WEAKNESSES: Only seven starters return from a 1-6 team. The offense needs to be more consistent with McGarry in his second season.
OUTLOOK: Things were trending up for the Golden Tide at the end of last season. After giving up 105 points in the first three games last season, Curwensville only gave up 66 points in its final four games. McGarry, Butler and Terry also showed glimmers of excitement that could make 2021 an interesting year for the Golden Tide.
SHEFFIELD AT A GLANCE
COACH: Mike Barr
LAST YEAR: 0-1 (Canceled season after 86-0 loss in opener to Keystone)
STRENGTHS: Simply being back is a triumph. The Wolverines had a razor-thin roster and couldn't continue after the opener. This season, Sheffield is hoping to compete and finish the schedule. Abraxas is back in the co-op, which should help the numbers significantly.
WEAKNESSES: After last year's experience, there will be some nervousness about it happening again.
OUTLOOK: The roster size with Abraxas back in the fold is very healthy, eliminating some of the trepidation about the season getting canceled again. What will happen on the field may be moot this season — just completing a season would be a victory for the Wolverines.