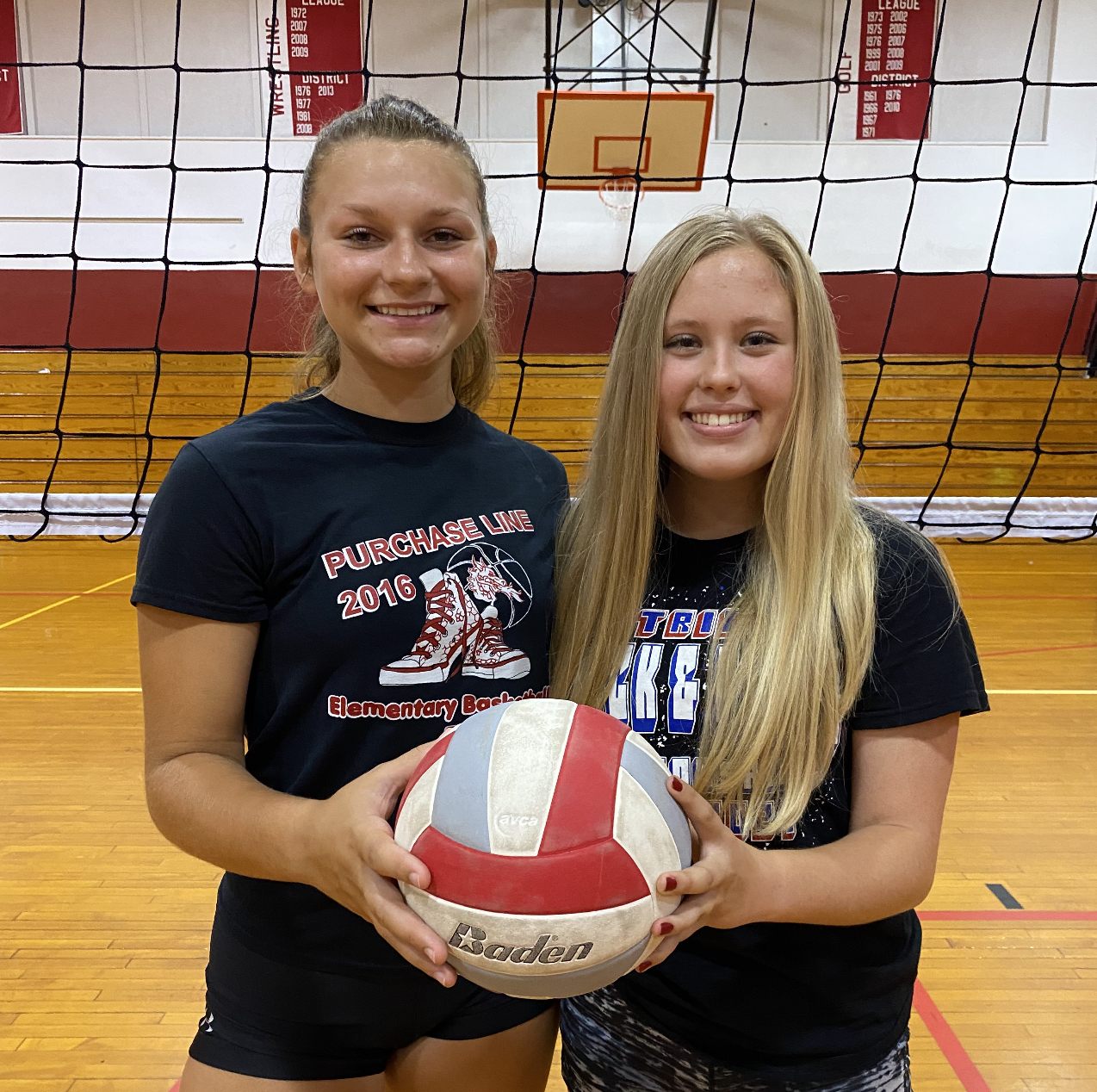 NEW BETHLEHEM, Pa. (EYT/D9) – Lilly Shaffer had 15 assists as the Redbank Valley volleyball team swept Union, 28-26, 25-22, 25-15, Tuesday night.
(Redbank Valley's Alivia Huffman, left, and Lilly Shaffer)
Union thought it had won the first set, but the clinching point had to be replayed when the officials could not come to a consensus on whether or not a hit attempt by Redbank Valley's Alivia Huffman was tipped by a Union player before going out.
Instead, the Bulldogs rallied for the first set victory and then won the next two to claim the match.
Huffman had six kills for Redbank.
Dominika Logue led Union with seven kills. Keira Croyle had 10 assists and four aces and Kennedy Vogle eight digs for the Damsels.
Keystone 3, Moniteau 0 – Alyssa Weaver had 17 assists and seven digs to go with 17 service points and two aces to lead the Panthers to the 25-15, 25-21, 25-11 victory.
Jozee Weaver and Sydney Bell each led Keystone with eight kills. Bell also had three blocks Leah Exley added seven kills.
Kennedy Kaye had a team-leading 15 service points and also had seven digs for Keystone (10-3), which will play Moniteau again Wednesday.
Cross Country
Kaine McFarland finished first with a time of 18 minutes, 33 seconds as the North Clarion boys edged Karns City, 26-29, to remain undefeated.
Aiden Thomas was second for the Wolves, coming in at 18:40. Karns City had the next three placers in Andrew Callihan, Griffin Booher and Reid Campbell.
Brynn Siegel once again ran a personal-best time for the North Clarion girls, crossing the finish line in 21:24.
The Wolves had the top five placers. Following Siegel were Jordyn Hendrickson, Katie Bauer, Kaylee Castner, Emily McCaslin and Paige Hetrick.
Karns City did not have a full team.
Boys Soccer
Myles McCully, Colson Ritzert and Reid Campbell each scored two goals as Karns City rolled to a 15-2 win over Keystone.
Seth Apel and Brett English scored for the Panthers.
Eleven players found the net for Karns City, which clinched its 18th straight UAVSL South Division title.