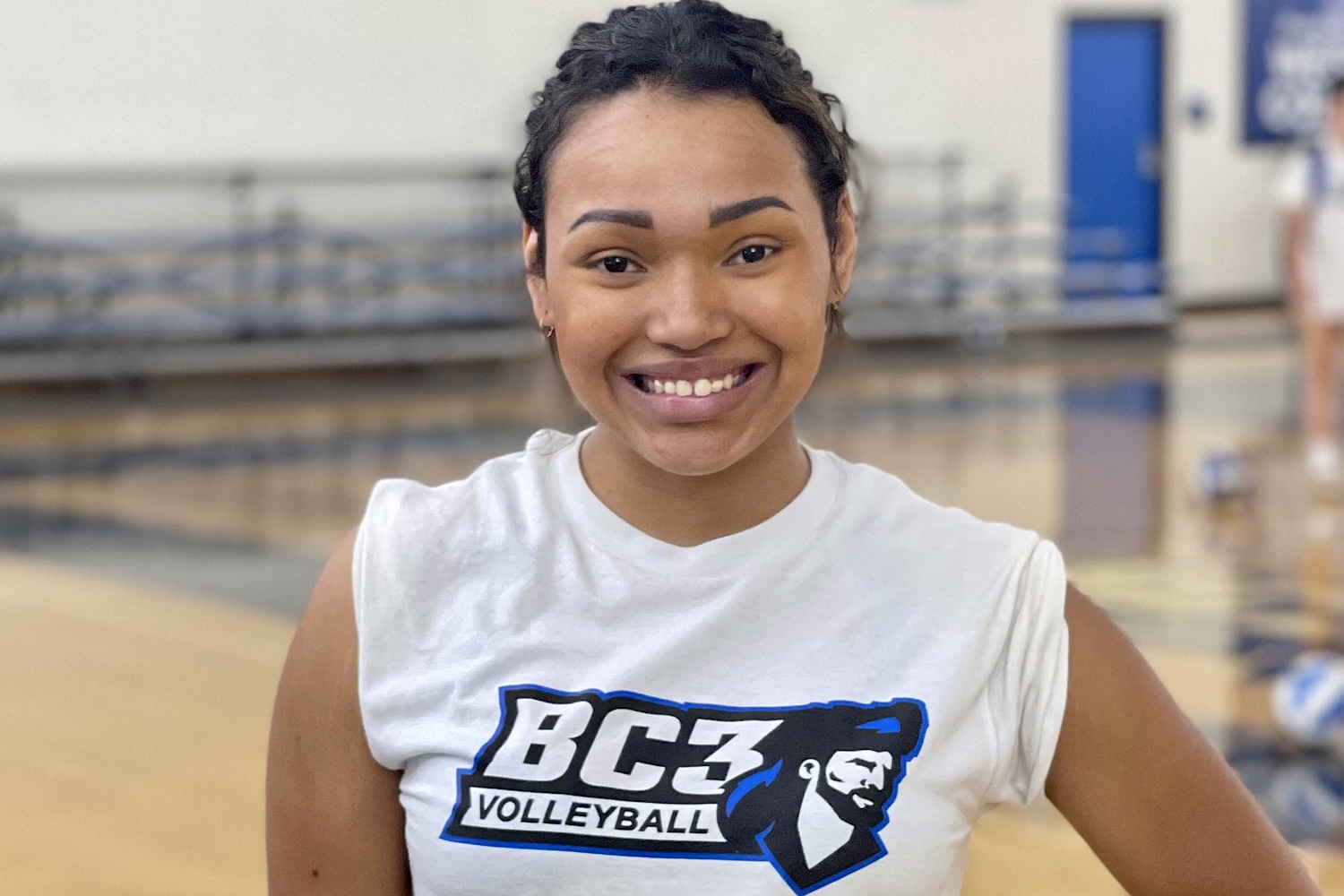 BUTLER, Pa. (EYT/D9) — The smile is back on Aryana Girvan's face.
The light has returned to her eyes. There's a spring in her step. Her back is straight with confidence and conviction. She's at ease and comfortable in her own skin.
It wasn't that way for Girvan — not for a long time. And especially not last year as a senior at Clarion Area High School.
She was struggling.
(Pictured above, Aryana Girvan)
"Last year, I kinda lost my love for volleyball," Girvan said. "There were some games that I know people could tell I just wasn't having fun anymore."
Still, Girvan turned in an exceptional season for the Bobcats. The 5-foot-5 outside hitter, who makes up for her diminutive size with tremendous jumping ability and a powerful swing, made the all-state team for the third consecutive year.
Off the court issues, however, drained enjoyment out of everything for Girvan.
Volleyball, which was always her sanctuary, was no longer an escape.
And it scared her.
Clarion Area High School sports coverage on Explore and D9Sports.com is brought to you by Redbank Chevrolet and DuBrook.
"Things were just … difficult," Girvan said. "I knew that losing that love was horrible because it was really my way out.
"Not many people know this, but the last few months of high school I actually went online, so I was out of school. I wasn't near anybody, except for my little brother and my older sister."
Girvan was happy for the change of scenery. She was eager to hit the reset button on her volleyball career.
And her life.
That opportunity came at Butler County Community College.
"Coming here, in our first practice, I met all the girls and I immediately found my love again for the sport," Girvan said. "Now everyone keeps saying my smile is back."
Girvan originally had her heart set on attending Mount Union in Ohio. She loved everything about the campus.
But then BC3 piqued her interest.
"I met (Pioneer volleyball coach Rob Snyder) and I found out (Karns City's Rosie Carden) was playing here — I've been friends with her for years," Girvan said. "We used to do camps together when we were little. Once I came to visit, it just felt like home."
It also fits her future plans.
Girvan is pursuing an associate degree in business at BC3 and then will attend beauty school with the hopes of opening her own salon.
"That's perfect for me," Girvan said, smiling and waving her perfectly manicured fingernails. "Everyone knows I'm the only girl in District 9 who has her nails done during volleyball season."
Girvan brings another player with huge upside to a community college program that is perennially among the best in the nation.
BC3 has won seven straight WPCC championships and four straight NJCAA Region 20 crowns. Last year, the Pioneers were ranked No. 1 in the nation for several weeks, the first time they held the top spot in the poll in program history.
"We like players with pedigrees that come from good programs that have played competitive volleyball. That's really important to us," Snyder said. "I always want to be at a certain level and I always have the same goals. I want players to have the same goals. I always say you have to love volleyball if you come here. They seem to have that."
There's a distinct District 9 flavor on the Pioneer roster.
Of the 12 players who will be in uniform for BC3 this season, six graduated from D9 schools.
They are: Girvan, A-C Valley's Lexi Ruckdeschel, Keystone's Jozee Weaver, Karns City's Amber Mauer and Rosie Carden and Redbank Valley's Abby Young.
(Links to stories on Ruckdeschel here and Weaver here)
"I actually played AAU basketball with Jozee, back when I was a basketball player," Girvan said. "I've been playing with Rosie for years. And Lexi and I just became friends this year. For some reason, we just never really talked, but I knew her from volleyball. I mean, when we played against her, we triple-blocked her.
"It's really exciting to be playing with the girls who I've always been playing against. Some of them I've been great friends with for years."
Clarion Area High School sports coverage on Explore and D9Sports.com is brought to you by Redbank Chevrolet and DuBrook.