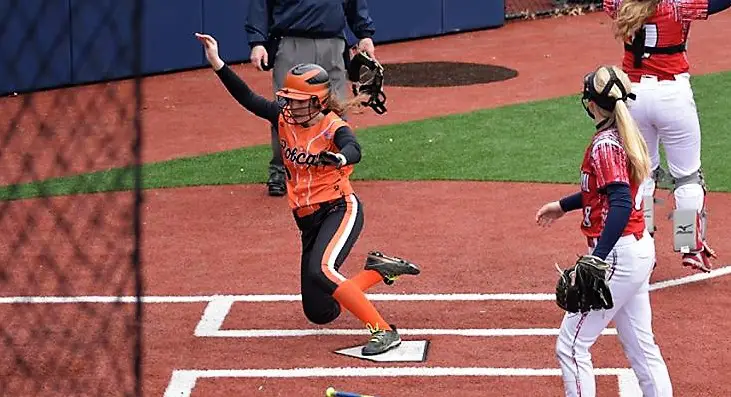 CLARION, Pa. – Listen live, weather permitting, Friday to the inaugural Laurel Eye Clinic District 9 baseball/softball Game of the Week when Clarion-Limestone makes the short trip to Paul A. Weaver Park to take on rival Clarion in KSAC softball action.
(Photo of Alexis Constantino scoring earlier this season against DuBois Central Catholic. Photo by Kim Constantino)
The broadcast gets underway with the Kerle Tire Pregame Show starting at 4:15 p.m. with Chris Rossetti on the call. Game time will is set for 4:30 p.m. at Paul A. Weaver Park.
Fans can listen to the games live on exploreClarion.com. Also, new, there is no need to use the app. You can go straight to the website and the player will work on any mobile device (you may need to hit the play button in order to get the stream to play). For your convenience, you can also click here to listen to the games.  If you still have the Apple or Android app, it should work for you, and the Android app is still available to download. If you are on an Apple Device, you should just go straight to the site to listen to the game or click here to listen.
The following local sponsors have signed on to make local baseball and softball possible: