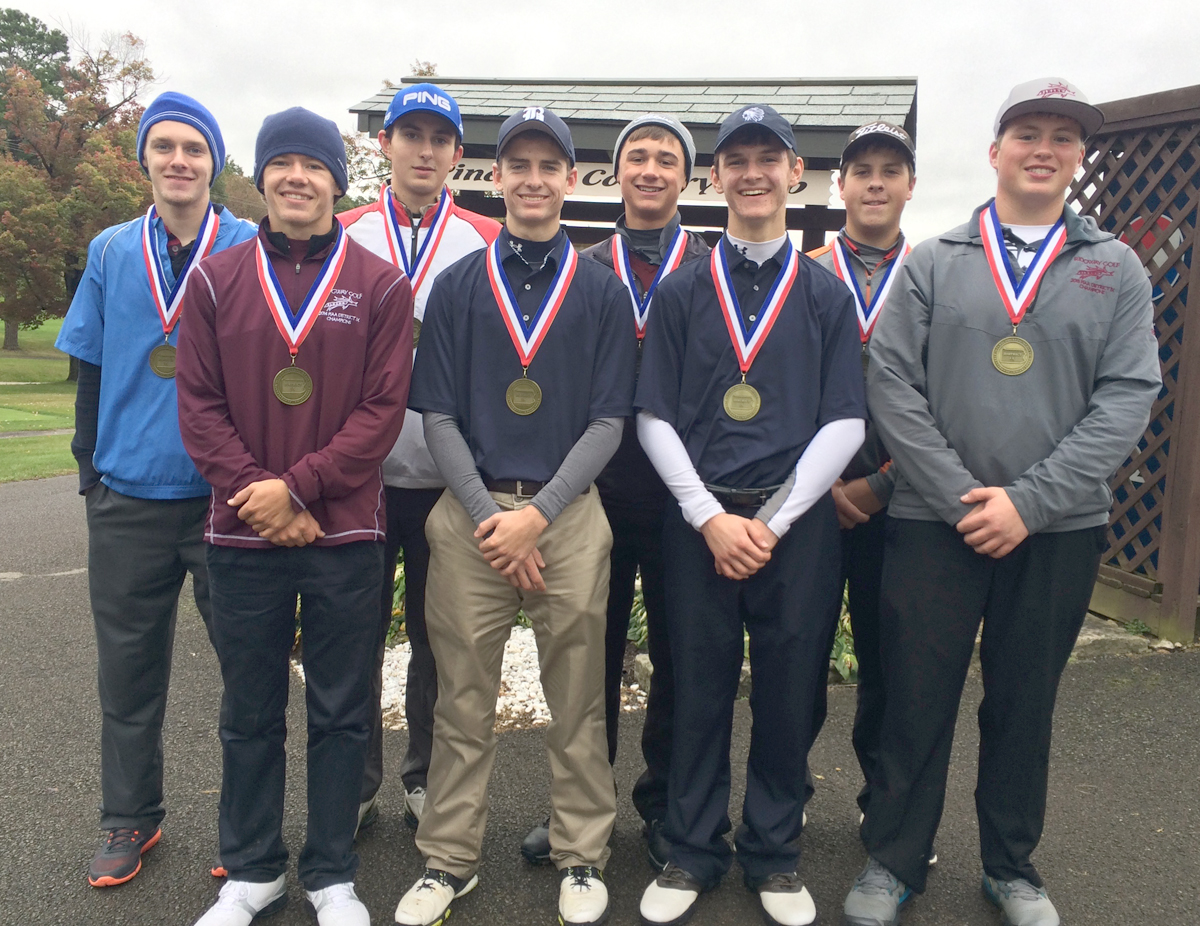 BROOKVILLE — Weathering rainy and cold conditions, District 9 crowned its boys' golf champions and qualified 10 golfers for the PIAA Western Regional at Pinecrest Country Club Saturday afternoon.
With temperatures in the 40s and enough rain to force a near 90-minute delay with a handful of greens ponding with water, the final round of individual play took nearly seven hours to complete. In the end, it was Brookville's Jordan Tosh and Bradford's Mitch Faulkner winning Class AA and AAA titles respectively.
Tosh shot the low round of the day with a 5-over-par 75 and made up a three-stroke margin entering the round to beat first-round leader Jared Bish of Clarion by three strokes. Tosh, who also plays football and was in uniform the night before in the Raiders' loss at St. Marys, became the first Brookville district champion since Alex Nichamin in 2007.
Bish, Brockway's Braden Martini, A-C Valley's Noah Morgan, the Ridgway trio of Mitchell Stark, Ben Ames and Nick Simon, and Tosh's teammate Levi Roseman made the regional cut. The regional will be held once again at Tom's Run Golf Club in Blairsville Oct. 19.
In Class AAA, it was Faulkner's third straight crown. He fired the second-best round of the day with a 78 to finish 12 strokes better than runner-up and teammate Evan Piganelli. Those two head to regionals also at Tom's Run.
The District 9 Girls' Tournament will be held Tuesday at Pine Acres in Bradford.
2015 AAA Boys' Golf Championship
| | | | | | | |
| --- | --- | --- | --- | --- | --- | --- |
| Name | Grade | Day 1 | Day 2 | Total | | |
| | | | | | | |
| | | | | | | |
| Mitch Faulkner | 12 | 77 | 78 | 155 | Bradford | Champion |
| Evan Piganelli | 12 | 80 | 87 | 167 | Bradford | Qualifier |
| Brice Whelan | 10 | 78 | 91 | 169 | Bradford | |
| Brandon Orsich | 12 | 84 | 86 | 170 | Clearfield | |
| Steve Jacobson | 12 | 84 | 93 | 177 | Dubois Area | |
2015 AA Boys' Golf Championship
| | | | | | | |
| --- | --- | --- | --- | --- | --- | --- |
| Name | Grade | Day 1 | Day 2 | Total | School | |
| | | | | | | |
| Jordan Tosh | 12 | 79 | 75 | 154 | Brookville | Champion |
| Jared Bish | 12 | 76 | 81 | 157 | Clarion | Qualifier |
| Braden Martini | 12 | 78 | 81 | 159 | Brockway | Qualifier |
| Noah Morgan | 12 | 81 | 79 | 160 | A-C Valley | Qualifier |
| Mitchell Stark | 12 | 81 | 80 | 161 | Ridgway | Qualifier |
| Levi Roseman | 11 | 79 | 84 | 163 | Brookville | Qualifier |
| Ben Ames | 11 | 83 | 81 | 164 | Ridgway | Qualifier |
| Nick Simon | 11 | 80 | 87 | 167 | Ridgway | Qualifier |
| Jonah Meyer | 11 | 83 | 84 | 167 | Elk Catholic | |
| Griffin Schmader | 12 | 81 | 88 | 169 | Forest Area | |
| Britton Simmons | 12 | 82 | 91 | 173 | Moniteau | |
| Espy Reinard | 12 | 84 | 89 | 173 | Brookville | |
| Weston Kimmey | 10 | 86 | 89 | 175 | Moniteau | |
| Brady Kingston | 12 | 86 | 89 | 175 | Venango Catholic | |
| Jamie Rook | 12 | 82 | 94 | 176 | Kane | |
| Chance Ramsey | 11 | 86 | 96 | 182 | Coudersport | |