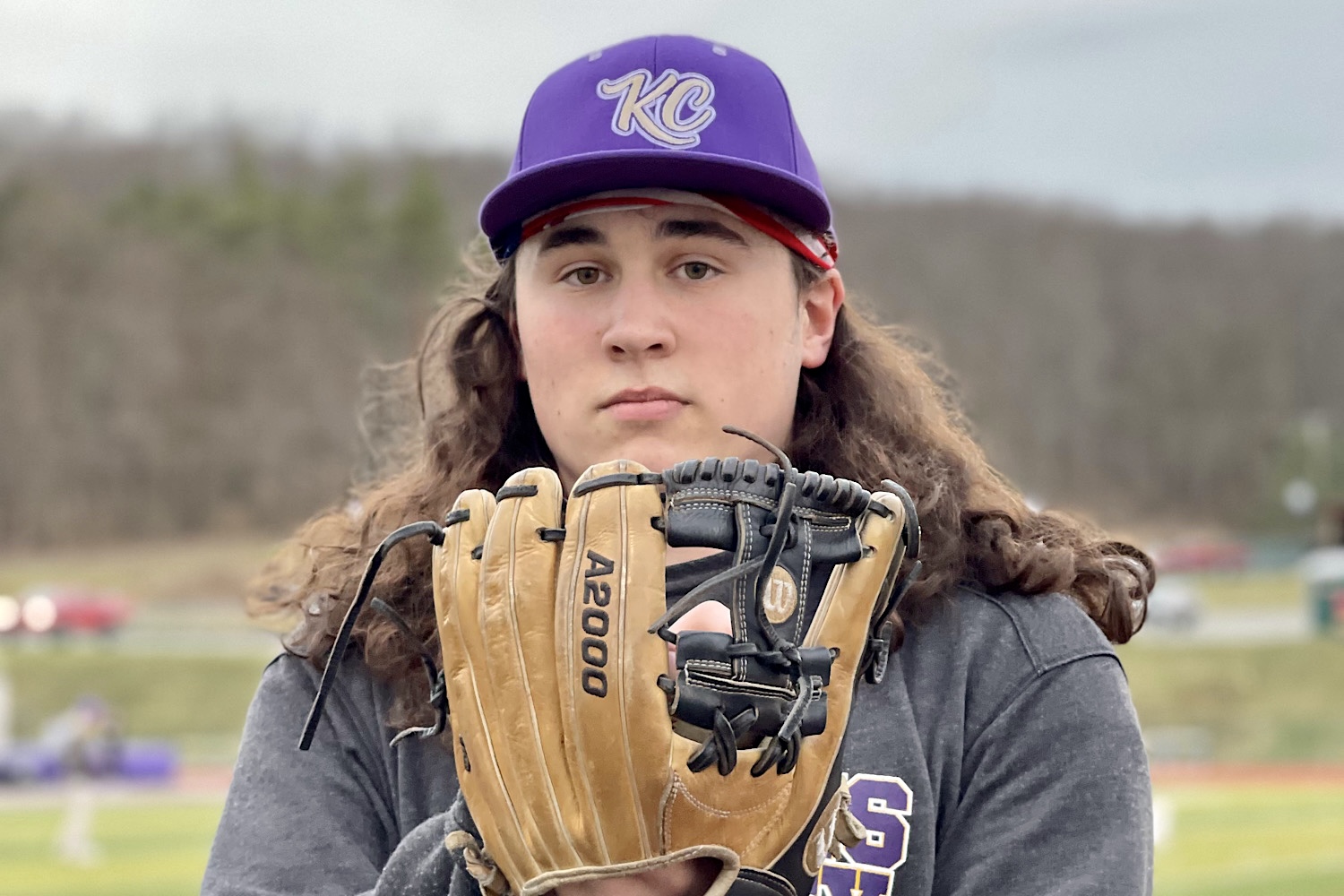 WEXFORD, Pa. (EYT/D9) — Mallick Metcalfe shrugged it off.
It was understandable, really. There was no mystery why few gave the Karns City baseball team much of a chance to beat District 7 Class 2A champion Seton LaSalle in the first round of the PIAA playoffs.
District 9 runner-up vs. District 7 champion?
There is no more dangerous Gremlin, though, then one backed into a corner.
(Pictured above, Mallick Metcalfe)
Metcalfe was sharp on the mound, giving up just three hits and one unearned run in six innings, and also delivered a key triple and a double at the plate as Karns City stunned Seton LaSalle, 2-1, at North Allegheny High School on Monday evening.
"We weren't expected to win that game," Metcalfe said. "We all believe in ourselves. We believe in each other and we went out and performed like it."
It was the first state playoff win for the Gremlins since 1996 — the second year of the program.
It was also the second consecutive year that a District 9 Class 2A team knocked off the WPIAL champ in the first round of the state playoffs.
Last season, Redbank Valley pulled that off with a victory over Serra Catholic.
It was Karns City's turn this time around to do what was thought unlikely — outside of Karns City, that is.
"It means everything," said Karns City coach Josh "Sluggo" Smith of the state playoff victory. "We're trying to get a baseball field to better our program here. This is just proof that we are a good program. We have great coaches. We have great players. We have great support — you know, there were a couple hundred people there for us, my dad and mom included. They were my biggest fans growing up and they still support me here. I'm almost 38 years old and they still come to support their son. That's what it's like in a small town.
"For us to not have a field just generates even more, I guess, firepower, to get us a field," the coach added. "We can have this excitement in our hometown."
While the excitement was plentiful, runs and hits were not in this game.
Karns City managed just four hits against Seton LaSalle pitchers Brian Reed and Nate Georgiana, but the Gremlins made them count.
The Gremlins scored a run in the top of the second inning. Jacob Callihan and Troy Nagel led off with back-to-back singles. Koen Williams then drew a walk to load the bases with no one out.
Mason Sherwin hit a sacrifice fly to center to score Callihan for the 1-0 lead.
Reed, after hitting Hobie Bartoe with a pitch, was able to get out of the jam with a strikeout and a pop out.
Seton LaSalle (17-5) tied the game at 1-1 in the bottom of the fourth on a RBI single by Aric White.
Karns City moved ahead for good, 2-1, in the top of the fifth.
Metcalfe led off with a triple and scored on a passed ball.
Metcalfe and Sherwin made it stand up.
Sherwin got the save, striking out two in the seventh.
It was a big start for Metcalfe, who struggled against Redbank Valley in the District 9 championship game loss.
He struck out six and walked four, but silenced the WPIAL champs.
"He was the best player on the field by far and everybody knew it," Smith said of Metcalfe. "He showed up tonight."
Reed got the loss for Seton LaSalle. He gave up two runs (one earned) on four hits and struck out 10 in five innings of work.
Georgiana pitched two hitless inning in relief for the Rebels.
Karns City (16-7) will play District 6 champion Bald Eagle (19-4) on Thursday in the next round of the PIAA playoffs at a site and time to be determined.
"Everybody knows in the state of Pennsylvania that you gotta get through the WPIAL to advance," Smith said. "The WPIAL is no joke. And we just beat the WPIAL champ. If that doesn't give you the firepower to believe in what we do and who we are, nothing will."