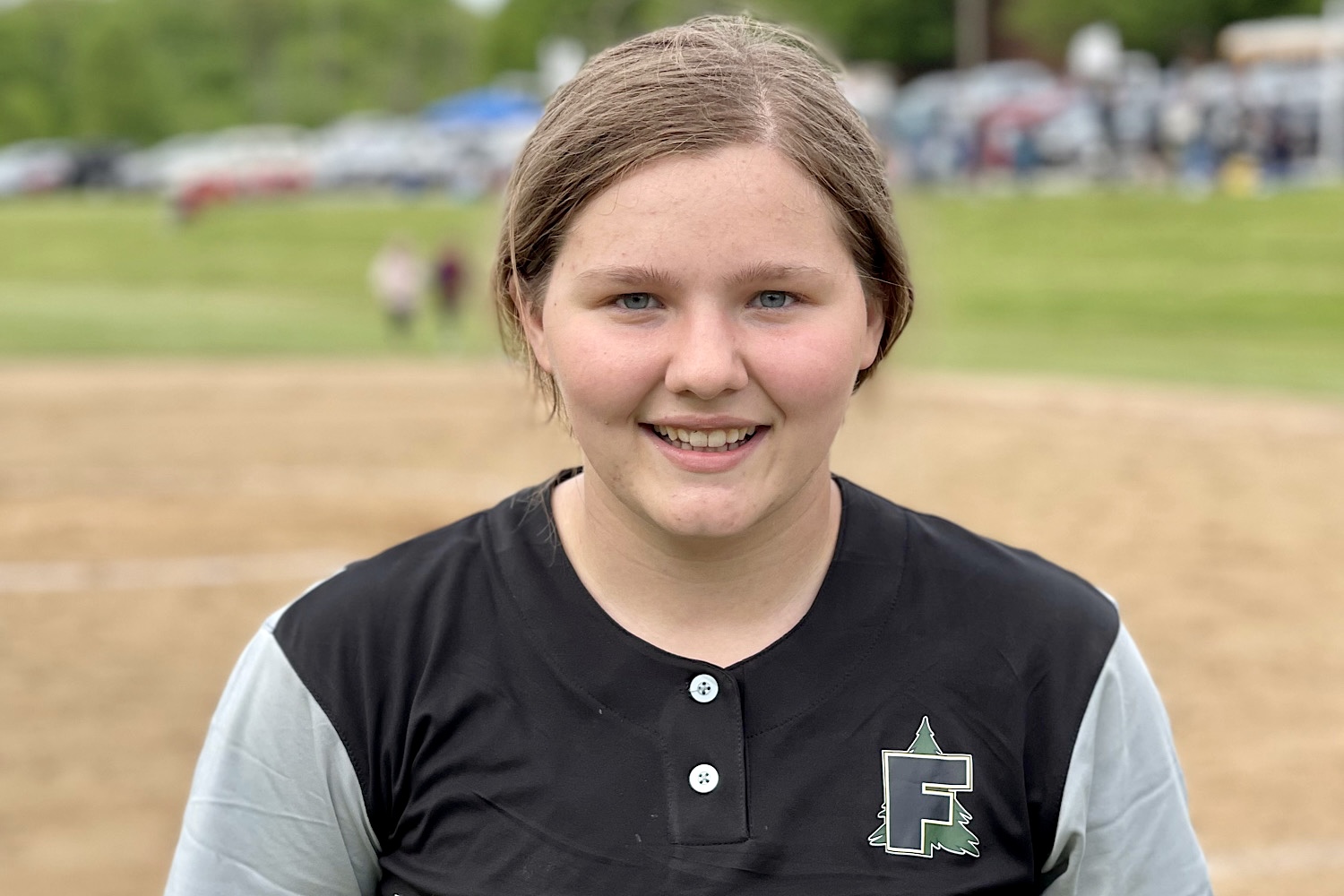 WEST HICKORY, Pa. (EYT/D9) — When Faith Dietrich was eight years old, she was transfixed by a rebroadcast of the softball College World Series.
It was 6 a.m. on Saturday morning. She didn't care. She had to share her epiphany with her father.
She woke him, a big smile on her face.
(Pictured above, Forest Area's Faith Dietrich)
"I was a big Michigan fan and they were in the College World Series that year," said Nathan Dietrich. "She said, 'Dad! I'm going to play college softball.' I was like, 'OK. I'm going back to sleep.' She's like, 'No. You don't understand. I want to play for Michigan.' So we got up and went to work. We've been working ever since."
That work has paid off for Dietrich in a big way. The junior at West Forest High School and a member of the Forest Area softball team has been on a prodigious tear at the plate for the Fires.
Dietrich is batting .556 with seven home runs and 34 RBIs in 15 games this season.
Her monster campaign has come by no accident.
For the past seven years, Dietrich said she has been tinkering with her swing, trying to get it just right.
And lethal.
She's finally succeeded.
Dietrich has been particularly deadly with a bat in her hands down the stretch. She went 5 for 5 with a homer, two doubles and seven RBIs on Monday against Cranberry.
Over the past six games, she's hit four home runs and driven in 19. She has at least two hits in eight straight games for Forest, which will open the District 9 Class A playoffs on Monday at A-C Valley/Union.
The Fires played A-C Valley/Union in the season-opener. Dietrich hit two home runs in that win.
"I've been working on my swing for a long time," Dietrich said. "I'm just now getting it right. I was slowly fixing things to make it better. As I slowly progressed, I was working on being able to see the ball better out of the pitcher's hand. I finally got it where I want it."
Dietrich still wasn't sure about her swing early in the season.
She was coming off a sophomore campaign in which she batted around .300, but had a strong postseason, helping Forest reach the D9 Class A title game for the first time.
"It's honestly surprising because last year I didn't think I did very well," she said. "Then this year I've been able to hit as well as I have been hitting. It's quite surprising, but I'm very happy. To me it doesn't matter. It's mostly about helping my team win."
And Forest is hungry to win, especially after losing the title game last season and then falling in the true second-place game to miss out on the state playoffs entirely.
It has served as motivation for the Fires.
"I'm excited," Dietrich said. "I think we can go farther than we did last year. We have all been trying our hardest to find out where all of us belong."
That has included a position change for Dietrich, who was a catcher for most of her softball career until making a shift to first base this season.
Brooke Felleti has moved behind the plate.
Change, though, hasn't always been good for Dietrich.
The slugger had a strong freshman season until she altered her swing a little too much.
She had to take a step back.
"I realized I probably shouldn't have changed so much," Dietrich said. "I was trying to take away my step. Instead of stepping, I was trying to just go to the ball and I think the step does play a big part in a swing sometimes, most of the time, because it's your timing mechanism. It's how you time the pitcher."
So she added it back.
She's definitely leaving things alone now.
One thing that hasn't changed for Dietrich is the desire to play in college that began when she was eight.
Michigan may not be in the cards, but Dietrich has garnered plenty of interest from colleges already.
"I went for a few visits down south, but I haven't committed to anything yet," Dietrich said. "When we were going through it and started the process there's really nothing after college. It would probably be better to go to a college to get the degree I want and play softball there. Education comes first."
Dietrich plans on studying social science in college so she can become a therapist or counselor.
"I started thinking about it last year because at first, I wanted to be a teacher," she said. "I wanted to go for education because that is what my mom is doing. And I slowly realized that no matter what I go into, education or social sciences, I'd be helping people no matter what."
She wants to help her teammates win.
Now.
"We're finally getting it together," Dietrich said. "We've definitely been trying our hardest and we definitely want to win."