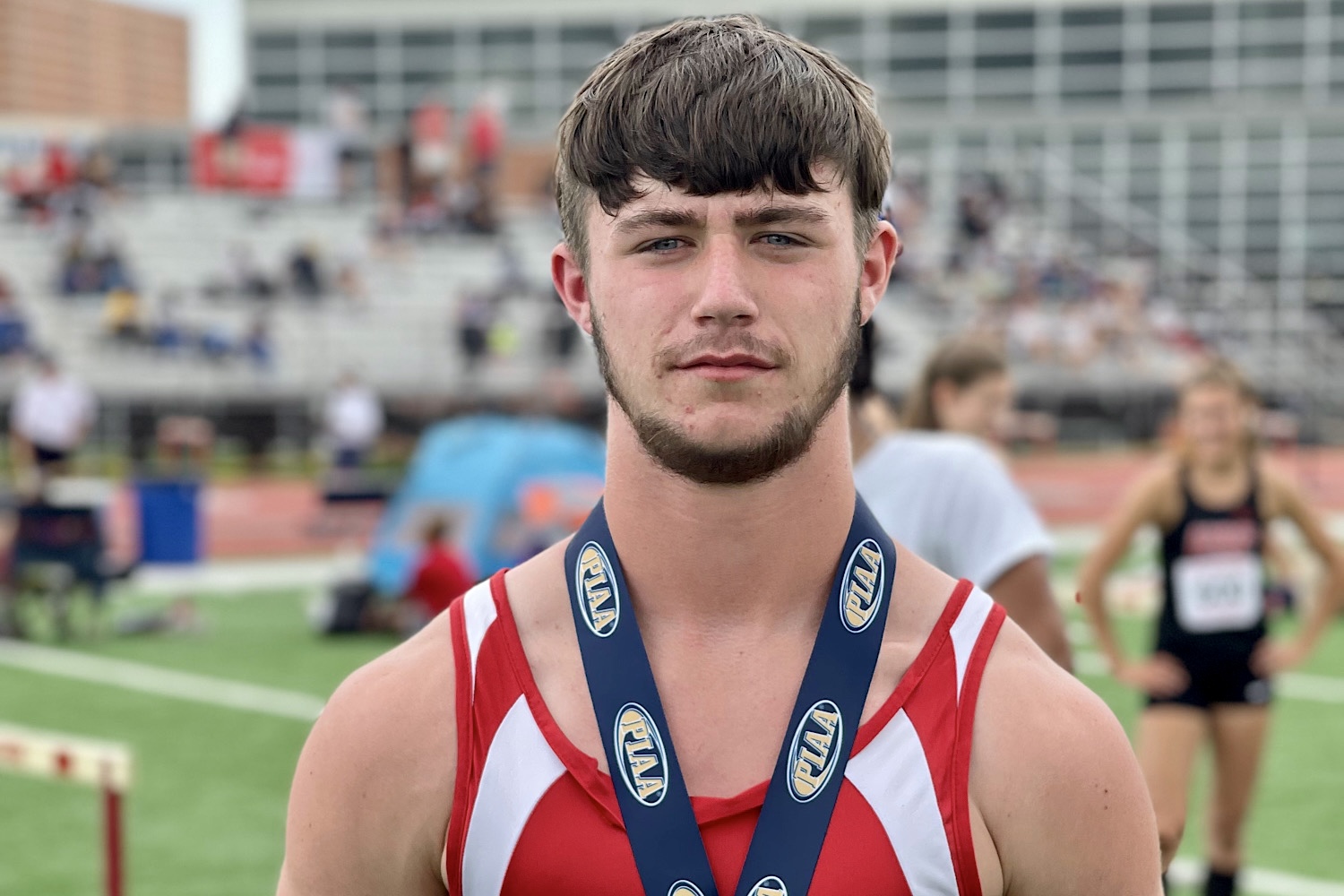 NEW BETHLEHEM, Pa. (EYT/D9) — To Redbank Valley senior Cam Wagner, every experience is a little more special this spring.
He has the top throw in the state in the discus at 165 feet, 1 inch heading into the PIAA Track and Field Championships, which begin on Friday at Shippensburg University.
(Pictured above, Cam Wagner)
That throw was good enough to win the District 9 championship in what has been a trying year for him.
"The district title meant more than it may seem, a lot more to me than what it meant for other people, mainly because of what went down during football season and everything that happened overall there," Wagner said. "I just kept in the weight room and I just kept going. I even came down to throw in the winter to try to prove to everyone who doesn't think that I can do something wrong."
Wagner was second in the discus at the district meet last year behind Landon Chalmers of Union/A-C Valley.
Wagner, though, placed third at the PIAA championships.
"Losing districts last year motivated me even more to go out this year and do it," Wagner said.
He is aware that what he has done already this season doesn't matter at all when he throws on Friday afternoon.
Wagner has to perform on that day. And he only has six throws with which to do it.
"I always have the mindset that anything can happen and anyone can win," Wagner said. "I don't get too overconfident. I try not to look at the numbers too much. I don't want to get into my head about it. But, of course, I've looked at them."
Wagner is also no stranger to performing in crunch time. He played in some big playoff games for the football team in the past, as well as on the basketball court and baseball diamond for the Bulldogs.
"I've been in a lot of state playoff games," he said. "I went to the state championship game in football and state games in basketball and baseball, so I understand the pressure that leads up to all of those games. I feel that helps really any athlete cope with the amount of pressure that you get when it's just you and six throws in an individual sport. No one can really help you out there other than you."
Wagner's quest for gold is just one of many intriguing storylines at the state meet this season.
HUMMELL FINALLY RIGHT
Clarion-Limestone senior Ryan Hummell has also had to overcome some adversity this spring.
Before the football season for Central Clarion in the fall, Hummell tore the ACL in his left knee.
He was undeterred.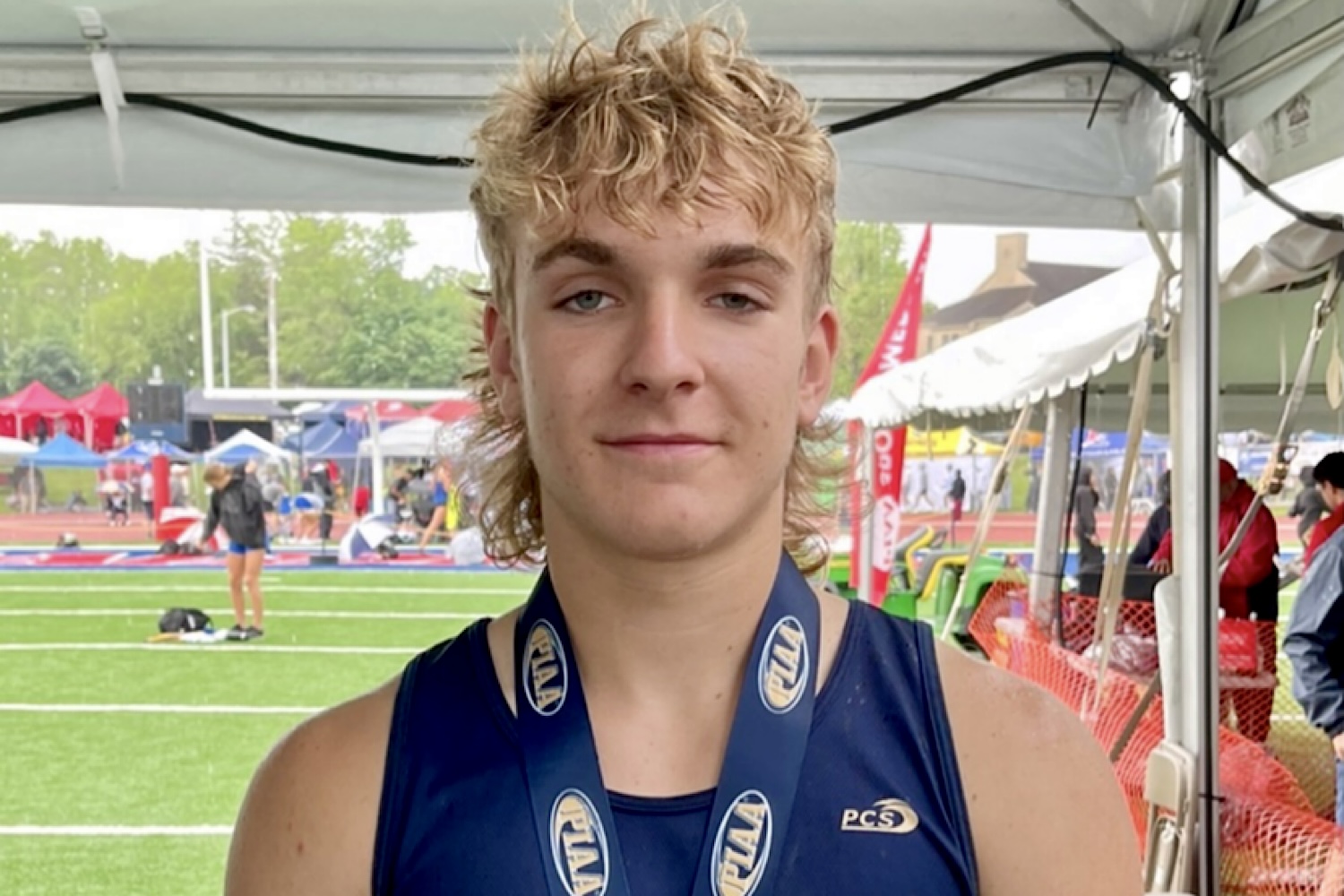 (Ryan Hummell)
Hummell passed on surgery that would have wiped out his entire senior year and instead decided to aggressively rehab the knee. It kept him on the football field, where he shined as a linebacker, helping the Wildcats to a District 9 Class 2A title and a state playoff berth.
This track and field season, though, things haven't gone as smoothly.
Hummell was well aware of his knee injury every time he planted his leg to throw the javelin.
It was a mental hurdle that he had to clear.
He did.
Hummell broke the school record with a throw of 194-6 at the Redbank Valley Invitational. He then won the D9 title with a mark of 177-5.
"It felt great (to win the D9 championship)," Hummell said. "That was obviously my goal from the beginning of the year and doing it, especially with the adversity with my knee, just felt amazing."
Hummell, though, has his eyes on the ultimate prize and he is certainly within striking distance of gold in the event at the state meet.
"I definitely feel like I have a good shot," Hummell said. "It's just all about how you feel on that day and it's anybody's game."
Hummell is also big into visualization.
"That's a huge part of how I prepare," he said. "I just visualize myself making a good throw."
HARMON UNDER THE RADAR?
Redbank Valley sophomore Mylee Harmon finds herself in a strange situation heading into the state meet.
Despite turning in one of the most memorable late kicks in PIAA championship meet history when she blazed from fifth to first over the final 150 meters of the 400-meter dash last year to finish in 57.15 seconds and win the gold, Harmon is something of a forgotten soul this year.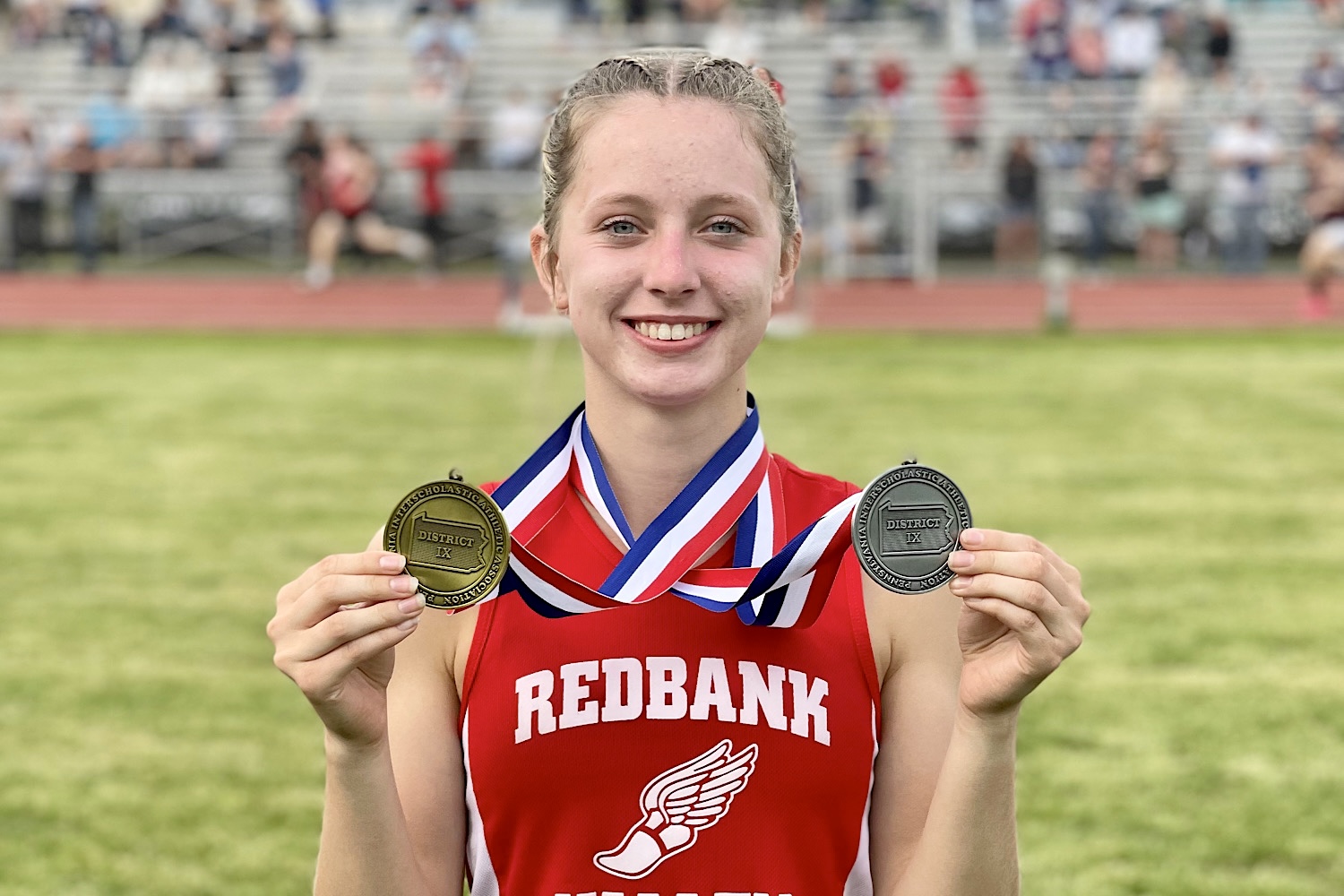 (Mylee Harmon)
That's because of the scintillating seed times in the 400.
Ka'Nai Bey-English of Mastery Christian ran a 55.30 to win the District 12 championship.
Harmon finds herself as the 12th seed.
Harmon, though, isn't bothered by that. In fact, she kind of likes it.
"I'm just keeping my head down," Harmon said. "It would be a lot more pressure if I was top-ranked because there's a lot of pressure being ranked first. I'm 12th. There is some pressure because I won last year."
Harmon said she feels like she can run in the 55-second range at the state meet, especially because she will certainly be pushed again.
"Last year, I hadn't hit below 60 until districts and this year I had below 60 two or three times before I went to districts," Harmon said. "That was definitely better for me than last year. If I can get in the 55s, that would be awesome."
Most freshmen are chewed up and spit out by the enormity of Seth Grove Stadium and the state meet. First-time competitors there often wilt under the pressure.
Not Harmon last year.
She handled the rabid environment well.
This year, she is entering with the same philosophy.
"When you go to state, you feel smaller and you have to show yourself more," Harmon said. "Last year the focus wasn't on me in the finals. When I came across the finish line first, they didn't even know my name. They had to look me up to see who won. I mean, you're small whenever you get to places like that. So you keep your head down and do what you do."
CHALMERS LOOKING FOR REDEMPTION
Last year was not a good experience for Union/A-C Valley's Landon Chalmers at the state meet.
He fouled on each of his three throws in the discus.
This time around, he's seeded sixth in the discus and fourth in the shot put with designs on coming home with lots of bling around his neck.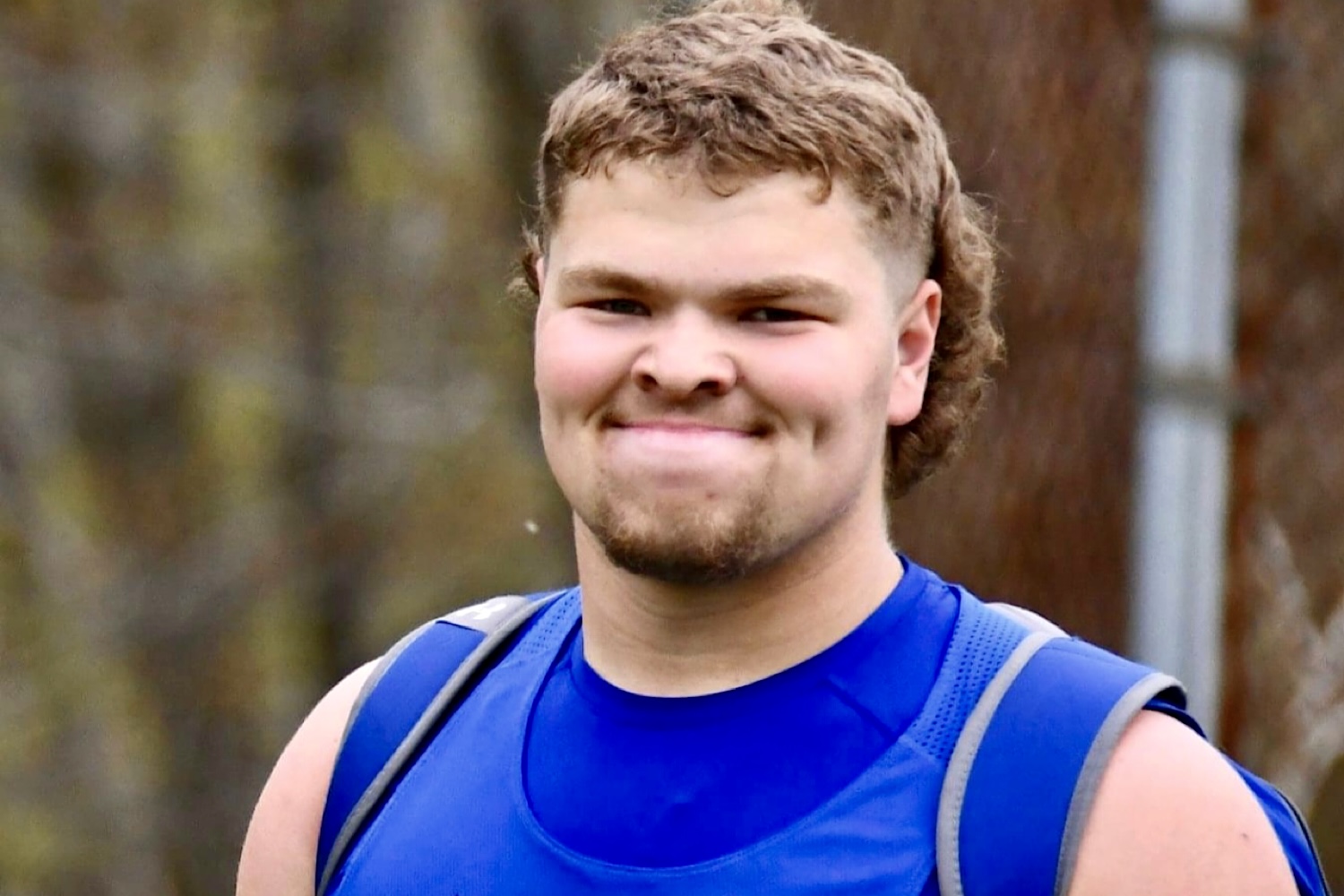 (Landon Chalmers)
"At the beginning of the season, I really wasn't expecting to get this far in the shot, but once I started getting close to the 50s, I kind of started leaning toward be a shot put guy," Chalmers said. "I broke the record at the Brookville Invite and from there I just kind of loved it even more."
The shot put competition in Class 2A is wide open.
"Anybody could win this year," Chalmers said.
He wants it to be him.
Chalmers also wants to vanquish the bad memory of last season in Shippensburg.
"I told myself I wanted to make it back there and redeem myself and actually show I'm a good thrower and I don't fold under pressure," Chalmers said. "I'm hoping to go out there and hopefully break the discus record and put up some big numbers in the shot put. My coach, Dave Sherman, we've been really trying to just hit the little stuff. It's a lot of little stuff that just messed me up. I know I have a big one in me. I'm hoping I can get that big one at states."
HAYDEN SMITH THE HEAVY FAVORITE
Union/A-C Valley's Hayden Smith is the clear top dog in the high jump after winning the gold last year.
Smith cleared 6-8¼ to win the D9 title. That's the top mark in the state. He didn't miss a jump until after he reached that height.
His ultimate goal is seven feet.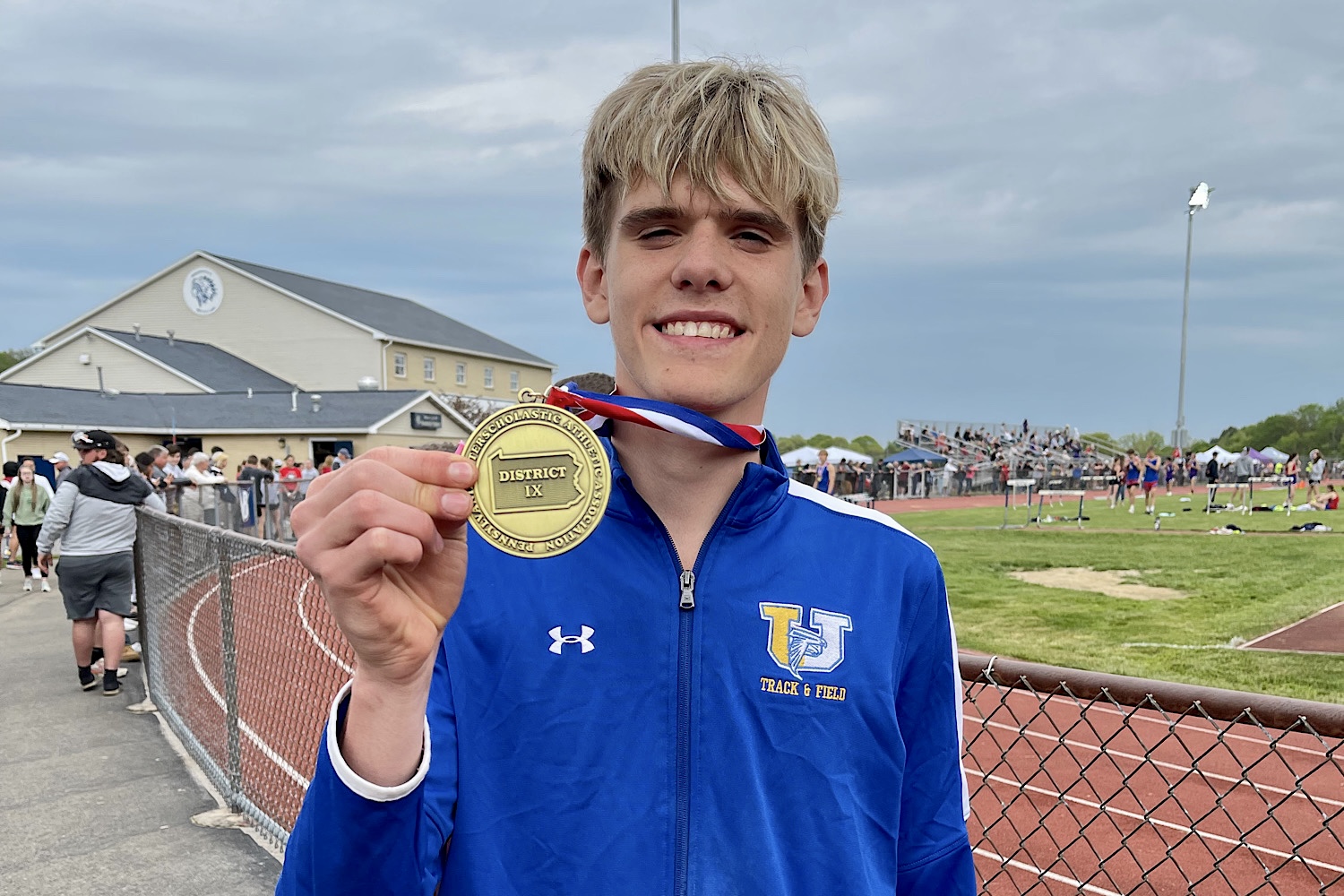 (Hayden Smith)
To do that, he may tinker with his approach.
"Whenever you're getting to the higher heights, you have to start taking into consideration moving your steps back," Smith said.
He did that at the AAU National Championships and cleared 6-10 to win the title last summer.
"I'm just trying to stay as consistent as possible," Smith said.
District 9 Class 2A qualifiers
GIRLS
4×800-meter relay: 4-Elk County Catholic 9:42.78, 16-Punxsutawney 10:02.03; 100-meter hurdles: 19-Julie Monnoyer (Brookville) 16:53, 22-Emily Stephen (Kane) 16.65; 100-meter dash: 21-Laiyla Russell (Cranberry) 12.71, 27-Annasophia Stauffer (Johnsonburg) 13.06; 1,600-meter run: 14-Cheyenne Mehl (Oswayo Valley) 5:21.20, 20-Sophia Bille (Elk County Catholic) 5:28.53; 4×100-meter relay: 26-Brookville 51.90, 28-Moniteau 51.98; 400-meter dash: 12-Mylee Harmon (Redbank Valley) 59.76, 22-Annasophia Stauffer (Johnsonburg) 1:00.97; 300-meter hurdles: 19-Daniella Farkas (Union/A-C Valley) 48.72, 20-Chloe Fritch (Karns City) 49.04; 800-meter run: 11-Jordann Hicks (Punxsutawney) 2:21.92, 15-Gia Babington (North Clarion) 2:23.08; 200-meter dash: 23-Mylee Harmon (Redbank Valley) 26.62, 24-Annasophia Stauffer (Johnsonburg) 26.73; 3,200-meter run: 7-Grace Neubert (Elk County Catholic) 11:19.29, 21-Cheyenne Mehl (Oswayo Valley) 12:07.40; 4×400-meter relay: 21-DuBois Central Catholic 4:14.74, 24-Punxsutawney 4:16.33
High jump: 24-Hope Jacob (DuBois Central Catholic) 5-0, 25-Samantha Griebel (Punxsutawney) 4-10; Pole vault: 15-Claire Henry (Redbank Valley) 10-1, 22-Ella Rizzo (Redbank Valley) 9-0, 23-Anna Schuessler (Otto-Eldred) 9-0; Long jump: 5-Laiyla Russell (Cranberry) 17-6, 25-Rachel Sloff (Elk County Catholic) 16-3¾; Triple jump: 17-Rylee Long (Moniteau) 35-8¼, 19-Laiyla Russell (Cranberry) 35-6½; Shot put: 11-Autumn Stewart (Moniteau) 36-0¾, 12-Brenna Armstrong (North Clarion) 36-0; Discus: 13-Emma Covert (Moniteau) 112-5, 22-Ava Wahlers (Coudersport) 101-9; Javelin: 1-Evie Bliss (Union/A-C Valley) 155-9, 8-Mary Grusky (Punxsutawney) 125-2, 9-Alivia Huffman (Redbank Valley) 124-4
BOYS
4×800-meter relay: 13-Punxsutawney 8:18.63, 21-Brookville 8:32.59; 110-meter hurdles: 25-Skylar Roxbury (Union/A-C Valley) 15.89, 27-Kellan Haines (Brookville) 16.03; 100-meter dash: 7-Brayden Kunselman (Brookville) 10.99, 32-Aiden Ortz (Redbank Valley) 11.31; 1,600-meter run: 7-Kevin Sherry (Coudersport) 4:23.28, 27-Michelangelo Piccirillo (DuBois Central Catholic) 4:40.37; 4×100-meter relay: 1-Brookville 42.57, 13-Redbank Valley 43.77; 400-meter dash: 19-Sam Morganti (Union/A-C Valley) 51.84, 24-Frankie Smith (Elk County Catholic) 53.65; 300-meter hurdles: 22-Kellan Haines (Brookville) 42.65, 23-Daniel Turner (Brookville) 42.74; 800-meter run: 8-Evan Groce (Punxsutawney) 1:58.11, 24-Aaron Myers (Johnsonburg) 1:59.96; 200-meter dash: 27-Logan Skibinski (Union/A-C Valley) 23.74, 28-Brandon Slater (Karns City) 24.16; 3,200-meter run: 6-Kevin Sherry (Coudersport) 9:30.89, 25-Eli Schreiber (Johnsonburg) 9:54.99; 4×400-meter relay: 21-Brookville 3:31.48, 22-Union/A-C Valley 3:31.62
High jump: 1-Hayden Smith (Union/A-C Valley) 6-8¼, 6-Sam Lundeen (Kane) 6-3; Pole vault: 6-Grant Miller (Punxsutawney) 14-1, 11-Scott Finch (Cranberry) 13-6; Long jump: 11-Aiden Ortz (Redbank Valley) 21-11, 12-Sam Lundeen (Kane) 21-9¾; Triple jump: 4-Ricky Zampogna (Kane) 44-5, 8-Ray'shene Thomas (Otto-Eldred) 43-10; Shot put: 4-Landon Chalmers (Union/A-C Valley) 52-6, 8-Cam Wagner (Redbank Valley) 50-8½; Discus: 1-Cam Wagner (Redbank Valley) 165-1, 6-Landon Chalmers (Union/A-C Valley) 155-11; Javelin: 6-Ryan Hummell (Clarion-Limestone) 177-5, 9-Aiden Grieneisen (DuBois Central Catholic) 170-7
CLASS 3A
GIRLS
4×800-meter relay: 23-St. Marys 9:45.49; 100-meter hurdles: 23-Alexia Corignani (Bradford) 15.63; 100-meter dash: 29-Abbigail Schleicher (Bradford) 13.05; 1,600-meter run: 34-Mary Defilippi (St. Marys) 5:31.02; 4×100-meter relay: 28-Bradford 51.57; 400-meter dash: 28-Nicole Wells (DuBois) 1:00.87; 300-meter hurdles: 19-Maura Caskey (St. Marys) 46.22; 800-meter run: 11-Gabby Pistner (St. Marys) 2:14.30; 200-meter run: 31-Abbigail Schleicher (Bradford) 26.94; 3,200-meter run: 29-Morgan Roemer (DuBois) 11:31.49; 4×100-meter relay: 24-St. Marys 4:05.82
High jump: 28-Madelyn Crabtree (DuBois) 4-9; Pole vault: none; Long jump: 25-Peyton Grimm (DuBois) 16-6; Triple jump: 24-Lauren Stroka (DuBois) 35-4½ ; Shot put: 23-Rylee Nicklas (St. Marys) 34-4¾; Discus: 22-Rylee Nicklas (St. Marys) 102-8; Javelin: 21-Rylee Nicklas (St. Marys) 116-0
BOYS
4×800-meter relay: 27-St. Marys 8:46.72; 110-meter hurdles: 30-Brady Collins (Clearfield) 16.33; 100-meter dash: 35-Nathan Kougher (DuBois) 11.59; 1,600-meter run: 31-Leo Paterniti (Bradford) 4:31.08; 4×100-meter relay: 34-DuBois 44.70; 400-meter dash: 28-Brayden Friar (Bradford) 52.67; 300-meter hurdles: 24-Brady Collins (Clearfield) 42.75; 800-meter run: 29-Alex Amador (St. Marys) 2:00.98; 200-meter dash: 38-Nathan Kougher (DuBois) 23.54; 3,200-meter run: 31-Brayden Frair (Bradford) 10:07.25; 4×400-meter relay: 27-St. Marys 3:32.26
High jump: 28-Chase Wineberg (Bradford) 5-10; Pole vault: 23-Edward Burkett (DuBois) 12-3; Long jump: 23-Kai Lynch (Clearfield) 20-9; Triple jump: 26-Andrew Field (St. Marys) 40-11; Shot put: 24-Ja'Reese Stowe (DuBois) 41-10; Discus: 23-Braedon Firanski (Clearfield) 135-10; Javelin: 24-Isaac Samsel (Clearfield) 142-10