SHIPPENSBURG, Pa. (EYT/D9) — Grace Neubert prepared herself for the miles she was about to log on Saturday morning at the PIAA Track and Field Championships.
For Neubert, it's old hat.
First the grueling 3,200-meter run in Class 2A . Then the 4×800 relay.
A lot of running. But two medals to show for it.
(Elk County Catholic's 4×800 relay team of Sophia Bille, Sami Straub, Gianna Bille and Grace Neubert placed second)
Neubert was fourth in the 3,200 with a time of 10 minutes, 55.44 seconds, then turned around and ran the anchor leg of the Crusaders' 4×800 relay with Sophia Bille, Sami Straub and Gianna Bille that snagged a silver medal.
"(Elk County Coach Wee J Fernan) prepares me for this," Neubert said. "I usually do the 4×4 after the 3,200 in regular meets because he knows I'll have to be able to recover quick and respond to that. I definitely have practice."
Neubert leaves Shippensburg University with two medals.
"It's nice," she said, smiling. "It's nice to see my hard work pay off, especially as a team. We've worked so hard."
She has a particular affinity for the silver.
Last year, the quartet placed sixth at the state meet. With all four returning, the goal was set high.
"Last year we knew we were capable of it," said sophomore Gianna Bille. "We wanted to try to do better than we did, and we did."
"We were definitely more comfortable being here," Straub added. "We were a lot calmer this year, and we knew we had a chance at one or two. We were just going out there to do our best."
Central Cambria finished first at 9:27.90.
Punxsutawney's team of Jordann Hicks, Riley Miller, Taylor Bair and Emily McMahan was 10th at 9:49.49.
The cohesion of running together for two consecutive seasons also helped the team.
"We definitely know how to have a positive attitude and come out strong," said Sophia Bille. "We know how we all run, so it's definitely a positive thing."
When Gianna Bille joined the group, she was understandably nervous.
"It was a bit stressful last year because I didn't want to hurt the team at all," she said. "It pushed me to do better."
Neubert and the ECC relay were just the tip of a medal iceberg on Saturday morning for District 9 athletes.
Kane's Ricky Zampogna was third in the triple jump with an effort of 43 feet, 9 ¾ inches.
C.J. Simbiri of Delaware County Christian won at 46-3½.
Zampogna qualified for the state meet in the event last year, but did not place.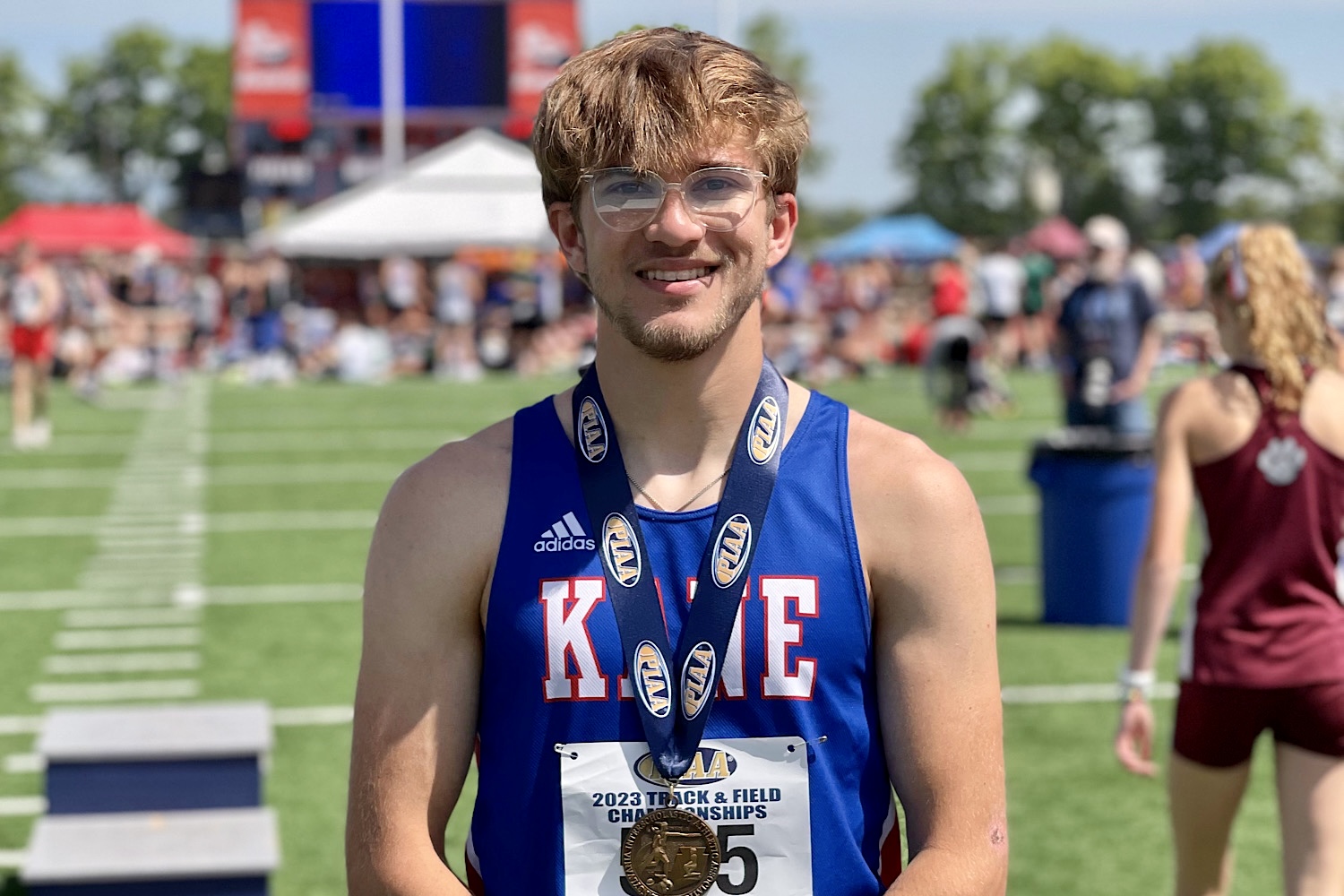 (Ricky Zampogna)
That served as supreme motivation for the senior to return this season and get a medal.
"I wish I could have jumped a little but farther — I was a little over a foot under my PR today," Zampogna said. "I'm still happy with how it came out because I made finals here last year and I didn't end up medaling. It kind of motivated me to work even harder."
It wasn't easy.
Kane didn't have its own track this year. That forced Zampogna and his teammates to improvise, running in school hallways and having neighboring schools with tracks invite them to practice once a week.
"I was always in the gym or running in the halls, stuff like that," Zampogna said. "Our coaches did everything they could to put us in a position to win."
Coudersport's Kevin Sherry finished eighth in the boys Class 2A 3,200 run.
Brookville's Brayden Kunselman snagged a fifth-place finish in the 100-meter dash with a time of 11.24 seconds.
Last year he was sixth — in the district.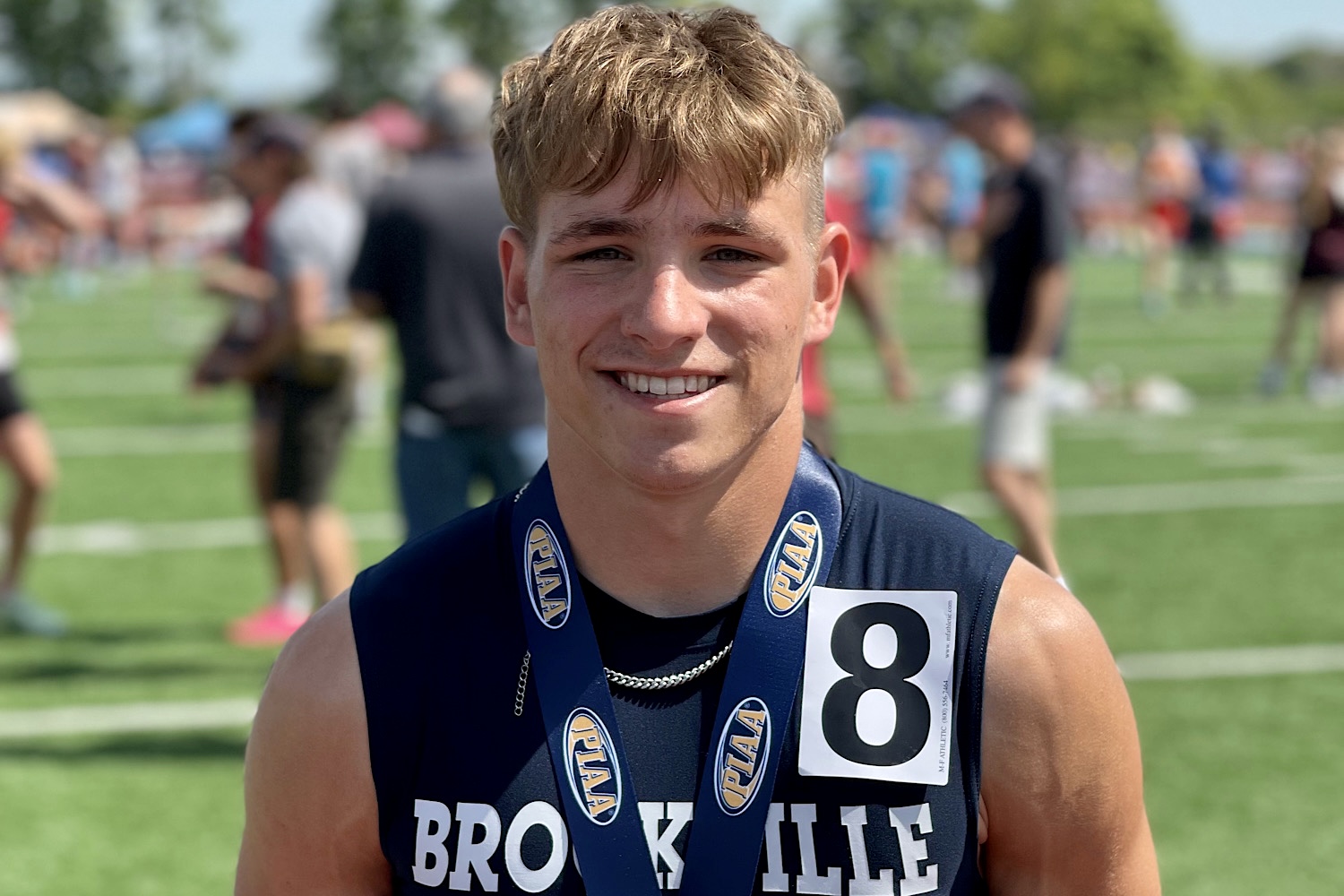 (Brayden Kunselman)
"Last year, I didn't really learn how to run tall," Kunselman said. "They always tell you that you have your drive stage, then you're supposed to start working yourself tall. Last year I just tried driving the whole entire time."
Kunselman was eighth coming into the race after the prelims. But a late kick pushed him into the fifth spot.
"I knew that fourth through eighth was going to be a toss up," Kunselman said before cracking a smile. "I just didn't want to be last and on that little eight-place board."