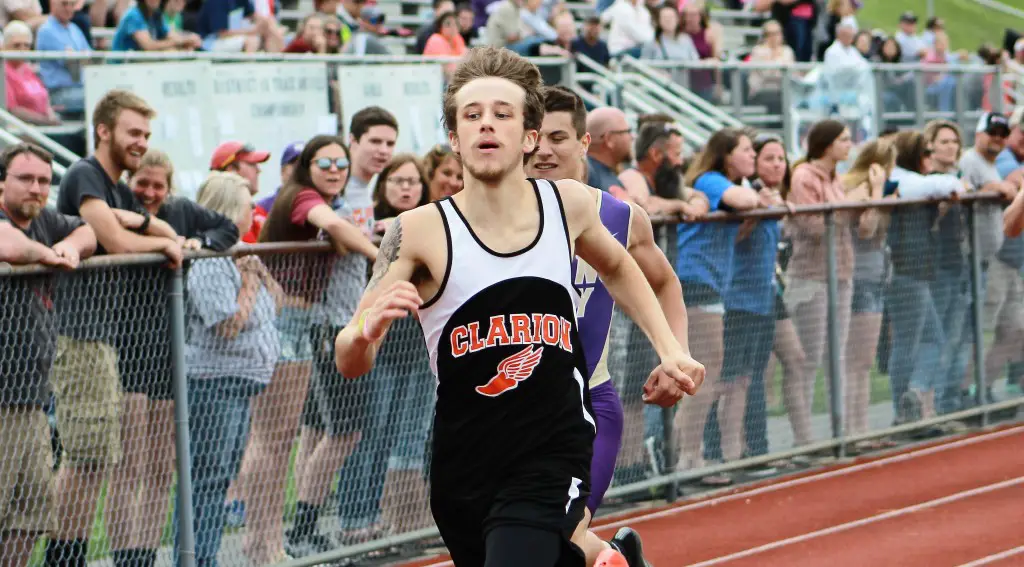 Between June 26 and July 30, D9Sports.com Sports Editor Chris Rossetti will be counting down his Top 25 favorites stories in District 9 from the 2017-18 school year starting with No. 25 June 25 and finishing with No. 1 July 30. Again these are Chris' favorite stories and are open for debate.
(Photo by Jared Bakaysa of JB Graphics. See more of Bakaysa's work here)
No. 22. Brendan Zerfoss wins D9 Track MVP Award, two PIAA medals
Brendan Zerfoss finished off his track and field career in strong fashion winning District 9 titles in both the 200-meter dash (22.27) and the 400-meter dash (50.28) while taking second in the 100-meter dash (11.42), an event he won in 2017.
That effort helped Zerfoss be named the James Manners Award winner as the boys' MVP of the meet.
Zerfoss continued his success at the PIAA meet finishing fifth in both the 200 and 400 in times of 22.94 and 50.19 respectively.
This followed a 2017 season that saw Zerfoss win the fastest-man in District 9 Class 2A after taking home the title in the 100 (11.0) and the 200 (22.32) while anchoring the 4×100-meter relay team that won the D9 title that year when he caught Brookville's John Frank from behind to give the Bobcats the title.
Chris Rossetti's Top 25 Sports Stories in District 9 for the 2017-18 School Year
No. 25 – A-C Valley girls win first PIAA playoff basketball game in school history
No. 24 – Two District 9 girls finish in Top 10 at District 9 Cross Country Meet
No. 23 – Jack Krug bursts onto the scene, helps Brookville football return to the postseason
No. 22 – Brendan Zerfoss wins D9 Track MVP Award, two PIAA medals
No. 21 – Coming July 2
No. 20 – Coming July 3
No. 19 – Coming July 4
No. 18 – Coming July 5
No. 17 – Coming July 6
No. 16 – Coming July 9
No. 15 – Coming July 10
No. 14 – Coming July 11
No. 13 – Coming July 12
No. 12 – Coming July 13
No. 11 – Coming July 16
No. 10 – Coming July 17
No. 9 – Coming July 18
No. 8 – Coming July 19
No. 7 – Coming July 20
No. 6 – Coming July 23
No. 5 – Coming July 24
No. 4 – Coming July 25
No. 3 – Coming July 26
No. 2 – Coming July 27
No. 1 – Coming July 30