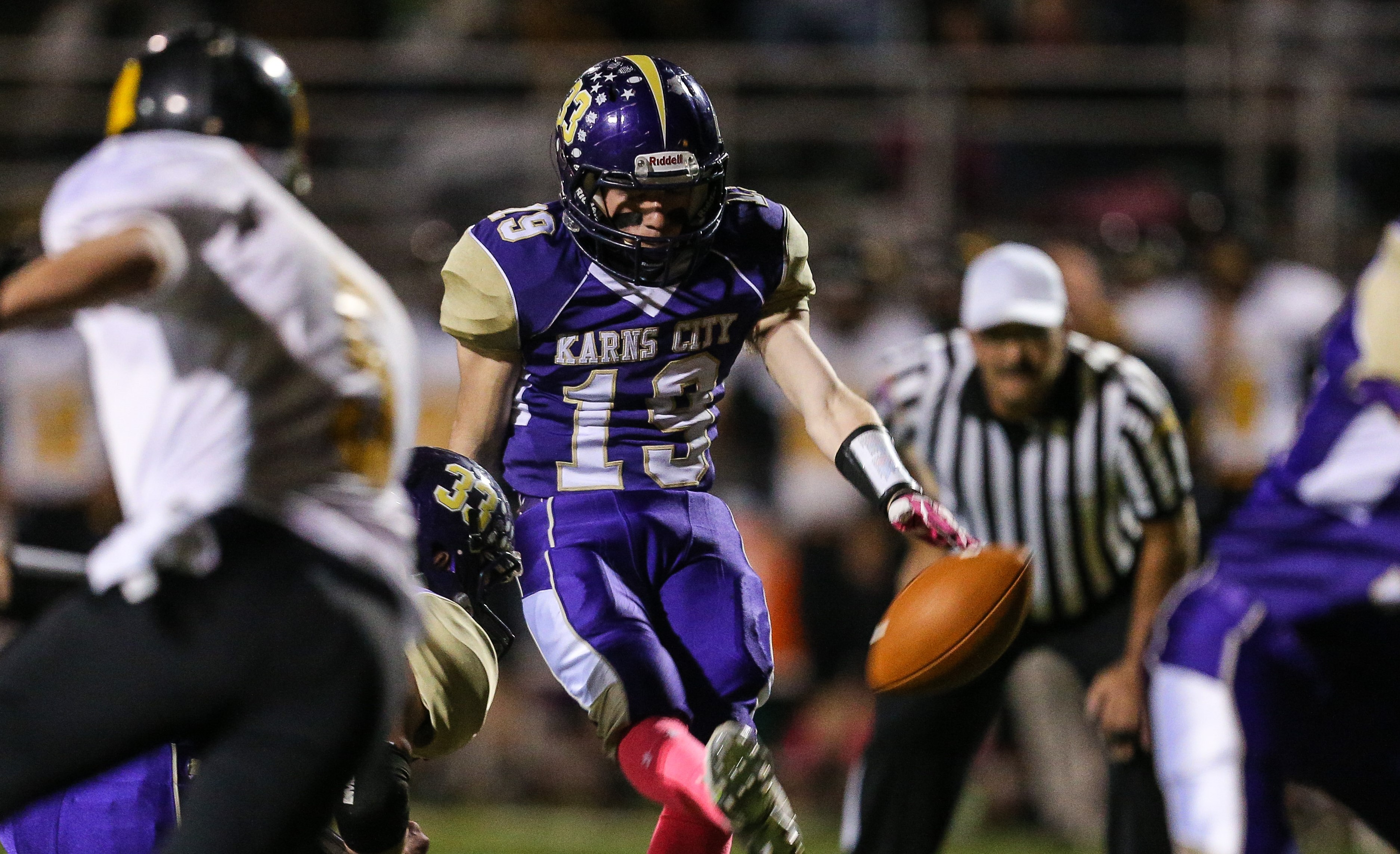 Compliments of the Keystone Shortway Athletic Conference, Friday night's Clarion at Karns City clash has more meaning than previous years where it could've been an unofficial overall conference championship.
Kaiden Powers and the Karns City Gremlins host the Clarion Bobcats Friday in a key KSAC Large School Division matchup. (Photo by Mike Schnelle/Apex Imaging)
Just last week, the KSAC reminded everyone who didn't know — and there were many — that the Bobcats were the KSAC Large School Division, meaning that this week's matchup could well determine the division.
Since the Bobcats still have St. Marys left on the schedule in two weeks, a win over the Gremlins would only clinch a share of the title. But if the Gremlins win, it's another Large School title for them.
It's one of the lead games on this week's 12-game Friday night-only schedule. Here's a closer look at the schedule, grouped by level of interest below.
But first a glance at the playoff races. Go here for the complete standings.
CLASS A
If the playoffs began this week:
No. 8 Union/ACV at No. 1 Ridgway (they play each other in two weeks, by the way)
No. 5 Curwensville at No. 4 Coudersport
No. 6 Redbank Valley at No. 3 C-L
No. 7 Otto-Eldred at No. 2 Elk County Catholic
Thoughts: This is a volatile mix, so don't expect it to totally play out that way above. Ridgway still has to play ECC and this week's Curwensville-ECC game will juggle the numbers up some as well. Could there be other teams in the mix? With Union/ACV and Smethport at the No. 8 and 9 spots with two wins, that could change as well.
CLASS 2A
This will be a fun race to watch as Kane, Brockway and Clarion are 1-2-3 right now and they're the three remaining unbeaten teams in the district. Clarion plays Karns City this week while Kane hosts Brockway next week, so there could be just one remaining after next week.
The question if it'll be a four-team bracket with Moniteau sitting at 3-3 in the fourth spot at the moment. The Warriors are underdogs in at least two of their remaining three games — at C-L, home against Karns City and at Redbank Valley. Will they go with a losing record? If they don't, someone will have a huge first-round bye.
CLASS 3A
Not much excitement here. It's probably just Karns City and St. Marys in the final. Both District 8's Perry (2-4) and Punxsutawney (1-5) have losing records.
CLASS 4A
While Clearfield and Johnstown appear to have nailed down two of the four playoff spots, it's not quite final for the other four as DuBois (4-3), Bellefonte (4-3), Somerset (3-4) and Bradford (3-4) are in contention.
As far as the Beavers go, they're probably good enough to get in with five wins — and this week's game with Franklin is huge because of that — and that'll be important since their last two games aren't easy at all. They play Newport (7-0) and Hollidaysburg (3-4). Newport out of District 3 is currently ranked No. 6 in the state in Class AA by pafootballnews.com.
Check out the offensive stat leaders through Week 6 in District 9.
GAMES TO WATCH
KSAC-Large
Clarion (6-0 overall, 3-0) at Karns City (6-1, 3-0)
So how did we get to this big KSAC Large showdown that could likely decide the division champion? Check out this story, then this opinion piece by Chris Rossetti, followed by this most recent story.
These teams have looked forward to this matchup annually, but the game hasn't meant anything in the KSAC standings since the conference split into two divisions for the 2010 season. But it does now.
The Gremlins' lone loss came in Week 0 (remember, the week before Week 1) to Armstrong and they've cruised since with dominating wins. They're averaging 436 yards offensively per game, including 304 on the ground. In last week's win at C-L without an injured starting quarterback Jacob King, the Gremlins piled up a whopping 548 yards on the ground led by Chandler Turner's 308-yard performance.
Turner (60-822, 11 TDs), Kaiden Powers (23-430, 6 TDs) and Cullen Williams (26-261, 6 TDs) are the primary runners while King's status for Friday isn't known. He's played well so far, completing 52 of 99 passes for 804 yards with seven TDs and four interceptions. Turner (9-226) leads the team in receiving yardage.
The Bobcats were tested last week in a 28-20 win over Redbank Valley. They had allowed just 28 points in the previous five games. Karns City beat the Bulldogs, 34-12, in their matchup.
Clarion averages 388 yards offensively per game, 287 of that on the ground led by Colton Rapp (114-896, 9 TDs). Quarterback Spencer Miller (37-70, 728 yards, 12 TDs, 6 Ints.) takes the snaps and his leading receiving target is Ty Burford (14-404, 7 TDs).
The Gremlins, who are ranked No. 8 by two state ranking publications — pafootballnews.com and pennlive.com — have beaten the Bobcats 12 of the last 15 times they've met, including a 48-6 rout last year.
AML-South
Elk Co. Catholic (5-2, 1-2) at Curwensville (4-3, 0-3)
As mentioned above, this is a huge game in the Class A playoff standings with Ridgway and ECC in the top two spots respectively while the Golden Tide are currently in the No. 5 spot. Both teams are looking to end losing streaks as the Crusaders losing a hard-fought 30-25 game to Brockway after losing the previous week to another unbeaten Kane while the Golden Tide lost their third straight game to Ridgway.
Three Crusaders are over 370 yards rushing this year as they average 223 of their 316 yards offensively per game on the ground. Quarterback Nate DaCanal (42-96, 649 yards, 8 TDs, 5 Ints.; 57-372, 6 TDs rushing) continues to be a dangerous dual-threat player, ranking third on the team in rushing behind Jared Braun (68-539, 7 TDs) and Dan Stauffer (87-378, 4 TDs).
DaCanal's top receivers are Brad Dippold (15-239, 5 TDs) and Eric Gerber (10-215, 2 TDs).
Curwensville's Nick Stewart (162-1,270, 19 TDs) had his streak of 10 straight 100-yard games stopped in last week's shutout loss to Ridgway, limited to a career-low 44 yards on 21 carries. He's rushed for over 100 yards and a touchdown in 26 of his 30 varsity games. Stewart accounts for 67.6 percent of the Tide's yards from scrimmage.
AML-South
Kane (7-0, 3-0) at Ridgway (6-1, 2-1)
The Wolves head to Ridgway on a 23-game winning streak against D9 opponents and the last time they played the Elkers in Ridgway in 2014, their 14-13 loss started a 1-3 midseason stretch that they shook off and haven't looked back since with two straight district titles.
It'll be a test for Kane against an Elkers defense that just doesn't give up much — 6 points and just 122 yards per game — although the Wolves might be just as good and certainly better in the points allowed department at 4.7 points allowed per game, which ranks eighth in the state.
Offensively, there's a bit of a gap as the high-powered Wolves score 47.5 points per game while the Elkers weigh in at a still-respectable 31.4 points per game. Wolves quarterback Reed Williams (51-86, 1,062 yards, 14 TDs, 2 Ints.) has had a very efficient season with his top receivers Ray Maze (19-460, 6 TDs) and Davis Gardner (17-283, 5 TDs). But that's certainly not the only concern for opposing defenses as running back Erik DeLong (126-1,117, 15 TDs) ranks second to only Curwensville's Stewart in rushing with over 1,100 yards. DeLong also leads the defense with 9.2 tackles per game.
The Elkers get 220 of their 268 yards of offense per game on the ground. Neil MacDonald (79-592, 9 TDs) and quarterback Johnny Mitchell (70-299, 5 TDs) lead the way as nine different Elkers have rushed for a touchdown.
Defensively, Joey Elinski leads the team with 9.1 tackles per game with MacDonald second at 7.7.
The Wolves are ranked No. 8 in the state in Class AA by www.pafootballnews.com.
AML-North
Otto-Eldred (3-4, 3-0) at Coudersport (4-3, 3-0)
While the AML-North has gotten beaten up by outside forces all season, it's been somewhat interesting in division play and the winner of this game will likely win the division title and a berth in the AML Championship game.
Since a 1-3 start against the AML-South — their win over Bradford the only North win in crossover action — the Falcons have won three straight against Sheffield (28-20), Cameron County (34-0) and Smethport (26-14). The Terrors lost four straight to start the year before beating Port Allegany (43-8), Sheffield (21-13) and Cameron County (48-6).
Quarterback Aaron Wolfinger (48-100, 772 yards, 10 TDs) leads the way for Coudersport. He threw three TD passes against Smethport last week, two of them going to Jared Green, who leads the team with six. Brock Wilson and Wolfinger are the top two rushers.
For Otto-Eldred, Grant West is coming off a big game against Cameron County — 5 carries, 110 yards rushing, 4 catches, 135 yards receiving — and leads the team in receiving (18-291, 3 TDs). Also leading the way are quarterback Sawyer Drummond (39-67, 470, 4 TDs) and Seth Drummond (447 yards, 6 TDs).
Coudersport has beat Otto-Eldred twice in a row since Otto's last win in 2013, including a 24-0 shutout last year.
NEXT LEVEL DOWN
Non-Conference
Redbank Valley (3-3) at St. Marys (4-2)
It's the first time these teams have met since 2013 when the Bulldogs blanked the Dutch, 23-0, at the same Dutch Country Stadium where they meet Friday night. It's also the Dutch's only loss to the Bulldogs since joining the KSAC in 2010.
Both teams have beaten Keystone (Bulldogs 55-18, Dutch 49-14) and Union/ACV (Bulldogs 14-0, Dutch 32-14) while losing to Karns City (Bulldogs 34-12, Dutch 42-6) and C-L (Bulldogs 53-19, Dutch 15-14).
Matt Marconi (89-446, 3 TDs) leads the Dutch's run-oriented offense. He and Tim Beimel both ran for over 100 yards in last week's win over Keystone. Quarterback Pat Schlimm (26-65, 435 yards) and Jeff Wehler (12-283) lead the passing game.
For the Bulldogs, it's quarterback Keaton Kahle (34-75, 457 yards, 4 TDs, 3 Ints.) with his leading receivers Jared Kespelher (10-171, 1 TD), Clint Thurston (5-122, 1 TD) and Brock Barrett (8-107, 1 TD), and running backs Colten (56-385, 2 TDs) and Curtis (56-297, 3 TDs) Mohney.
Non-Conference
Moniteau (3-3) at Clarion-Limestone (4-2)
The newly-crowned KSAC Small champion Lions host the Warriors, who are coming off a 37-14 win over Brookville. The Lions beat Brookville the week before, 40-21.
Lions running back Mike Macefe (138-821, 9 TDs) is closing in on 1,000 yards while quarterback Brendan Makray (59-126, 917 yards, 7 TDs, 11 Ints.) is even closer. Makray's top targets are Sam Leadbetter (19-381, 3 TDs) and Riley Hummell (21-331, 3 TDs).
For the Warriors, sophomore quarterback Chance Nagy has thrown for 627 yards while rushing for 245 yards. Freshman fullback Nick Martino leads the Warriors' running game with 265 yards. Dalton Anderson (17-396) is the team's leading receiver.
C-L beat Moniteau last year, 40-14, ending a five-game losing streak dating back to its last win in 2005.
District 10 Region 5
DuBois (4-3, 2-3) at Franklin (4-3, 2-2)
The Beavers head to Venango County hoping to get another streak going to finish the regular season after their three-game winning streak was stopped cold in last week's 40-point loss to unbeaten Grove City.
Both teams share wins over Warren (27-24 Franklin, 62-28 DuBois) and Oil City (30-20 Franklin, 55-16 Oil City) and losses to Meadville (70-0 Franklin, 52-26 DuBois) and Grove City (60-6 Franklin, 54-14 DuBois).
The Beavers average 36 points and 397 yards per game offensively while giving up 31 points per game. Last year, they scored 39 points per game with 503 yards per game while giving up 45.5 points defensively.
In four games, quarterback Mike Miller (68-100, 1,059 yards, 11 TDs, 4 Ints.) is over 1,000 yards. Junior receiver Kyle Hopson (53-906, 10 TDs) is close to reaching four digits in yardage and he has TD receptions in six straight games. Running back Brock Adams (79-543, 8 TDs) leads the running game along with Braden Paulinellie (74-427, 4 TDs).
Franklin's freshman quarterback Ian Haynes (80-149, 1,128 yards, 10 TDs, 8 Ints.) is over 1,000 yards as well. His top receivers are Brandon Johnson (23-383, 4 TDs) and Eric Hoffman (26-287, 2 TDs).
AML-South
Bradford (3-4, 0-3) at Brockway (7-0, 3-0)
The Rovers survived a test in last week's 30-25 win over Elk County Catholic by rushing for a season-high 370 yards, taking pressure off the passing game as quarterback Hunter Miller (71-110, 1,435 yards, 17 TDs, 4 Ints.) threw for just 68 yards. That still got him over the 3,000-yard milestone.
Mark Latuska (90-709, 10 TDs) ran for 217 yards against the Crusaders while Miller went for a season-high 136 yards and three scores. He's the team's second-leading rusher at 245 yards and nine TDs. Miller's top receivers are Andrew Trunzo (22-444, 3 TDs) and Dylan LeCates (15-301, 5 TDs), who leads the defense with four interceptions.
Bradford, coming off a shutout loss to Kane, has two running backs over 450 yards with Donny Pattison (49-495, 5 TDs) and John Eakin (53-454, 4 TDs). Quarterback Kyle Kirk (37-81, 774 yards, 8 TDs, 2 Ints.) runs the passing game.
Mountain League
Clearfield (6-1, 5-0) at Bald Eagle Area (3-4, 1-4)
The Bison, sole leader of the Mountain League, take a six-game winning streak to Wingate against an Eagles team with three straight losses. The Eagles lost 30-19 to Huntingdon last week, a team the Bison beat 35-21.
Other common opponents are Tyrone (BEA 34-15 loss, Bison 22-3 win) and Central-Martinsburg (BEA 50-0 loss, Bison 28-7 win).
Quarterback Isaac Rumery (47-94, 910 yards, 7 TDs, 6 Ints.) is primed to go over 1,000 yards passing. He's also rushed for 352 yards. Running back Seth Caldwell (135-690, 9 TDs) is 170 yards shy of the 4,000-yard milestone. Rumery's top receivers are Micah Heichel (20-513, 4 TDs) and Ryan Lezzer (13-267, 1 TD).
OTHERS
Non-Conference
Union/A-C Valley (2-4) at Brookville (1-5)
Both teams go into the game towing three-game losing streaks. The Falcon Knights and Raiders have both lost to C-L, Redbank Valley, but this past week, the Raiders lost to Moniteau — Union/ACV beat the Warriors — while Union/ACV lost to Punxsutawney — the Raiders beat the Chucks.
Aside from Union's forfeit win in 2009 over the Raiders due to them using an ineligible player, neither side of the co-op has beaten the Raiders since A-C Valley did 1988, one year after Union's last on-field win in 1987. Those aren't long streaks of games since the Raiders were in the D9 League from 1993-2007.
Quarterback Lucas Bowser (53-112, 748 yards, 9 TDs, 11 Ints.) leads the Union/ACV offense that only mustered six points against the Chucks last week. Receiver Gavin Hawk (20-334) had seven catches last week. Lane Chalmers (78-312) is the leading rusher.
For the Raiders, quarterback Seth Ray (32-88, 658 yards, 4 TDs, 9 Int.) is coming off a career-high 277-yard passing game against Moniteau. John Frank (16-301, 2 TDs) and Bryan Dworek (13-261, 1 TD) are his top targets.
Non-Conference
Keystone (0-7) at Punxsutawney (1-5)
While the Chucks ended their nine-game losing streak last week with a win over Union/ACV, the Panthers dropped their eighth straight game in a 49-14 loss to St. Marys.
For the Chucks, quarterback Dylan Ishman (41-75, 444 yards, 4 TDs, 5 Ints.), running back Tyler Richardson (59-285), and receivers Ethan Riley (59-285) and Jacob Weaver (22-205) lead the way.
Quarterback Nate Wingard (62-128, 918 yards, 7 TDs, 2 Ints.) leads the Keystone passing game that has four receivers over 200 yards, led by Corey Rapp (28-446).
AML-North
Sheffield (1-6, 1-3) at Smethport (2-5, 2-1)
Sheffield heads to McKean County after ending a 16-game losing streak following its win over Port Allegany last Saturday. The Wolverines have played the AML-North co-leaders Coudersport and Otto-Eldred tight in eight-point losses.
Their AML-North common foes so far are Coudersport (beat Sheffield 21-13, Cameron 26-14) and Port Allegany (lost to Sheffield 33-14, Smethport 15-6).
AML-North
Port Allegany (0-7, 0-3) at Cameron County (0-7, 0-3)
It's another "Something has to Give" Bowl in Emporium this week in a battle of winless teams.
The Gators have allowed the fourth-most points in the state at 49.4 points per game while tied for 10th in fewest points scored at 4.8 points per game. They've lost nine straight games dating back to the end of last season.
The Red Raiders aren't too far from the Gators in those state rankings, including giving up 46.2 points per game.
In common AML-North opponents, they've lost to Smethport (15-6 Port, 12-7 Cameron) and Otto-Eldred (43-8 Port, 48-6 Cameron).