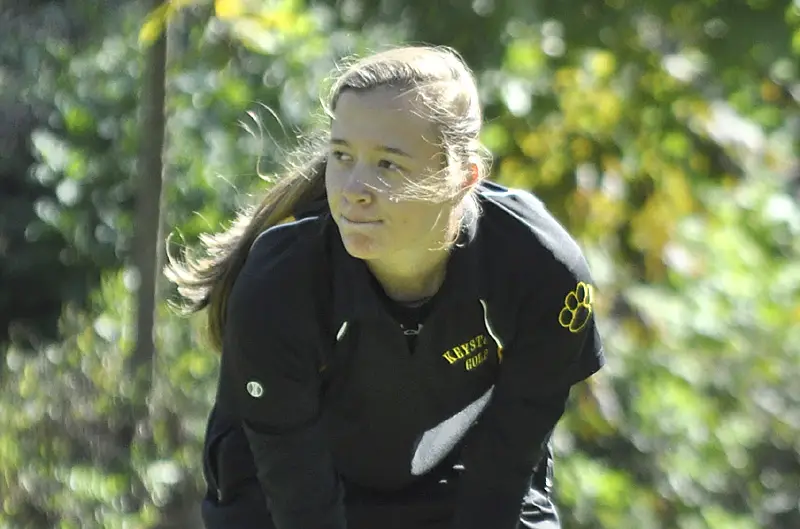 Between June 27 and July 22 we will be counting down the Top 20 Sports Stories in District 9 from the 2015-16 School Year starting with No. 20 June 27 and finishing with No. 1 July 22.
No. 13 Keystone's Amber Hess finishes second at the PIAA Girls' Golf Championships
Keystone's Amber Hess cemented her place in District 9 history when she took second at the PIAA Class AA girls' golf championships held in late October in York, Pa.
Hess shot a two-round total of 163, 10 shots off the lead of Greensburg Central Catholic's Olivia Zambruno, who carded a 153. Hess was one shot ahead of third-place finisher Marissa Kirkwood of Neshannock.
Just to reach the PIAA Championships, Hess had to overcome a hole that would have done most golfers in during the Regional Tournament when she shot a 12 on the Par 5 fourth hole at Tom's Run Golf Course in Blairsville but still managed to shoot an 86 to finish fourth and qualify for the championship.
Hess won the District 9 title by shooting a 79 Pine Acres Country Club in Bradford.
Top 20 Sports Stories in District 9 for the 2015-16 School Year
No. 20 – Punxsutawney wins 13th straight District 9 Class AAA Baseball Title
No. 19 – Clarion's Run to the PIAA Softball Playoffs
No. 18 – Elk County Catholic Boys' Basketball Back on Top
No. 17 – Keystone Girls' Basketball Wins Improbable District 9 Title
No. 16 – Kane Basketball Goes from 3 Wins to D9 Champs
No. 15 – DuBois Central Catholic Baseball Unseats the Champions
No. 14 – Karns City Girls' Soccer Advances to PIAA Semifinals
No. 13 – Keystone's Amber Hess finishes second at PIAA Girl' Golf Championships
No. 12 – Released July 7
No. 11 – Released July 8
No. 10 – Released July 11
No. 9 – Released July 12
No. 8 – Released July 13
No. 7 – Released July 14
No. 6 – Released July 15
No. 5 – Released July 18
No. 4 – Released July 19
No. 3 – Released July 20
No. 2 – Released July 21
No. 1 – Released July 22