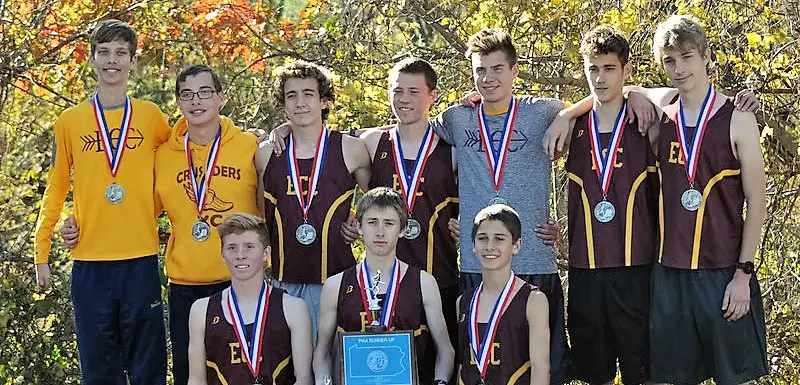 Between June 27 and July 24 D9Sports.com will be counting down the Top 20 stories in District 9 from the 2016-17 school year starting with No. 20 June 27 and finishing with No. 1 July 24.
No. 15: Elk County Catholic Boys' Cross Country Takes Second at PIAA Championships
Cross Country sometimes gets looked over my it's more glorious cousin sport track and field, but in St. Marys Elk County Catholic makes sure people take notice.
And in 2016 the Crusaders boys' XC team had a PIAA Championship meet to remember finishing second in the state in Class 1A to Winchester Thurston.
Zach Wortman led the charge for ECC finishing seventh in the state in a time of 16:46.
The Crusaders had four more runners finish in the top 35 with Ben Hoffman 17th, Matt Dippold 28th, Isaac Wortman 29th and Logan Hoffman 32nd. The amazing thing is of those five top runners only Zach Wortman was a senior and two of them – Hoffman and Isaac Wortman – were freshmen.
Top 20 Sports Stories in District 9 for the 2016-17 School Year
No. 20 – Three District 9 girls' place in the javelin at the PIAA Championships
No. 19 – Brockway Girls and Port Allegany Boys Claim First-Ever D9 Soccer Titles
No. 18 – Ridgway Boys' Basketball Marches to PIAA Elite Eight
No. 17 – Ridgway Claims D9 1A Football Title
No. 16 – Kane Football Wins Third Straight D9 Title
No. 15 – Elk County Catholic Boys' Cross Country Takes Second at PIAA Championships
No. 14 – Released July 5
No. 13 – Released July 6
No. 12 – Released July 7
No. 11 – Released July 10
No. 10 – Released July 11
No. 9 – Released July 12
No. 8 – Released July 13
No. 7 – Released July 14
No. 6 – Released July 17
No. 5 – Released July 18
No. 4 – Released July 19
No. 3 – Released July 20
No. 2 – Released July 21
No. 1 – Released July 24