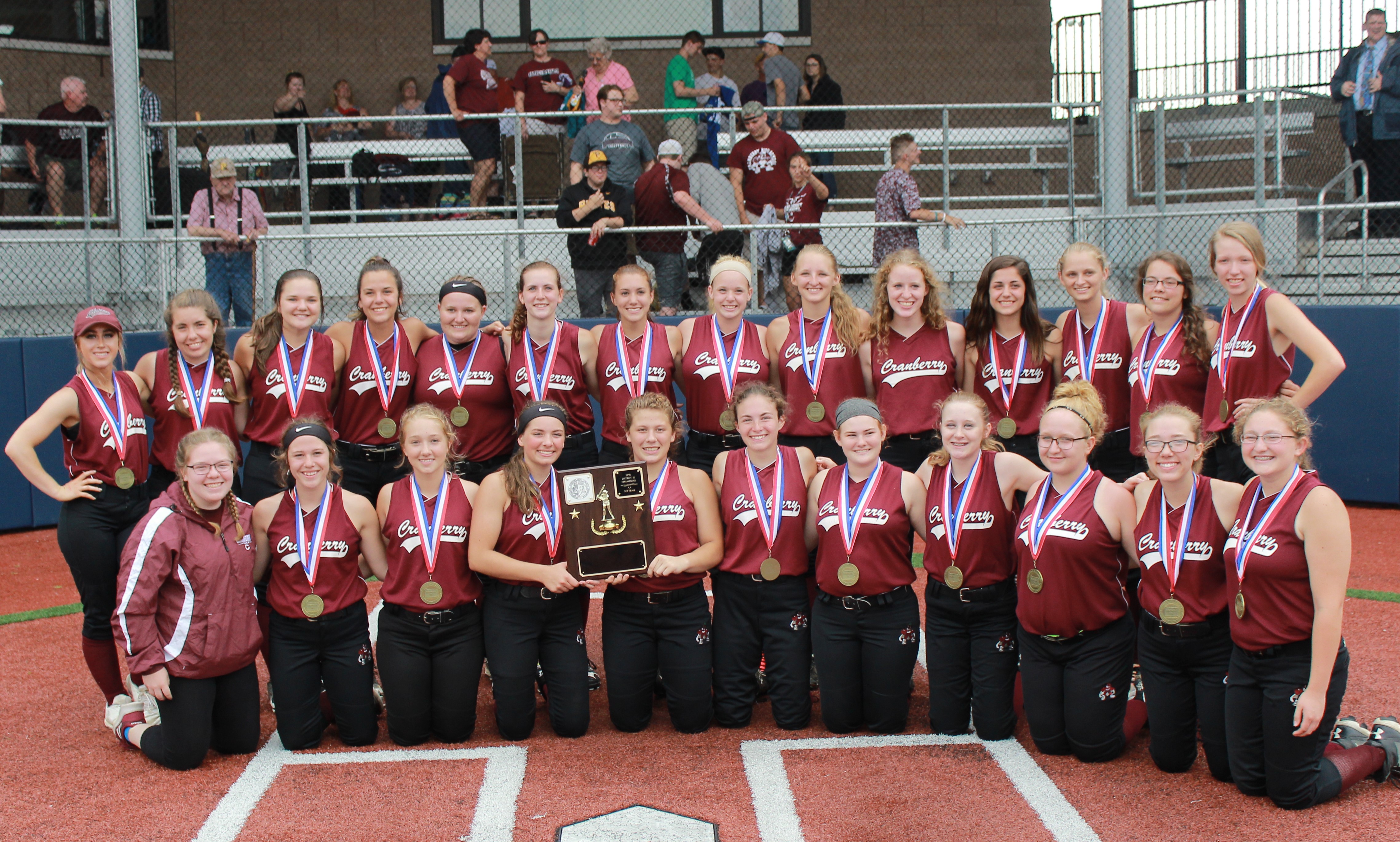 Between June 26 and July 30, D9Sports.com Sports Editor Chris Rossetti will be counting down his Top 25 favorites stories in District 9 from the 2017-18 school year starting with No. 25 June 25 and finishing with No. 1 July 30. Again these are Chris' favorite stories and are open for debate.
(Photo by Jared Bakaysa of JB Graphics. See more of Bakaysa's work here)
No. 21 Cranberry wins District 9 Class 2A softball title
After finishing second two straight years to Moniteau in District 9 Class 2A softball, Cranberry finally broke through winning the 2018 title with a 5-3 win over Johnsonburg.
The Berries jumped out to a 2-0 lead after an inning and never trailed thanks in part to Johnsonburg leaving 11 on base while going 2 of 13 with runners in scoring position.
Rachel McCauley and Emily Duncan both had doubles for the Berries, while Natalie Barcinas scored twice and Hannah Duncan and Libby Kiefer drove in runs.
Andrea Watson got the win going seven innings allowing three runs on 11 hits and four walks while striking out seven.
While Cranberry fell to eventually PIAA runner-up Mohawk in the opening round of the PIAA playoffs, it was a season to remember for the Berries.
Chris Rossetti's Top 25 Sports Stories in District 9 for the 2017-18 School Year
No. 25 – A-C Valley girls win first PIAA playoff basketball game in school history
No. 24 – Two District 9 girls finish in Top 10 at District 9 Cross Country Meet
No. 23 – Jack Krug bursts onto the scene, helps Brookville football return to the postseason
No. 22 – Brendan Zerfoss wins D9 Track MVP Award, two PIAA medals
No. 21 – Cranberry wins District 9 Class 2A softball title
No. 20 – Coming July 3
No. 19 – Coming July 4
No. 18 – Coming July 5
No. 17 – Coming July 6
No. 16 – Coming July 9
No. 15 – Coming July 10
No. 14 – Coming July 11
No. 13 – Coming July 12
No. 12 – Coming July 13
No. 11 – Coming July 16
No. 10 – Coming July 17
No. 9 – Coming July 18
No. 8 – Coming July 19
No. 7 – Coming July 20
No. 6 – Coming July 23
No. 5 – Coming July 24
No. 4 – Coming July 25
No. 3 – Coming July 26
No. 2 – Coming July 27
No. 1 – Coming July 30