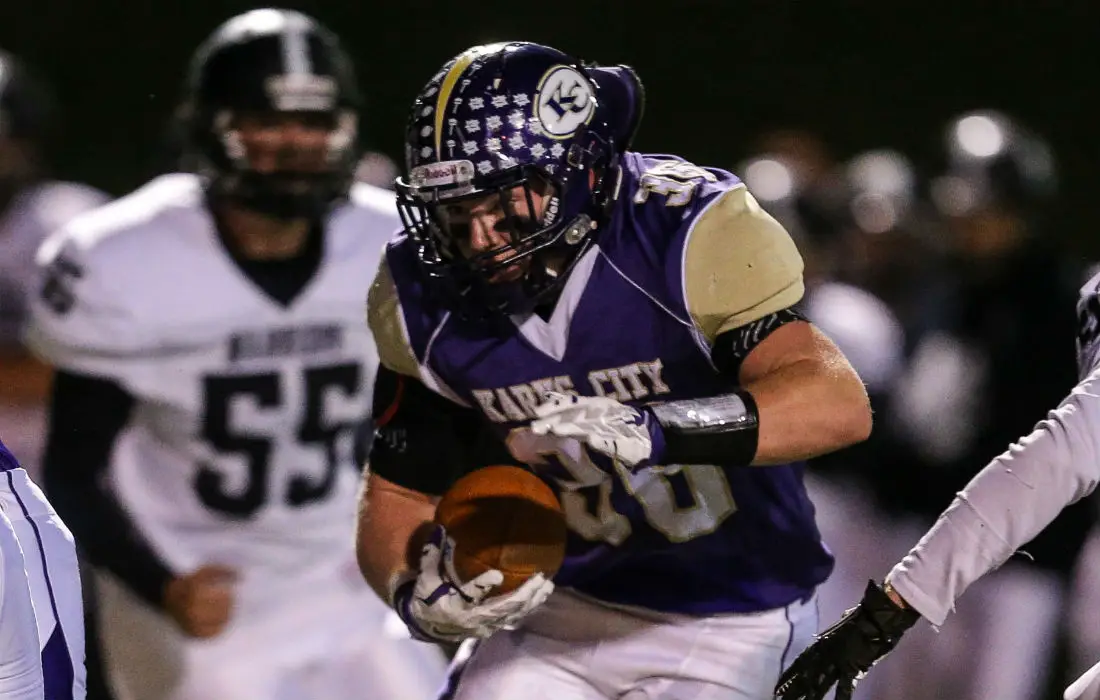 Between June 27 and July 22 we will be counting down the Top 20 Sports Stories in District 9 from the 2015-16 School Year starting with No. 20 June 27 and finishing with No. 1 July 22.
No. 12 Karns City goes on an old-school drive to beat Bedford in PIAA Sub-Regional playoff game
Playing at home, in a game it was favored to win, Karns City found itself trailing Bedford, 17-14, with just over 14 minutes left to play.
But the Gremlins weren't to be denied. Harkening back to the days of old East Brady and Karns City football, the Gremlins went on an old-fashion 15-play, 65-yard drive, all on the ground, that saw them convert a pair of third downs and a pair of fourth downs before Maverick Kelsea's 1-yard touchdown run with 7:28 to play but KC up for good, 21-17.
Early in the drive, Karns City converted a third-and-3 from its own 42-yard line on a 24-yard Chandler Turner run. Kelsea then dove up the middle for three yards on a third-and-1 to keep the drive alive.
As impressive as those conversions were, the next two were game changers.
Facing fourth-and-1 at the Bedford 13, Turner barely, every so barely, got the first down by a length of a football to keep the Gremlins hopes alive. But three players later, Karns City again found itself facing fourth down, this time fourth-and-inches at the three. But quarterback Cullen Williams picked up two yards on a quarterback keeper to set up the Kelsea winning score.
Even after the drive, the game was still in the balance.
Karns City's defense bent but didn't break, as Bedford drove inside the 20-yard line before coming up with a late stop on fourth down. The offense again did its job putting together a pair od first downs to run out the clock and give the Gremlins the victory.
It was a game full of adversity for Karns City, which found itself down 10-0 in the second quarter before taking a 14-10 lead midway through the third quarter on a Collin Dunmyre 32-yard touchdown run.
The next week, against the mighty Quips of Aliquippa, Karns City nearly pulled the upset of the ages. The Gremlins led early in the fourth quarter before the machine that was Aliquippa football roared back to take a 27-17 victory.
Top 20 Sports Stories in District 9 for the 2015-16 School Year
No. 20 – Punxsutawney wins 13th straight District 9 Class AAA Baseball Title
No. 19 – Clarion's Run to the PIAA Softball Playoffs
No. 18 – Elk County Catholic Boys' Basketball Back on Top
No. 17 – Keystone Girls' Basketball Wins Improbable District 9 Title
No. 16 – Kane Basketball Goes from 3 Wins to D9 Champs
No. 15 – DuBois Central Catholic Baseball Unseats the Champions
No. 14 – Karns City Girls' Soccer Advances to PIAA Semifinals
No. 13 – Keystone's Amber Hess finishes second at PIAA Girl' Golf Championships
No. 12 – Karns City football goes on old-school drive to beat Bedford in Class AA sub-regional playoff game
No. 11 – Released July 8
No. 10 – Released July 11
No. 9 – Released July 12
No. 8 – Released July 13
No. 7 – Released July 14
No. 6 – Released July 15
No. 5 – Released July 18
No. 4 – Released July 19
No. 3 – Released July 20
No. 2 – Released July 21
No. 1 – Released July 22