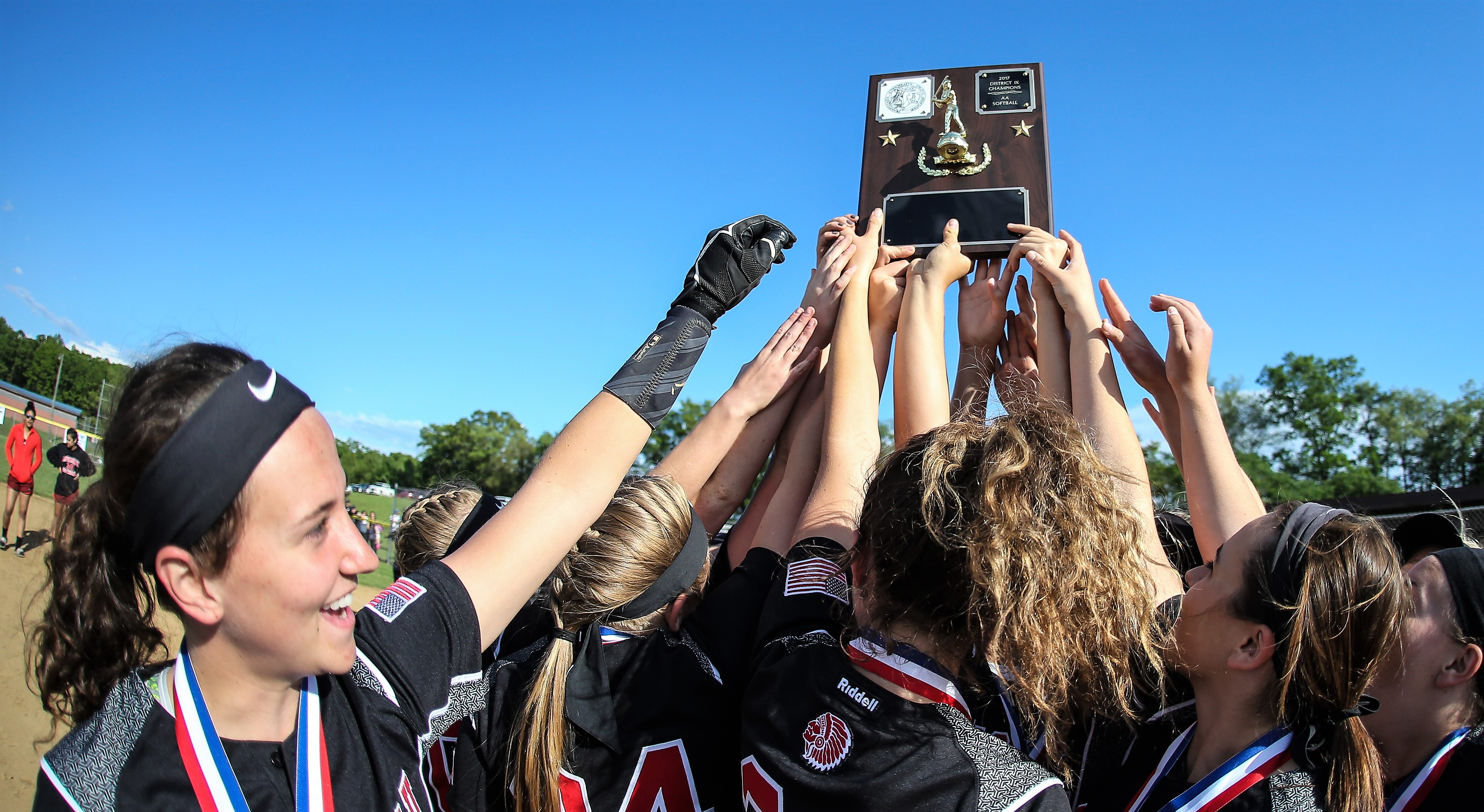 Between June 27 and July 24 D9Sports.com will be counting down the Top 20 stories in District 9 from the 2016-17 school year starting with No. 20 June 27 and finishing with No. 1 July 24.
No. 14: Moniteau Softball Wins 4th Straight Title but Stunned in PIAA Playoffs
It was a weird year for the Moniteau softball team.
The Lady Warriors finished the regular season unbeaten at 19-0 and then rolled to their fourth straight District 9 title, the first softball team to win four consecutive titles in District 9 since Bradford won five in a row from 1990-94 and just the third school to win at least four straight D9 softball titles.
The D9 championship game, a 9-0 win over Cranberry that was halted for a while because of weather at Clarion-Limestone, featured a fantastic pitching performance from Kennedy DeMatteis. The senior came within a batter of a perfect game giving up a single to Jenna Huegel, the second batter of the game, before retiring the final 20 Cranberry batters she faced. She struck out 11 while getting her 45th career shutout.
Moniteau led 3-0 until the sixth when it put the game away with a six-run inning.
But despite the fourth consecutive title, the season ended up feeling empty for Moniteau, which went to the PIAA Class 2A title game in 2016 finishing second, had much higher priorities this year.
But, alas, it wasn't the be.
Chartiers-Houston, the fourth-place team out of the WPIAL, got a great pitching performance from Kaitlyn Dittrich to hand Moniteau a crushing 1-0 defeat in the opening round of the PIAA tournament. Dittrich scattered four hits, three walks and a hit batter over seven shutout innings becoming the first pitcher to blank the Lady Warriors in a span of 90 games dating back to May 24, 2013.
Meanwhile, the Buccaneers took advantage of a leadoff walk issued by DeMatteis in the sixth inning to score their only run on a two-out single to left by Macie Kesneck.
Moniteau put two runners on with two outs in the bottom of the seventh but couldn't come up with the game-tying hit, as first-year manager Lennie Claypoole suffered his first career loss in the hardest of ways.
Top 20 Sports Stories in District 9 for the 2016-17 School Year
No. 20 – Three District 9 girls' place in the javelin at the PIAA Championships
No. 19 – Brockway Girls and Port Allegany Boys Claim First-Ever D9 Soccer Titles
No. 18 – Ridgway Boys' Basketball Marches to PIAA Elite Eight
No. 17 – Ridgway Claims D9 1A Football Title
No. 16 – Kane Football Wins Third Straight D9 Title
No. 15 – Elk County Catholic Boys' Cross Country Takes Second at PIAA Championships
No. 14 – Moniteau Softball Wins 4th Straight Title but Stunned in PIAA Playoffs
No. 13 – Released July 6
No. 12 – Released July 7
No. 11 – Released July 10
No. 10 – Released July 11
No. 9 – Released July 12
No. 8 – Released July 13
No. 7 – Released July 14
No. 6 – Released July 17
No. 5 – Released July 18
No. 4 – Released July 19
No. 3 – Released July 20
No. 2 – Released July 21
No. 1 – Released July 24