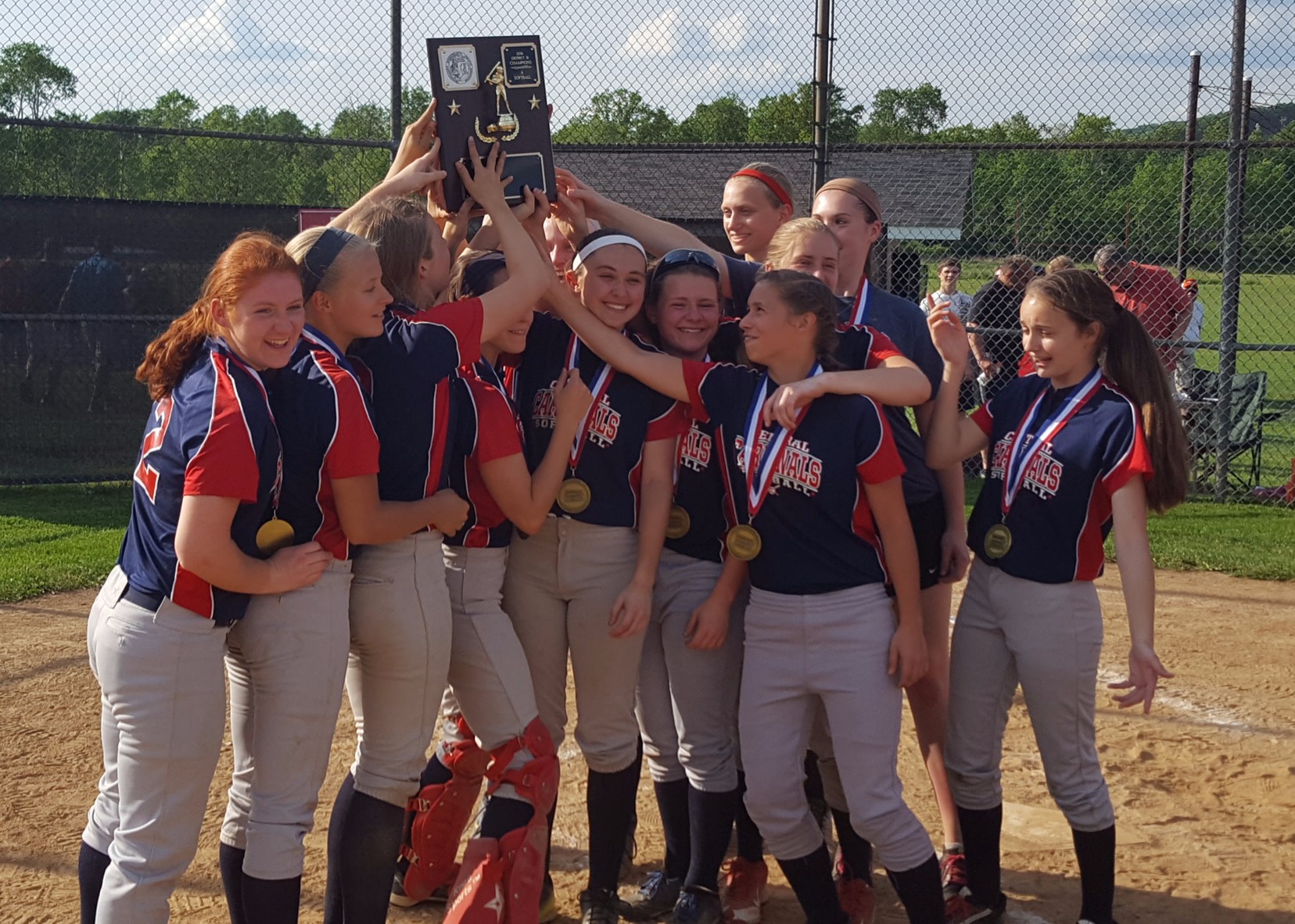 Between June 27 and July 22 we will be counting down the Top 20 Sports Stories in District 9 from the 2015-16 School Year starting with No. 20 June 27 and finishing with No. 1 July 22.
No. 11 DuBois Central Catholic reaches PIAA Class A Semifinals
When the season started, DuBois Central Catholic was one of a handful of favorites to win the District 9 title, and the Lady Cardinals ended up rolling into the postseason with an unbeaten record.
Then, in the District 9 quarterfinals, DCC dispatched of Cameron County with ease winning 13-0 in five innings.
But in the semifinals, upset-minded A-C Valley grabbed a 1-0 lead in the top of the sixth. But DCC rallied scoring four times in the bottom of the inning to pull out a 4-1 victory and a date with Clarion in the D9 title game.
Once again, the Lady Cardinals found themselves down 1-0 in the sixth after Clarion plated a run. But again, DCC rallied when Macey Hanes tripled leading off the sixth and Riley Assalone tied the game with a sac fly before freshman Ashley Wruble drove home Jordy Frank with the go-ahead run. DCC held onto the 2-1 lead and turned it into its second District 9 Class A title in three years.
Moving into the PIAA playoffs,  the Lady Cards easily dispatched of Windber, 16-0 in three innings, bringing a game with the 2015 PIAA runner-up, Conemaugh Valley. This is where many thought the run might end.
But DCC rode the wave of pitcher Assalone, who had a streak of allowing just one earned run in 70 innings finally snapped in the PIAA semifinals, to a 3-0 win that sent the Lady Cardinals to the PIAA semifinal game for the first time in school history.
While the semifinals didn't go DCC's way, a 5-2 loss to WPIAL champion West Greene ended the Lady Cards season, the future looks bright for DCC, which loses just two starters.
One of the returning starters is Frank, who was named the Pennsylvania Class A Player of the Year and the D9Sports.com District 9 Offensive Player of the Year after hitting .667 with an OPS of 2.092. she had 12 home runs, 11 doubles, 10 triples and 42 RBIs while scoring 65 runs.
Assalone, who was a first-team All-State selection also returns, as does Wruble and Hanes, two more first-team selections.
Top 20 Sports Stories in District 9 for the 2015-16 School Year
No. 20 – Punxsutawney wins 13th straight District 9 Class AAA Baseball Title
No. 19 – Clarion's Run to the PIAA Softball Playoffs
No. 18 – Elk County Catholic Boys' Basketball Back on Top
No. 17 – Keystone Girls' Basketball Wins Improbable District 9 Title
No. 16 – Kane Basketball Goes from 3 Wins to D9 Champs
No. 15 – DuBois Central Catholic Baseball Unseats the Champions
No. 14 – Karns City Girls' Soccer Advances to PIAA Semifinals
No. 13 – Keystone's Amber Hess finishes second at PIAA Girl' Golf Championships
No. 12 – Karns City football goes on old-school drive to beat Bedford in Class AA sub-regional playoff game
No. 11 – DuBois Central Catholic Softball reaches PIAA Class A semifinals
No. 10 – Released July 11
No. 9 – Released July 12
No. 8 – Released July 13
No. 7 – Released July 14
No. 6 – Released July 15
No. 5 – Released July 18
No. 4 – Released July 19
No. 3 – Released July 20
No. 2 – Released July 21
No. 1 – Released July 22