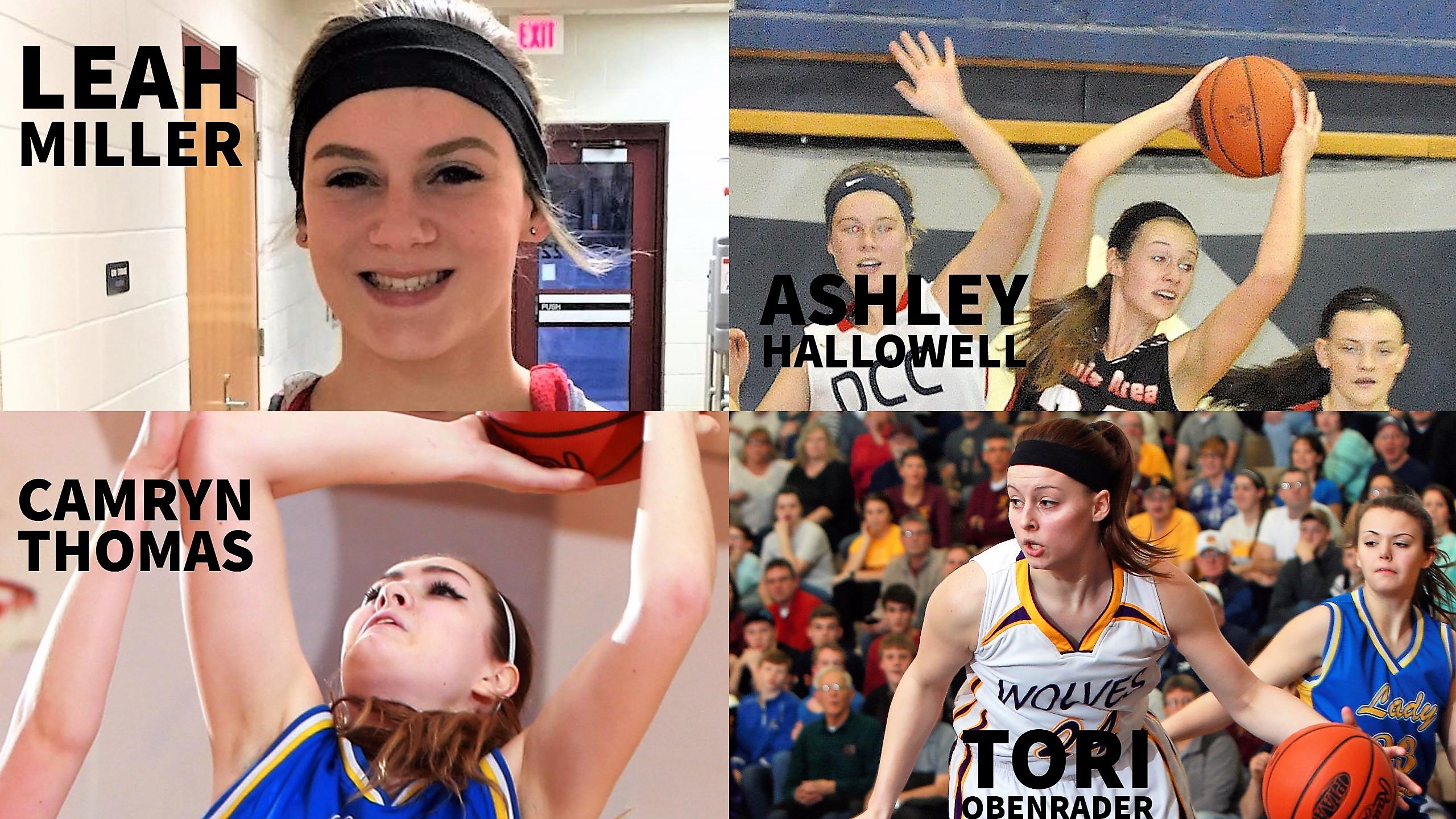 Between June 27 and July 24 D9Sports.com will be counting down the Top 20 stories in District 9 from the 2016-17 school year starting with No. 20 June 27 and finishing with No. 1 July 24.
No. 13: The Big Four Inside Junior Girls Dominate D9 Basketball
Ashley Hallowell, Tori Obenrader, Leah Miller, Camryn Thomas.
To any District 9 girls' basketball fan those names are the first four that come to mind when asked about the best players in the district.
And they all have two things in common: They are all juniors and they are all some of the top post players in the state of Pennsylvania.
All four players were All-State performers in 2017, and all four were first-team All-District 9 choices as well led by Obenrader of North Clarion, the D9Sports.com District 9 Player of the Year.
Combined they scored 1,891 points and grabbed 1,502 rebounds last year, an average of 18.4 points and 14.6 rebounds per game while recording 82 double-doubles in 103 combined games.
Obenrader led District 9 in scoring at 23.5 points per game while finishing second in rebounding to Hallowell of DuBois with 15.8 rebounds per game.
Hallowell recorded 17.9 rebounds per game while scoring 16.8 points per game, and Miller of Punxsutawney was third in rebounding at 15.0 per contest while scoring 16.3 points per game. Thomas of Otto-Eldred added 16.0 points per game and 10.1 rebounds per contest.
Three of the four – Obenrader, Miller and Thomas – helped their respective teams to at least the second round of the PIAA playoffs – North Clarion was in the final eight in Class 1A, Otto-Eldred was in the second round of 1A and Punxsutawney was in the second round of 3A – while Hallowell helped DuBois host a home playoff game, a rarity for the school.
On the All-State teams, Obenrader, who had 28 double-doubles, was first team Class 1A, Thomas, who had 15 double-doubles, was third team Class 1A, Miller, who had 17 double-doubles, was third team Class 3A and Hallowell, who had 22 double-doubles, was third team Class 5A.
Top 20 Sports Stories in District 9 for the 2016-17 School Year
No. 20 – Three District 9 girls' place in the javelin at the PIAA Championships
No. 19 – Brockway Girls and Port Allegany Boys Claim First-Ever D9 Soccer Titles
No. 18 – Ridgway Boys' Basketball Marches to PIAA Elite Eight
No. 17 – Ridgway Claims D9 1A Football Title
No. 16 – Kane Football Wins Third Straight D9 Title
No. 15 – Elk County Catholic Boys' Cross Country Takes Second at PIAA Championships
No. 14 – Moniteau Softball Wins 4th Straight Title but Stunned in PIAA Playoffs
No. 13 – The Big Four Inside Junior Girls Dominate D9 Basketball
No. 12 – Released July 7
No. 11 – Released July 10
No. 10 – Released July 11
No. 9 – Released July 12
No. 8 – Released July 13
No. 7 – Released July 14
No. 6 – Released July 17
No. 5 – Released July 18
No. 4 – Released July 19
No. 3 – Released July 20
No. 2 – Released July 21
No. 1 – Released July 24