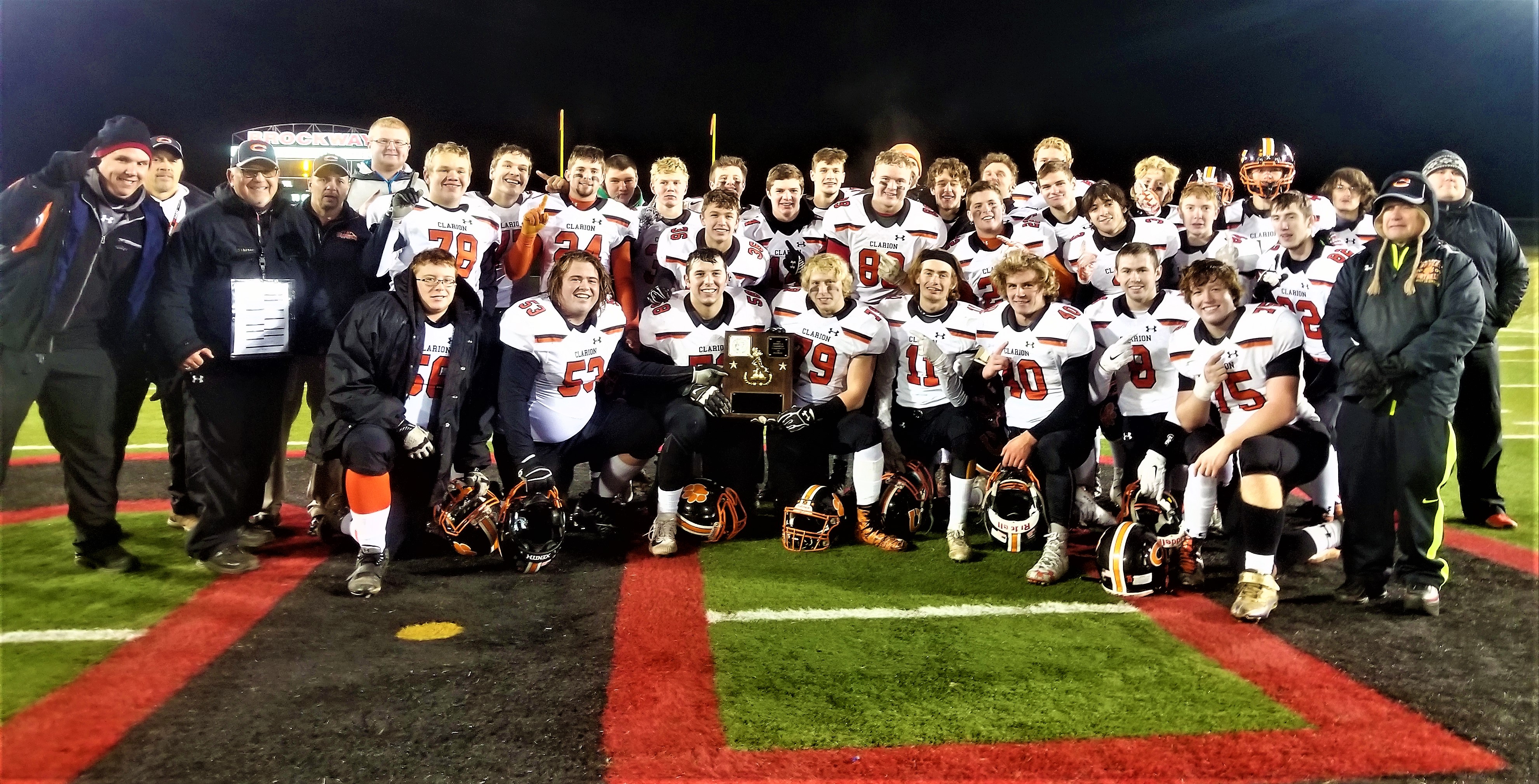 Between June 26 and July 30, D9Sports.com Sports Editor Chris Rossetti will be counting down his Top 25 favorites stories in District 9 from the 2017-18 school year starting with No. 25 June 25 and finishing with No. 1 July 30. Again these are Chris' favorite stories and are open for debate.
(Photo by Jared Bakaysa of JB Graphics. See more of Bakaysa's work here)
No. 18 Clarion stops Kane's run of D9 football titles; Win PIAA Game
Coming into the 2017 football season, Kane and Clarion figured to be the top two teams in Class 2A for the second straight season but the favorite was the Kane Wolves, who had won three straight District 9 crowns (two in Class 1A and one in Class 2A).
But 2017 belonged to the Bobcats of Clarion, who beat Kane in an instant classic, 28-21.
In a back-and-forth affair, Clarion jumped out to a 14-0 lead after one quarter on the strength of a 26-yard Spencer Miller touchdown run and a 3-yard Miller to seldom-used Clayton Adams touchdown pass.
But Kane answered with a pair of touchdowns in the final 2:13 of the half with Reed Williams hitting Jake Alcorn and JT Stewart with scoring passes, the latter coming with just 3.4 seconds left in the half, to close the gap to one, 14-13, at halftime.
A Logan Minich touchdown run midway through the third quarter pushed Clarion ahead 21-13, but Williams threw his third scoring pass of the game and his second to Stewart late in the third quarter and then followed it up with a two-point pass to Ray Maze to tie the game at 21.
The game remained tied until under three minutes to play when Sam Minich scored on a 4-yard run on fourth-and-2 with 2:42 to play.
The victory wasn't secure yet, as Kane drove from its own 26 to the Clarion 11 in the final minutes only to have Logan Minich knock down a Williams pass on fourth down with just over 19 seconds to play.
The loss snapped a 39-game win streak against District 9 opponents for Kane and marked the final game for head coach Todd Silfies, who guided the Wolves to five straight D9 title games. Silfies announced a few weeks after the game that he was stepping down to spend more time with his family.
Clarion, meanwhile, went on to a PIAA victory over Chestnut Ridge rallying from a 14-0 halftime deficit and scoring twice in the final 6:31 to pull out a 20-14 win.
Colton Rapp scored all three of the Bobcats touchdowns, including a 4-yard run with 1:06 to play. Rapp's second touchdown was set up by a hook-and-ladder play by the Bobcats with Clarion trailing 14-7 in the fourth quarter.
Chris Rossetti's Top 25 Sports Stories in District 9 for the 2017-18 School Year
No. 25 – A-C Valley girls win first PIAA playoff basketball game in school history
No. 24 – Two District 9 girls finish in Top 10 at District 9 Cross Country Meet
No. 23 – Jack Krug bursts onto the scene, helps Brookville football return to the postseason
No. 22 – Brendan Zerfoss wins D9 Track MVP Award, two PIAA medals
No. 21 – Cranberry wins District 9 Class 2A softball title
No. 20 – Ridgway/Johnsonburg Co-op Flourishing
No. 19 – Coudersport shoots lights out in beating unbeaten Ridgway for boys' 2A hoops title
No. 18 – Clarion stops Kane's run of D9 football titles; Win PIAA Game
No. 17 – Coming July 6
No. 16 – Coming July 9
No. 15 – Coming July 10
No. 14 – Coming July 11
No. 13 – Coming July 12
No. 12 – Coming July 13
No. 11 – Coming July 16
No. 10 – Coming July 17
No. 9 – Coming July 18
No. 8 – Coming July 19
No. 7 – Coming July 20
No. 6 – Coming July 23
No. 5 – Coming July 24
No. 4 – Coming July 25
No. 3 – Coming July 26
No. 2 – Coming July 27
No. 1 – Coming July 30