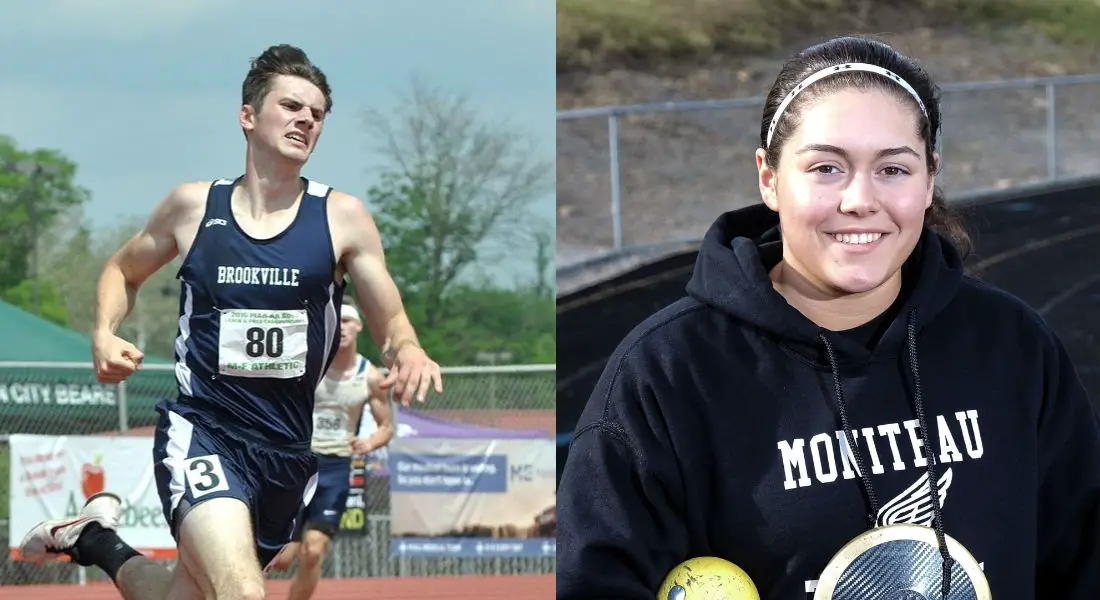 Between June 27 and July 22 we will be counting down the Top 20 Sports Stories in District 9 from the 2015-16 School Year starting with No. 20 June 27 and finishing with No. 1 July 22.
No. 10 Thrush and Kimmel Take Home PIAA Track & Field Gold
Any time a District 9 athlete can win PIAA gold in any sport it's special. To have two take home state gold at the same track and field meet is pretty impressive.
That's what Brookville's Ryan Thrush and Moniteau's Maura Kimmel did at this year's PIAA Track & Field Championships.
Thrush won the Class AA boys' 400-meter dash in a time of 48.71 seconds besting Javon McIntye of Columbia by 14/100th of a second (48.85).
The first Brookville boys' athlete to win PIAA gold in track & field, Thrush entered the finals seeded second having run a preliminary time of 48.57 seconds.
Kimmel, the District 9 champion in both the discus and the shot put, grabbed her PIAA gold, the first by any Moniteau athlete in any sport, with a throw of 146-feet, 7 inches.
Entering her final set of three throws, Kimmel trailed Hickory's Tori McKinley 143-6 to 140-8 but quickly put the pressure on the District 10 athlete by tossing her first throw of the final set 144-1. She then bettered that throw with her winning toss on her second try of the finals.
Kimmel, who helped Moniteau to the District 9 Class AA team title, also took fourth in the shot put giving her a pair of PIAA medals this year.
Top 20 Sports Stories in District 9 for the 2015-16 School Year
No. 20 – Punxsutawney wins 13th straight District 9 Class AAA Baseball Title
No. 19 – Clarion's Run to the PIAA Softball Playoffs
No. 18 – Elk County Catholic Boys' Basketball Back on Top
No. 17 – Keystone Girls' Basketball Wins Improbable District 9 Title
No. 16 – Kane Basketball Goes from 3 Wins to D9 Champs
No. 15 – DuBois Central Catholic Baseball Unseats the Champions
No. 14 – Karns City Girls' Soccer Advances to PIAA Semifinals
No. 13 – Keystone's Amber Hess finishes second at PIAA Girl' Golf Championships
No. 12 – Karns City football goes on old-school drive to beat Bedford in Class AA sub-regional playoff game
No. 11 – DuBois Central Catholic Softball reaches PIAA Class A semifinals
No. 10 – Thrush and Kimmel Claim PIAA Track & Field Gold
No. 9 – Released July 12
No. 8 – Released July 13
No. 7 – Released July 14
No. 6 – Released July 15
No. 5 – Released July 18
No. 4 – Released July 19
No. 3 – Released July 20
No. 2 – Released July 21
No. 1 – Released July 22