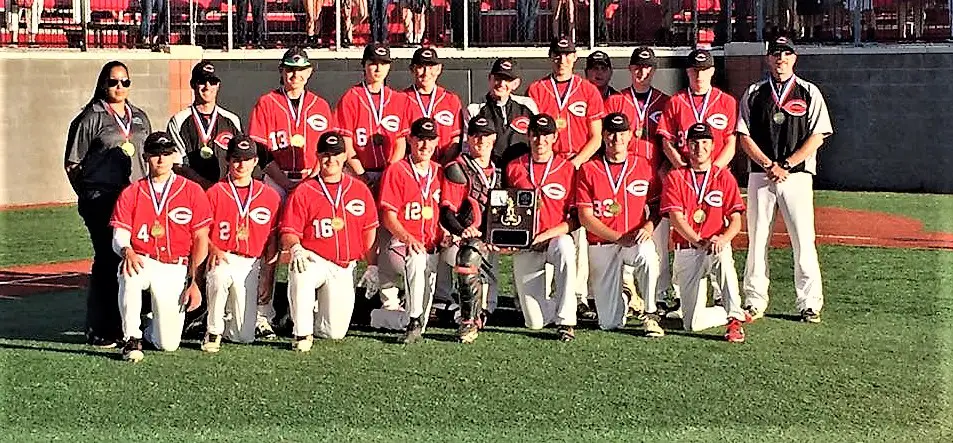 Between June 27 and July 24 D9Sports.com will be counting down the Top 20 stories in District 9 from the 2016-17 school year starting with No. 20 June 27 and finishing with No. 1 July 24.
No. 12: Punxsutawney's Streak of 13 Straight D9 Baseball Titles Ended by Clearfield
Taxes, death and Punxsutawney District 9 baseball titles. They all seemed like a natural occurrence in life.
Until the third one didn't happen.
With the Chucks District 9 Class 4A baseball semifinal game at Clearfield tied at seven in the bottom of the 10th inning, the Bison's Zane Morgan hit a chopper to third, and Logan's Johnston's throw to the plate wasn't in time giving Clearfield an 8-7 win.
Just like that Punxsutawney's hopes for a 14th straight title were over. Just like that the Chucks weren't going to be baseball champions in D9 for the first time since 2003 someone else was going to raise the trophy in the classification Punxsutawney played in – that someone was Clearfield, who beat Bradford in the title game.
Punxsy actually looked like it was in total control of the game leading 7-4 going to the bottom of the sixth. But Clearfield got a run back in the sixth to get within two and then took advantage of a pair of bases-loaded walks in the seventh to force extra innings.
For Clearfield, it marked the first time since the 2003 season the Bison and the 13th time in the career of legendary head coach Sid Lansberry that Clearfield took home a D9 championship.
Top 20 Sports Stories in District 9 for the 2016-17 School Year
No. 20 – Three District 9 girls' place in the javelin at the PIAA Championships
No. 19 – Brockway Girls and Port Allegany Boys Claim First-Ever D9 Soccer Titles
No. 18 – Ridgway Boys' Basketball Marches to PIAA Elite Eight
No. 17 – Ridgway Claims D9 1A Football Title
No. 16 – Kane Football Wins Third Straight D9 Title
No. 15 – Elk County Catholic Boys' Cross Country Takes Second at PIAA Championships
No. 14 – Moniteau Softball Wins 4th Straight Title but Stunned in PIAA Playoffs
No. 13 – The Big Four Inside Junior Girls Dominate D9 Basketball
No. 12 – Punxsutawney's Streak of 13 Straight D9 Baseball Titles Ended by Clearfield
No. 11 – Released July 10
No. 10 – Released July 11
No. 9 – Released July 12
No. 8 – Released July 13
No. 7 – Released July 14
No. 6 – Released July 17
No. 5 – Released July 18
No. 4 – Released July 19
No. 3 – Released July 20
No. 2 – Released July 21
No. 1 – Released July 24