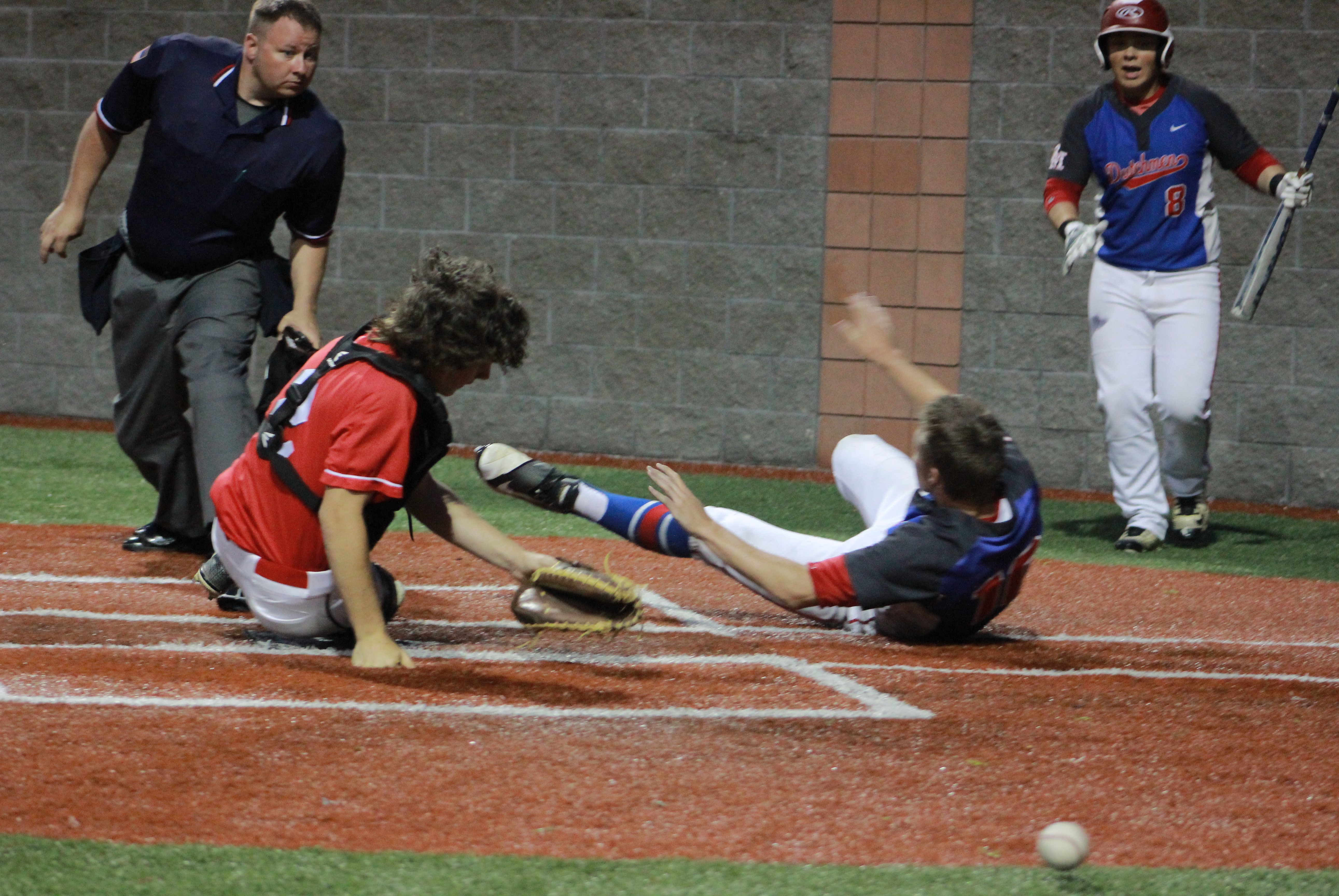 Between June 26 and July 30, D9Sports.com Sports Editor Chris Rossetti will be counting down his Top 25 favorites stories in District 9 from the 2017-18 school year starting with No. 25 June 25 and finishing with No. 1 July 30. Again these are Chris' favorite stories and are open for debate.
(Photo: Tim Beimel slides into home plate safely with the championship run. Photo by Jared Bakaysa of JB Graphics. See more of Bakaysa's work here)
No. 17 Beimel's dash wins D9 4A baseball title for St. Marys 1st 2000
It seemed like a harmless play.
With the District 9 Class 4A baseball championship game tied at two in the bottom of the seventh, St. Marys' Tim Beimel was on second base representing the title-winning run.
Kael Azatto then hit a line drive right at Clearfield third baseman Hunter Peacock for the second out, and it looked like the game might be headed to extra innings.
But after catching the ball, Peacock tried to double Beimel off second base. The throw got away, and Beimel never stopped running until he slid in ahead of the relay throw to the plate to set off a wild celebration on the St. Marys' side, as the Dutch won the game 3-2. It was St. Marys' first baseball title since 2000.
The game was a classic pitcher's duel between St. Marys' Nate Beimel and Clearfield's Jakob Sorbera.
Nate Beimel, Tim's younger cousin, took a no-decision going 5 ⅔ innings allowing one run on three hits and four walks while striking out eight before reaching the 100-pitch mark.
St. Marys led 2-1 when Nate Beimel left the game, and Tim Beimel ended up giving up the tying run in the top of the seventh on a bases-loaded walk to Ty Bender. Jared Groll was able to wiggle out of the jam getting the final out in the seventh setting up the wild dash for home in the bottom of the inning.
Sorbera was the hard-luck loser pitching 6 ⅔ innings allowing three runs but just one earned run, on three hits and a walk while striking out five.
Chris Rossetti's Top 25 Sports Stories in District 9 for the 2017-18 School Year
No. 25 – A-C Valley girls win first PIAA playoff basketball game in school history
No. 24 – Two District 9 girls finish in Top 10 at District 9 Cross Country Meet
No. 23 – Jack Krug bursts onto the scene, helps Brookville football return to the postseason
No. 22 – Brendan Zerfoss wins D9 Track MVP Award, two PIAA medals
No. 21 – Cranberry wins District 9 Class 2A softball title
No. 20 – Ridgway/Johnsonburg Co-op Flourishing
No. 19 – Coudersport shoots lights out in beating unbeaten Ridgway for boys' 2A hoops title
No. 18 – Clarion stops Kane's run of D9 football titles; Win PIAA Game
No. 17 – Beimel's dash wins D9 4A baseball title for St. Marys 1st 2000
No. 16 – Coming July 9
No. 15 – Coming July 10
No. 14 – Coming July 11
No. 13 – Coming July 12
No. 12 – Coming July 13
No. 11 – Coming July 16
No. 10 – Coming July 17
No. 9 – Coming July 18
No. 8 – Coming July 19
No. 7 – Coming July 20
No. 6 – Coming July 23
No. 5 – Coming July 24
No. 4 – Coming July 25
No. 3 – Coming July 26
No. 2 – Coming July 27
No. 1 – Coming July 30