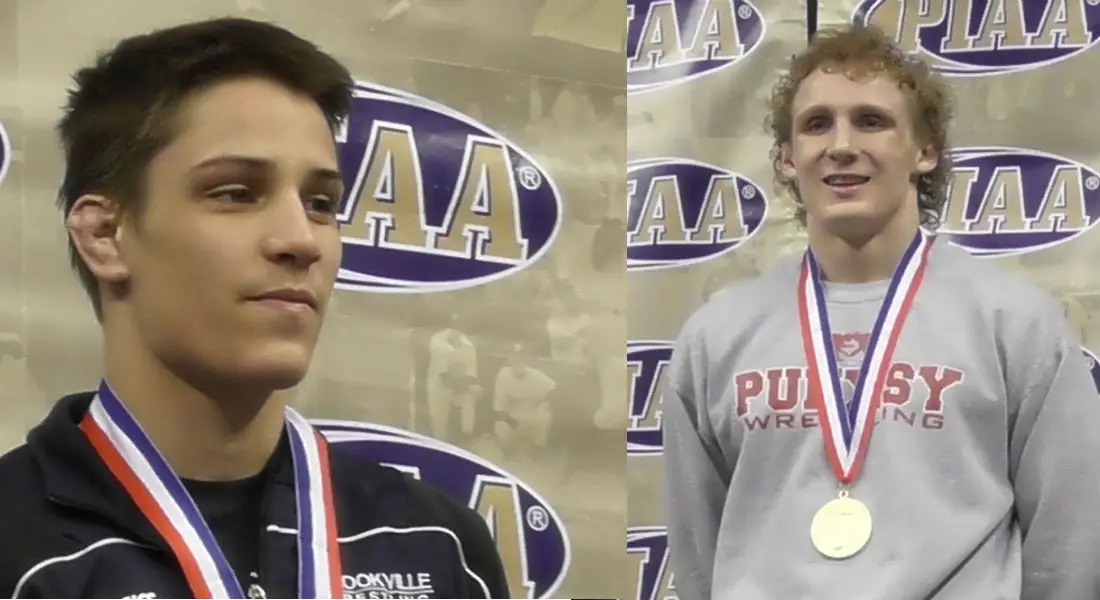 Between June 27 and July 22 we will be counting down the Top 20 Sports Stories in District 9 from the 2015-16 School Year starting with No. 20 June 27 and finishing with No. 1 July 22.
No. 9 Ortz and Young give Jefferson County Two State Wrestling Champions
It's not often a small county with three high schools produces one state champion in wrestling let alone two. But that's exactly what happened in Jefferson County this year, as Punxsutawney's Kaleb Young and Brookville's Tate Ortz both took home state gold.
Young, who is headed to Iowa, won the Class AAA at 160 pounds with a 5-3 win over Mifflin County's Trent Hidlay.
Ortz, meanwhile, followed up his strong showing at the dual-meet championships by taking home gold at 132 pounds in Class AA. A Clarion University recruit, Ortz defeated Bishop McDevitt junior John Popa, 7-2, to win the state title.
Young's victory over Hidlay marked the second time in a week he beat the Mifflin County wrestler, as he defeated the sophomore, 2-1, in the Regional Final at Altoona the week prior to the PIAA Championships.
In the championship bout, Hidlay scored a takedown with just 40 seconds left in the first period to take a 2-0 lead. But Young tied the bout at 2 just 17 seconds later with his own takedown. Hidlay went back ahead, 3-2, with an escape in the second period before Young took the lead for good with a takedown with just 17 seconds left in the second period. He then put the finishing touches on the state title with an escape late in the third period.
Ortz, meanwhile, who finished third in the state as both a sophomore and junior, wasted little time in making sure his senior season ended with gold.
He led Popa 5-0 after one period and 7-0 after two cruising to his first state championship which gave him state gold in both the team and individual competitions in 2016.
Top 20 Sports Stories in District 9 for the 2015-16 School Year
No. 20 – Punxsutawney wins 13th straight District 9 Class AAA Baseball Title
No. 19 – Clarion's Run to the PIAA Softball Playoffs
No. 18 – Elk County Catholic Boys' Basketball Back on Top
No. 17 – Keystone Girls' Basketball Wins Improbable District 9 Title
No. 16 – Kane Basketball Goes from 3 Wins to D9 Champs
No. 15 – DuBois Central Catholic Baseball Unseats the Champions
No. 14 – Karns City Girls' Soccer Advances to PIAA Semifinals
No. 13 – Keystone's Amber Hess finishes second at PIAA Girl' Golf Championships
No. 12 – Karns City football goes on old-school drive to beat Bedford in Class AA sub-regional playoff game
No. 11 – DuBois Central Catholic Softball reaches PIAA Class A semifinals
No. 10 – Thrush and Kimmel Claim PIAA Track & Field Gold
No. 9 – Ortz and Young give Jefferson County Two State Wrestling Champions
No. 8 – Released July 13
No. 7 – Released July 14
No. 6 – Released July 15
No. 5 – Released July 18
No. 4 – Released July 19
No. 3 – Released July 20
No. 2 – Released July 21
No. 1 – Released July 22