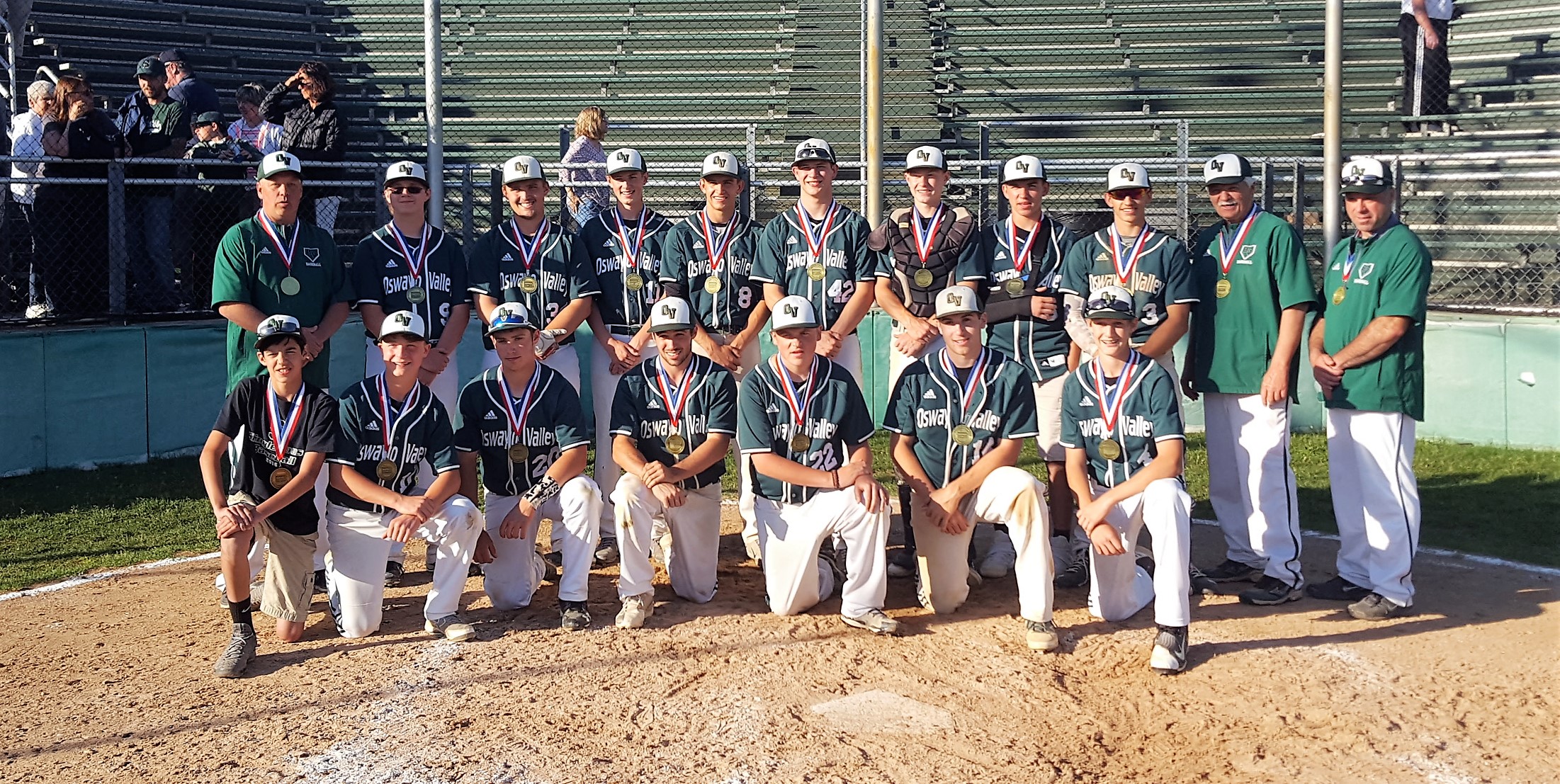 Between June 27 and July 24 D9Sports.com will be counting down the Top 20 stories in District 9 from the 2016-17 school year starting with No. 20 June 27 and finishing with No. 1 July 24.
No. 10: Oswayo Valley Baseball Becomes District 9 Powerhouse
When Oswayo Valley won the District 9 Class 1A baseball title in 2015 with a 10-0 win over Clarion, it was looked at as a cool story. A school that hadn't won much in anything getting its moment of glory in D9.
But something funny has happened along the way.
The Green Wave has become a powerhouse, maybe the dominant baseball team in District 9.
In 2016, Oswayo fell in heart-breaking fashion 2-1 to DuBois Central Catholic in the title game.
Then in 2017, with top pitcher Brandon Brabham graduated, things were just going to go back to normal for the Northern Tier school. A nice program, but not one that was going to contend for the title.
And that theme seemed to hold some water when Oswayo Valley lost two of its first six games.
But then the Green Wave caught fire going on a 16-game win streak that included playoff wins over DCC, Elk County Catholic, Clarion and Union-New Castle, the last being in the PIAA playoffs.
The win over Clarion, a 4-1 victory, won Oswayo Valley its second D9 1A baseball title in three years, and the victory over Union-New Castle gave the school its first PIAA win.
The D9 title win was a classic pitcher's duel between Oswayo's Ryan Graves and Clarion's Reed Anthony with the teams tied at one going to the eighth inning.
In the top of the eighth, No. 9 hitter Camden Graves singled to center, and Gage Babcock, after failing to get down a bunt, singled to left to put runners on first and second. An out later, Garren Black singled to right and Camden Graves scored when the ball was bobbled giving the Green Wave a 2-1 lead and putting runners on second and third while also ending Anthony's day.
After a walk to Grant West loaded the bases, Jacob Karr hit a grounder to shortstop that Clairon shortstop Spencer Miller fired home to catcher Kyle Patterson for what appeared to be the second out. But the home plate umpire ruled that Gage Babcock was safe making it 3-1 Oswayo Valley. Ryan Graves then walked to make it 4-1, and Ryan Graves shutdown Clarion in the bottom of the eighth to preserve the title.
In the first round of the PIAA playoffs, Garren Black and Graves combined on a seven-hitter, and Grant West was 2-for-3 with a double, a run scored and three RBIs with Theo Henry adding two RBIs and Colton Gietler scoring three runs in an 8-3 win over Union-New Castle.
With only two seniors – West and Garret Babcock – on the roster, it looks like Oswayo Valley is here to stay in terms of a D9 powerhouse.
Top 20 Sports Stories in District 9 for the 2016-17 School Year
No. 20 – Three District 9 girls' place in the javelin at the PIAA Championships
No. 19 – Brockway Girls and Port Allegany Boys Claim First-Ever D9 Soccer Titles
No. 18 – Ridgway Boys' Basketball Marches to PIAA Elite Eight
No. 17 – Ridgway Claims D9 1A Football Title
No. 16 – Kane Football Wins Third Straight D9 Title
No. 15 – Elk County Catholic Boys' Cross Country Takes Second at PIAA Championships
No. 14 – Moniteau Softball Wins 4th Straight Title but Stunned in PIAA Playoffs
No. 13 – The Big Four Inside Junior Girls Dominate D9 Basketball
No. 12 – Punxsutawney's Streak of 13 Straight D9 Baseball Titles Ended by Clearfield
No. 11 – Karns City Girls' Soccer Dominance
No. 10 – Oswayo Valley Baseball Becomes District 9 Powerhouse
No. 9 – Released July 12
No. 8 – Released July 13
No. 7 – Released July 14
No. 6 – Released July 17
No. 5 – Released July 18
No. 4 – Released July 19
No. 3 – Released July 20
No. 2 – Released July 21
No. 1 – Released July 24