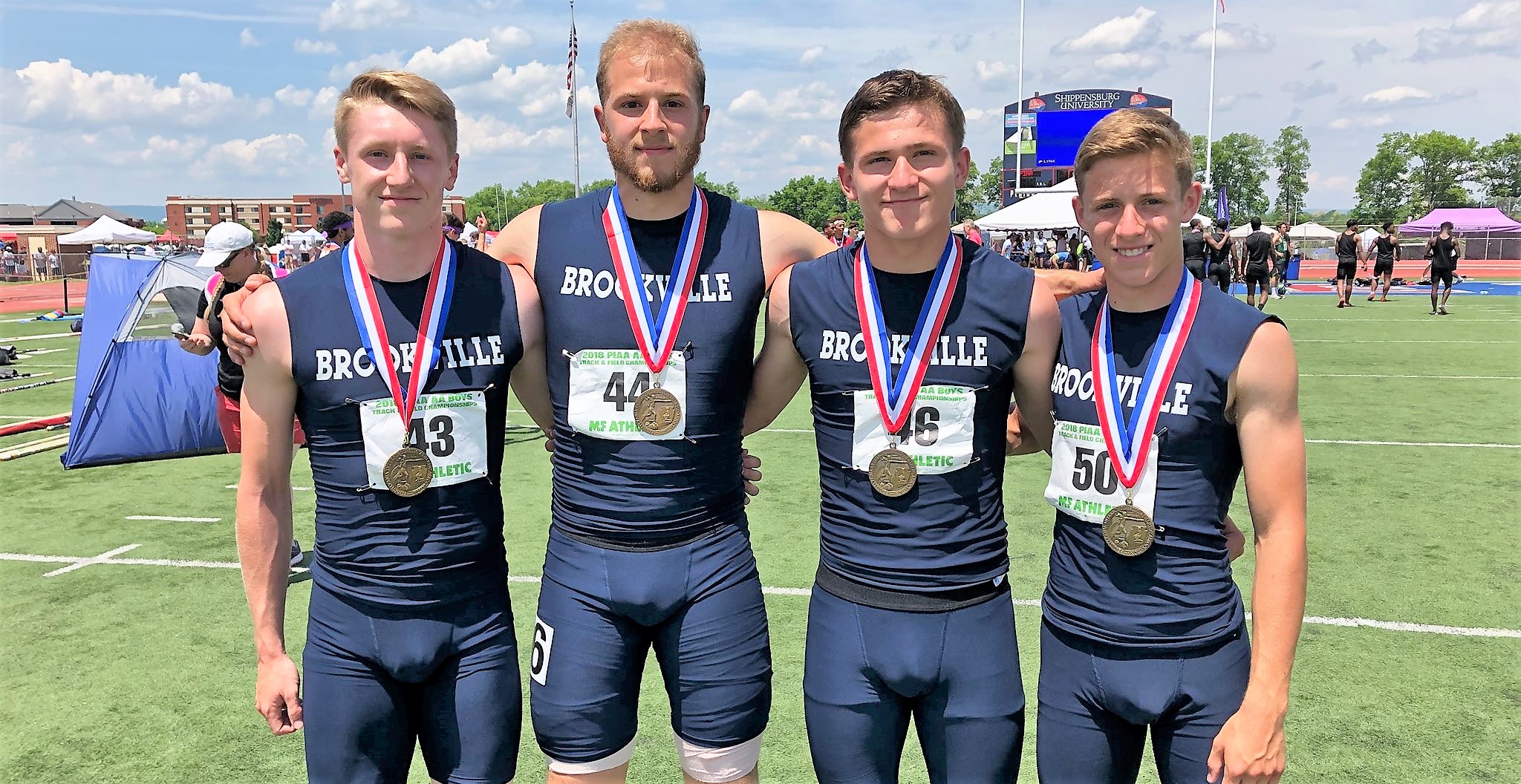 Between June 26 and July 30, D9Sports.com Sports Editor Chris Rossetti will be counting down his Top 25 favorites stories in District 9 from the 2017-18 school year starting with No. 25 June 25 and finishing with No. 1 July 30. Again these are Chris' favorite stories and are open for debate.
(Photo of the Brookville 4×100-meter relay team of, from left, Bryan Dworek, John Frank, Jack Krug and Ian Thrush)
No. 16 Led by 4×100-relay team, Brookville boys' track & field goes back-to-back in D9
Led by a 4×100-meter relay team, which became a rare D9 4×100 team to medal at the PIAA meet, Brookville won its second straight District 9 Class 1A boys track & field title.
That relay team of Ian Thrush, Bryan Dworek, John Frank and Jack Krug, took fifth in the state in a time of 43.23 after winning the District 9 title in a slightly faster time of 43.19.
In all, Brookville rode Thrush and its relay teams to a 115.16 to 60 victory over second-place finisher Elk County Catholic.
Thrush picked up three gold medals for the Raiders winning the 100-meter dash in a time of 11.31 seconds and taking home two relay titles with the 4×400-meter relay team (3:26.92) joining the 4×100 at the top of the podium.
He was joined on the 4×400 by Dillon Olson, Krug and Frank. Thrush also finished second in the 200-meter dash (22.34).
Dworek also played a key role in the D9 title winning the long jump (21-5 ½) and taking third in the 200-meter run (23.00), while De-Angelo Coffey qualified for the PIAA meet in two events with second-place finishes taking second in the high jump (6-0) and the long jump (21-3 ¾) while just missing out in the triple jump finishing third.
Olson also qualified for PIAA's in the 110-hurdles taking second in a time of 15.65 and the 300 taking third in a time of 40.41 while Ethan Brentham was second in the 1,600-meter run (4:35.55).
Thrush went on to a sixth-place finish in the 200 at the PIAA meet and the 4×800 relay was eighth while Dworek finished seventh in the long jump.
Chris Rossetti's Top 25 Sports Stories in District 9 for the 2017-18 School Year
No. 25 – A-C Valley girls win first PIAA playoff basketball game in school history
No. 24 – Two District 9 girls finish in Top 10 at District 9 Cross Country Meet
No. 23 – Jack Krug bursts onto the scene, helps Brookville football return to the postseason
No. 22 – Brendan Zerfoss wins D9 Track MVP Award, two PIAA medals
No. 21 – Cranberry wins District 9 Class 2A softball title
No. 20 – Ridgway/Johnsonburg Co-op Flourishing
No. 19 – Coudersport shoots lights out in beating unbeaten Ridgway for boys' 2A hoops title
No. 18 – Clarion stops Kane's run of D9 football titles; Win PIAA Game
No. 17 – Beimel's dash wins D9 4A baseball title for St. Marys 1st 2000
No. 16 – Led by 4×100-relay team, Brookville boys' track & field goes back-to-back in D9
No. 15 – Coming July 10
No. 14 – Coming July 11
No. 13 – Coming July 12
No. 12 – Coming July 13
No. 11 – Coming July 16
No. 10 – Coming July 17
No. 9 – Coming July 18
No. 8 – Coming July 19
No. 7 – Coming July 20
No. 6 – Coming July 23
No. 5 – Coming July 24
No. 4 – Coming July 25
No. 3 – Coming July 26
No. 2 – Coming July 27
No. 1 – Coming July 30