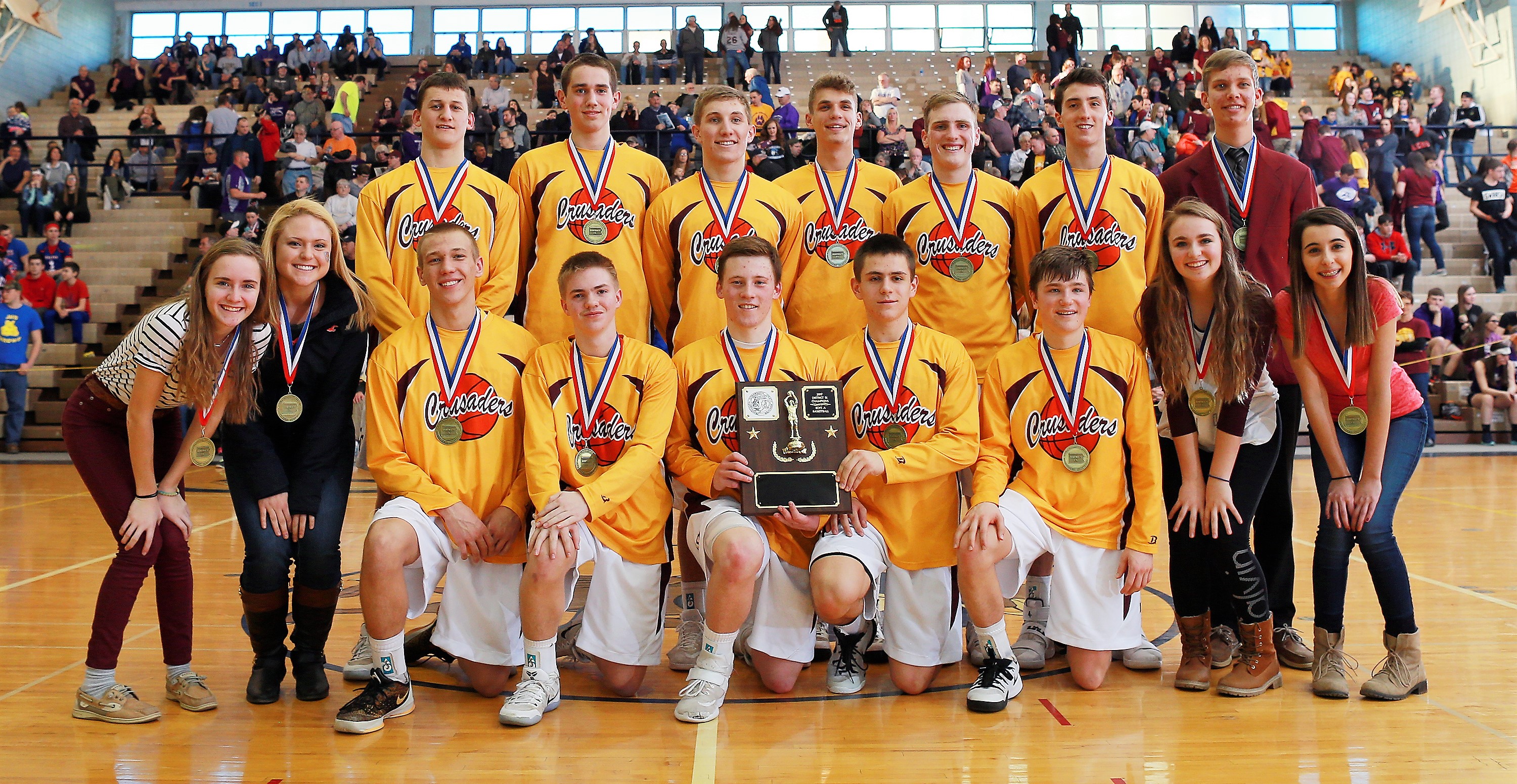 Between June 27 and July 24 D9Sports.com will be counting down the Top 20 stories in District 9 from the 2016-17 school year starting with No. 20 June 27 and finishing with No. 1 July 24.
No. 9: ECC Hoops Goes Back-to-Back Unbeaten Regular Seasons for First Time in School History
For all the success the Elk County Catholic boys' basketball team has had over the years including the 2006 PIAA Class 1A championship, 23 District 9 titles and numerous AML and D9 League crowns, the Crusaders had never accomplished back-to-back undefeated regular seasons until the last two years.
It started with a perfect regular campaign in 2016 when ECC finished 28-1 overall (22-0) in the regular season while winning the D9 title 1A title and advancing to the PIAA second round.
The run of success continued this past winter with ECC winning its first five games by double digits.
The regular-season win streak, which reached 59 games by the end of the regular campaign, was in jeopardy, however, the night of Dec. 30 in the title game of the Elk County Tournament at St. Marys.
The host Dutch gave ECC all it could handle using a 21-21 third quarter to erase a seven-point halftime deficit and take a 37-35 lead into the fourth quarter.
ECC forced overtime by outscoring St. Marys 10-8 in the fourth quarter thanks in part by four points from Ryan Newton. Nate DaCanal then scored eight of his game-high 20 points in overtime to give the Crusaders a 57-49 victory.
ECC, which again went 28-1 and again reached won the D9 1A title while advancing to the PIAA second round, didn't face another stiff challenge the rest of the regular season with the closest game being an 11-point win over Punxsutawney Jan. 11.
DaCanal was the All American Awards & Engraving D9Sports.com MVP after scoring 15.3 points per game to go with 5.7 rebounds, 1.9 steals and 1.8 assists per game. He shot 60.9 percent from the field and finished his three-year career with 1,207 points, the sixth-most in school history.
Joining DaCanal on the All-District team was Gabe Kraus, a fellow senior guard, who was second-team All-D9.
When the 2017-18 season starts, ECC will look to continue its win streak, which started with a 78-29 win at Sheffield Jan. 2, 2015. The Crusaders last regular-season loss occurred in the title game of the Elk County Tournament, 37-33 in overtime, to Ridgway, Dec. 27, 2015.
If it wasn't for that extra-time loss to Ridgway, the Crusaders would have three consecutive unbeaten seasons and would be riding an 81-game regular-season win streak. As it is, ECC has won 80 of its past 81 regular-season games and has lost just three regular-season games in the past four seasons going 85-3 during that span in the regular campaign.
Top 20 Sports Stories in District 9 for the 2016-17 School Year
No. 20 – Three District 9 girls' place in the javelin at the PIAA Championships
No. 19 – Brockway Girls and Port Allegany Boys Claim First-Ever D9 Soccer Titles
No. 18 – Ridgway Boys' Basketball Marches to PIAA Elite Eight
No. 17 – Ridgway Claims D9 1A Football Title
No. 16 – Kane Football Wins Third Straight D9 Title
No. 15 – Elk County Catholic Boys' Cross Country Takes Second at PIAA Championships
No. 14 – Moniteau Softball Wins 4th Straight Title but Stunned in PIAA Playoffs
No. 13 – The Big Four Inside Junior Girls Dominate D9 Basketball
No. 12 – Punxsutawney's Streak of 13 Straight D9 Baseball Titles Ended by Clearfield
No. 11 – Karns City Girls' Soccer Dominance
No. 10 – Oswayo Valley Baseball Becomes District 9 Powerhouse
No. 9 – ECC Hoops Goes Back-to-Back Unbeaten Regular Seasons for First Time in School History
No. 8 – Released July 13
No. 7 – Released July 14
No. 6 – Released July 17
No. 5 – Released July 18
No. 4 – Released July 19
No. 3 – Released July 20
No. 2 – Released July 21
No. 1 – Released July 24