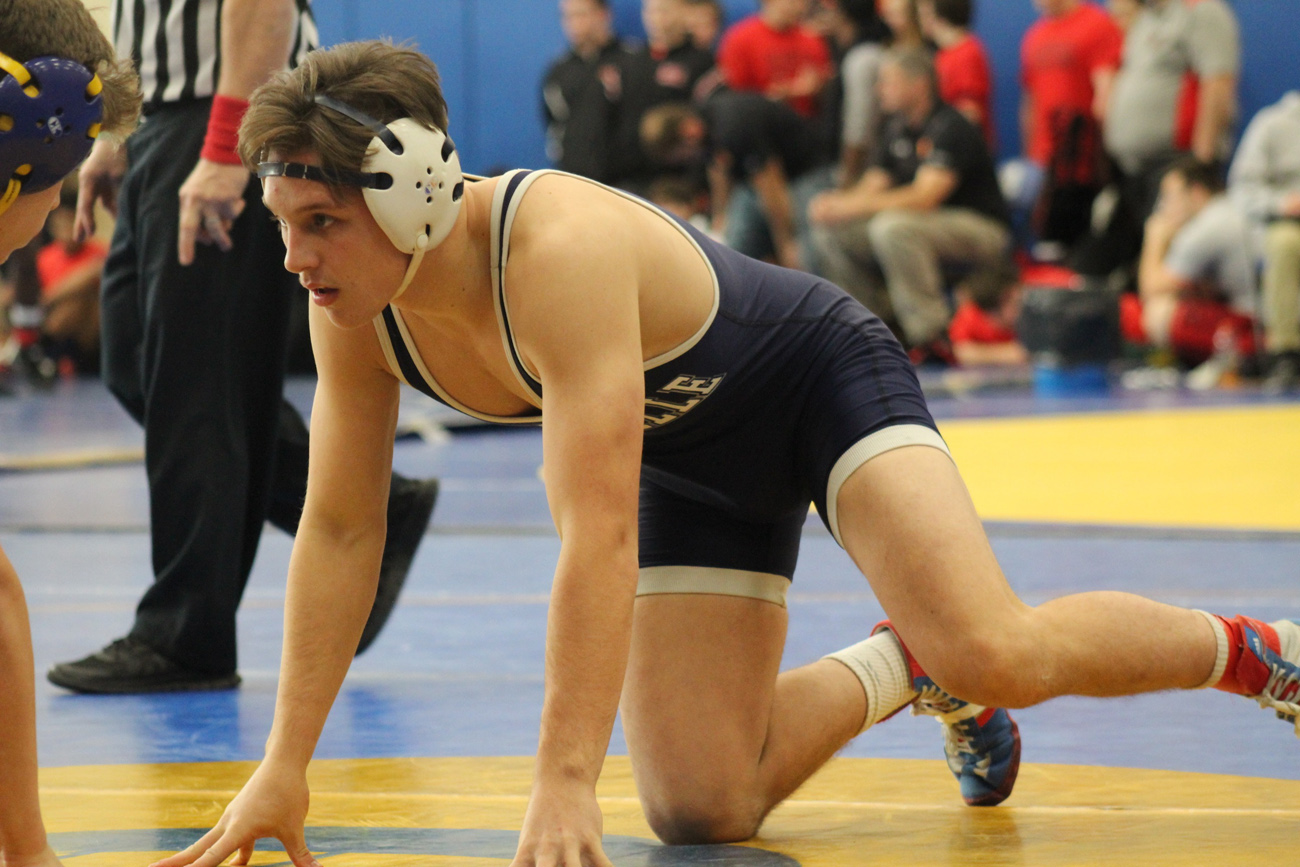 Between June 26 and July 30, D9Sports.com Sports Editor Chris Rossetti will be counting down his Top 25 favorites stories in District 9 from the 2017-18 school year starting with No. 25 June 25 and finishing with No. 1 July 30. Again these are Chris' favorite stories and are open for debate.
No. 15 Brookville Wrestling: Raiders win Fifth Straight D9 Dual-Meet Crown; Hetrick Named D9 Outstanding Wrestler
Brookville wrestling has dominated the District 9 scene for a half-decade straight now, and the Raiders easily took home their fifth straight District 9 Class 2A dual-meet championship with a 51-18 win over Brockway.
The five in a row matches the five straight AA championships Ridgway won from 2007-11. The Raiders have won six of the last seven titles and nine overall. In the finals, their 33-point win over the Rovers was the fourth straight by a lopsided margin. The Raiders have won the last four titles by a total of 178 points, an average margin of 44.5 points. The biggest win was a 67-6 mauling of Port Allegany in 2017.
Brookville went on to beat Northern Lebanon in the first round of the PIAA Tournament, 39-28, dominating the latter part of the match after it was tied at 22. That was revenge from 2017 when NL knocked off the then-defending champion Raiders in the opening round. Two close losses after that win, though, kept Brookville from a third straight PIAA medal.
But the Raiders were hardly done going on to win another crown, this time in the District 9 individual tournament where they scored 215.5 team points behind five champions and five other place winners.
Leading the way at the District 9 Championships was Caleb Hetrick, who won his second straight District 9 gold and was named the tournament's Outstanding Wrestler after taking home the title at 145 pounds.
Brookville's other champions were Kai Sorbin (126 pounds), Xavier Molnar (195 pounds), Tyler Cook (220 pounds) and Colby Whitehill (Heavyweight).
Both Hetrick and Whitehall went on to claim PIAA medals with Hetrick finishing fourth and Whitehill eight. Hetrick, who won his 2017 title at 152 pounds, finished the season 35-7, while Whitehill, just a sophomore, was 40-6.
Chris Rossetti's Top 25 Sports Stories in District 9 for the 2017-18 School Year
No. 25 – A-C Valley girls win first PIAA playoff basketball game in school history
No. 24 – Two District 9 girls finish in Top 10 at District 9 Cross Country Meet
No. 23 – Jack Krug bursts onto the scene, helps Brookville football return to the postseason
No. 22 – Brendan Zerfoss wins D9 Track MVP Award, two PIAA medals
No. 21 – Cranberry wins District 9 Class 2A softball title
No. 20 – Ridgway/Johnsonburg Co-op Flourishing
No. 19 – Coudersport shoots lights out in beating unbeaten Ridgway for boys' 2A hoops title
No. 18 – Clarion stops Kane's run of D9 football titles; Win PIAA Game
No. 17 – Beimel's dash wins D9 4A baseball title for St. Marys 1st 2000
No. 16 – Led by 4×100-relay team, Brookville boys' track & field goes back-to-back in D9
No. 15 – Brookville Wrestling Continues Dominance
No. 14 – Coming July 11
No. 13 – Coming July 12
No. 12 – Coming July 13
No. 11 – Coming July 16
No. 10 – Coming July 17
No. 9 – Coming July 18
No. 8 – Coming July 19
No. 7 – Coming July 20
No. 6 – Coming July 23
No. 5 – Coming July 24
No. 4 – Coming July 25
No. 3 – Coming July 26
No. 2 – Coming July 27
No. 1 – Coming July 30