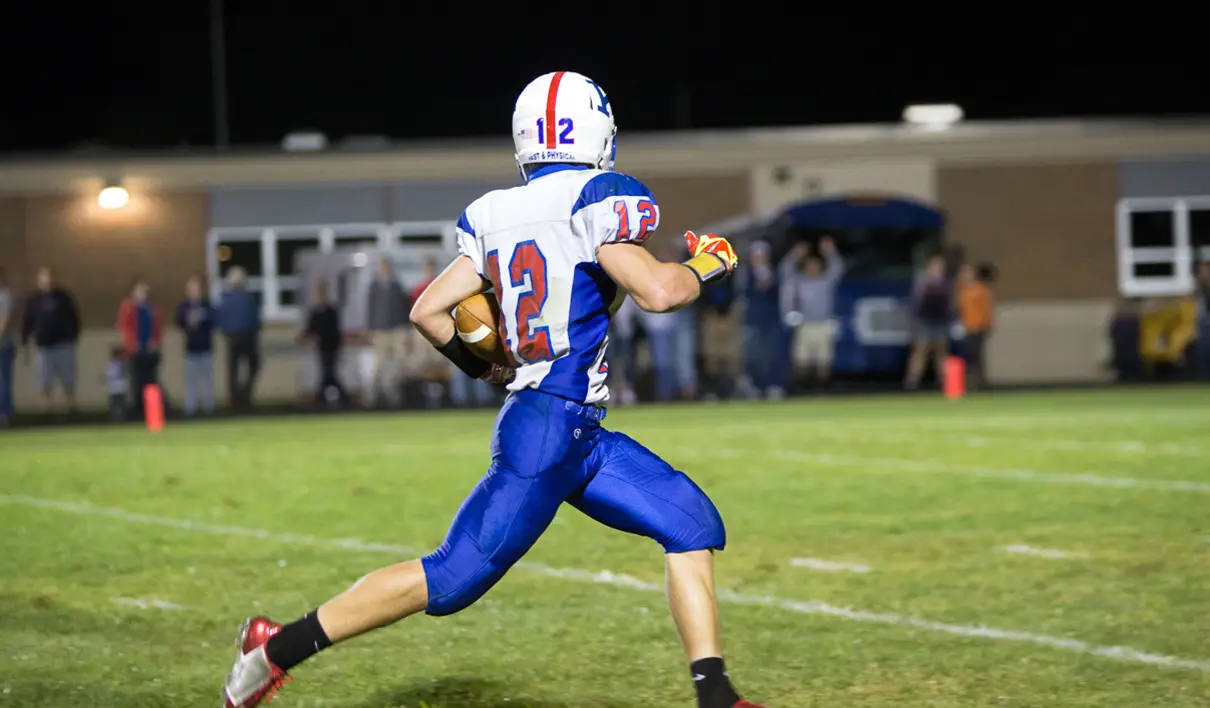 Between June 27 and July 22 we will be counting down the Top 20 Sports Stories in District 9 from the 2015-16 School Year starting with No. 20 June 27 and finishing with No. 1 July 22.
No. 7 Shane Rolick Leaps Over a Curwensville Defender
By the time Kane played Curwensville in the District 9 Class A semifinals, there was no questioning the athleticism of Kane quarterback Shane Rolick, one of the unquestioned leaders for a Wolves team headed to its second straight District 9 Class A title.
But what Rolick did during the second quarter of Kane's 49-13 win cemented him into District 9 football lore, even if in the end the play shouldn't have been allowed to happen.
Early in the second quarter of what was then still a close game Rolick, who accounted for six touchdowns in the contest (two rushing and four throwing), lept right over Curwensville's Shea Bloom like he was Roger Kingdom in the 110-meter hurdles at the 1984 and 1988 Olympic Games on his way to a 19-yard gain.
Words really don't do the play justice. So, it's a good thing we have video.
It turns out the hurdling a defender is actually illegal in high school football. But the officials didn't call a penalty on Rolick meaning for at least one play it was a legal maneuver and one that District 9 football fans will be talking about for a long time (those fans by the way overwhelming voted in a D9Sports.com poll following the game that hurdling should not be illegal in high school football by a wide margin of 424 saying the play should be legal to 82 saying it should be illegal).
Legal or not it was a great play by a great athlete and one of the best moments of the 2015-16 school year in District 9.
Top 20 Sports Stories in District 9 for the 2015-16 School Year
No. 20 – Punxsutawney wins 13th straight District 9 Class AAA Baseball Title
No. 19 – Clarion's Run to the PIAA Softball Playoffs
No. 18 – Elk County Catholic Boys' Basketball Back on Top
No. 17 – Keystone Girls' Basketball Wins Improbable District 9 Title
No. 16 – Kane Basketball Goes from 3 Wins to D9 Champs
No. 15 – DuBois Central Catholic Baseball Unseats the Champions
No. 14 – Karns City Girls' Soccer Advances to PIAA Semifinals
No. 13 – Keystone's Amber Hess finishes second at PIAA Girl' Golf Championships
No. 12 – Karns City football goes on old-school drive to beat Bedford in Class AA sub-regional playoff game
No. 11 – DuBois Central Catholic Softball reaches PIAA Class A semifinals
No. 10 – Thrush and Kimmel Claim PIAA Track & Field Gold
No. 9 – Ortz and Young give Jefferson County Two State Wrestling Champions
No. 8 – Clearfield Basketball Tops Obama Academy Plays State Runner-up Mars Tough to Cap Great Season
No. 7 – The Rolick Leap
No. 6 – Released July 15
No. 5 – Released July 18
No. 4 – Released July 19
No. 3 – Released July 20
No. 2 – Released July 21
No. 1 – Released July 22