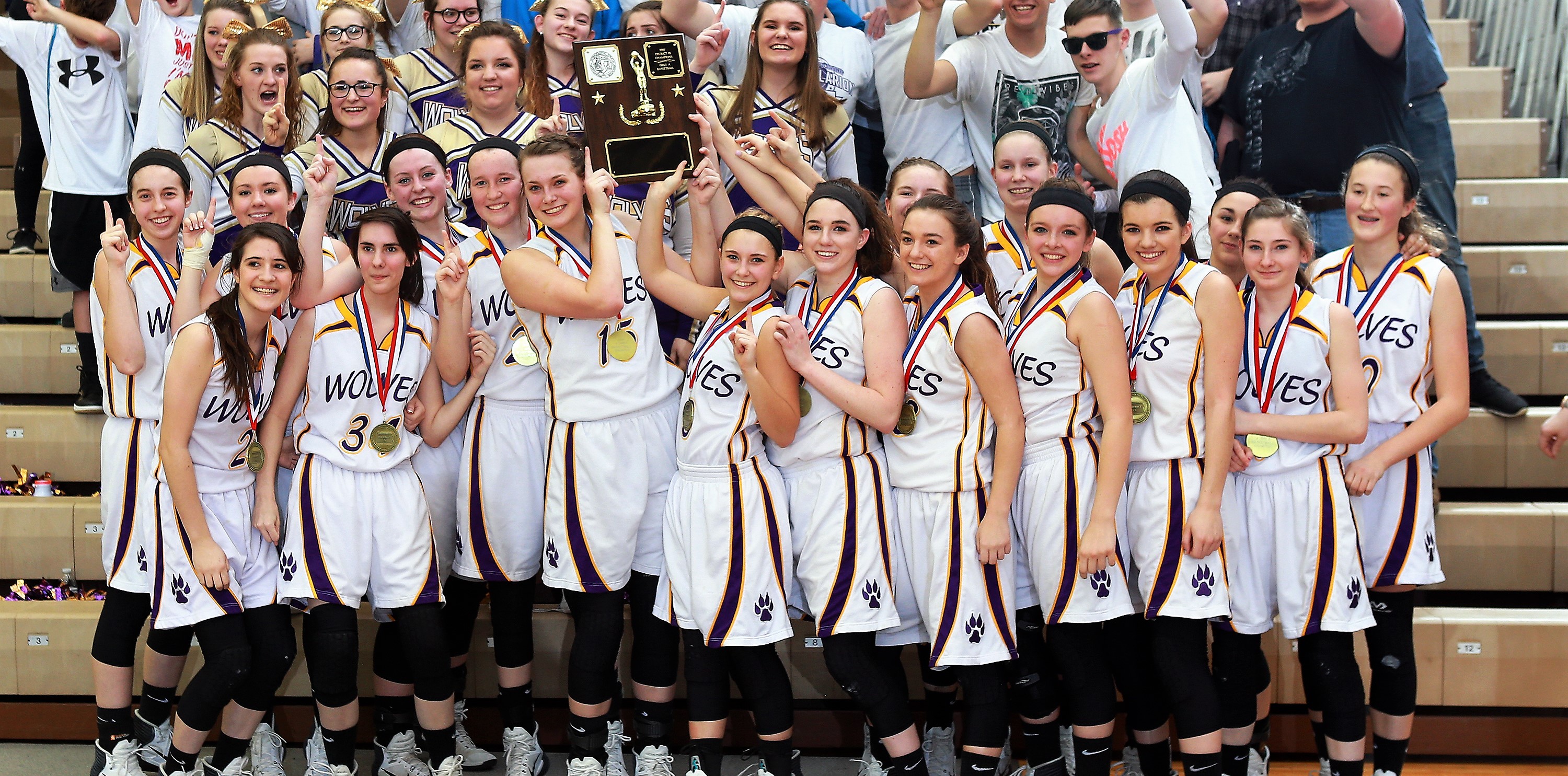 Between June 27 and July 24 D9Sports.com will be counting down the Top 20 stories in District 9 from the 2016-17 school year starting with No. 20 June 27 and finishing with No. 1 July 24.
No. 8: North Clarion Girls' Basketball Team Wins First D9 Title Advances to PIAA Quarterfinals
Entering the 2016-17 season, the only championship the North Clarion girls' basketball team had ever won was the 2016 KSAC North Title.
But expectations were high for the She-Wolves in 2017, and they didn't disappoint losing just twice in the regular season and then winning KSAC and District 9 titles and a pair of PIAA playoff games.
Led by superstar Tori Obenrader and a solid supporting class that included seniors Michaela Higgins and Cassie Wagner, North Clarion blew through the regular season winning its first 12 games before a mini-two-game losing streak to Moniteau and A-C Valley – the A-C Valley loss came on a controversial foul call in a tie game with no time on the clock. But the She-Wolves rebounded to win their next 14 games including twice paying back A-C Valley and also paying back Moniteau.
The win over Moniteau was a huge win, as freshman Abby Gatesman hit a shot with 7.3 seconds left to give North Clarion in the KSAC title game, the first conference championship in girls' basketball in school history.
The second win over A-C Valley was equally important, as North Clarion rallied past the Lady Falco thanks to an 18-5 run after trailing by eight to advance to the District 9 Class 1A title game.
In the title game, Obenrader scored 20 points and hauled down 17 rebounds to lead the She-Wolves to a 53-40 win and their first District 9 title.
Moving onto the PIAA playoffs, North Clarion made more history winning the first PIAA game in school history over Sewickley Academy thanks in large part to a 20-0 run to start the game.
A second-round showdown with Cornell proved to be no problem thanks to another great game from Obenrader (37 points, 19 rebounds) in a 68-58 win.
The dream ride came to an end in the PIAA quarterfinals when Bishop Carroll knocked off North Clarion, 58-49, but even that game showed the team's character as they rallied from a 23-point deficit with 13 minutes to play to get within seven before running out of steam.
Top 20 Sports Stories in District 9 for the 2016-17 School Year
No. 20 – Three District 9 girls' place in the javelin at the PIAA Championships
No. 19 – Brockway Girls and Port Allegany Boys Claim First-Ever D9 Soccer Titles
No. 18 – Ridgway Boys' Basketball Marches to PIAA Elite Eight
No. 17 – Ridgway Claims D9 1A Football Title
No. 16 – Kane Football Wins Third Straight D9 Title
No. 15 – Elk County Catholic Boys' Cross Country Takes Second at PIAA Championships
No. 14 – Moniteau Softball Wins 4th Straight Title but Stunned in PIAA Playoffs
No. 13 – The Big Four Inside Junior Girls Dominate D9 Basketball
No. 12 – Punxsutawney's Streak of 13 Straight D9 Baseball Titles Ended by Clearfield
No. 11 – Karns City Girls' Soccer Dominance
No. 10 – Oswayo Valley Baseball Becomes District 9 Powerhouse
No. 9 – ECC Hoops Goes Back-to-Back Unbeaten Regular Seasons for First Time in School History
No. 8 – North Clarion Girls' Basketball Team Wins First D9 Title Advances to PIAA Quarterfinals
No. 7 – Released July 14
No. 6 – Released July 17
No. 5 – Released July 18
No. 4 – Released July 19
No. 3 – Released July 20
No. 2 – Released July 21
No. 1 – Released July 24