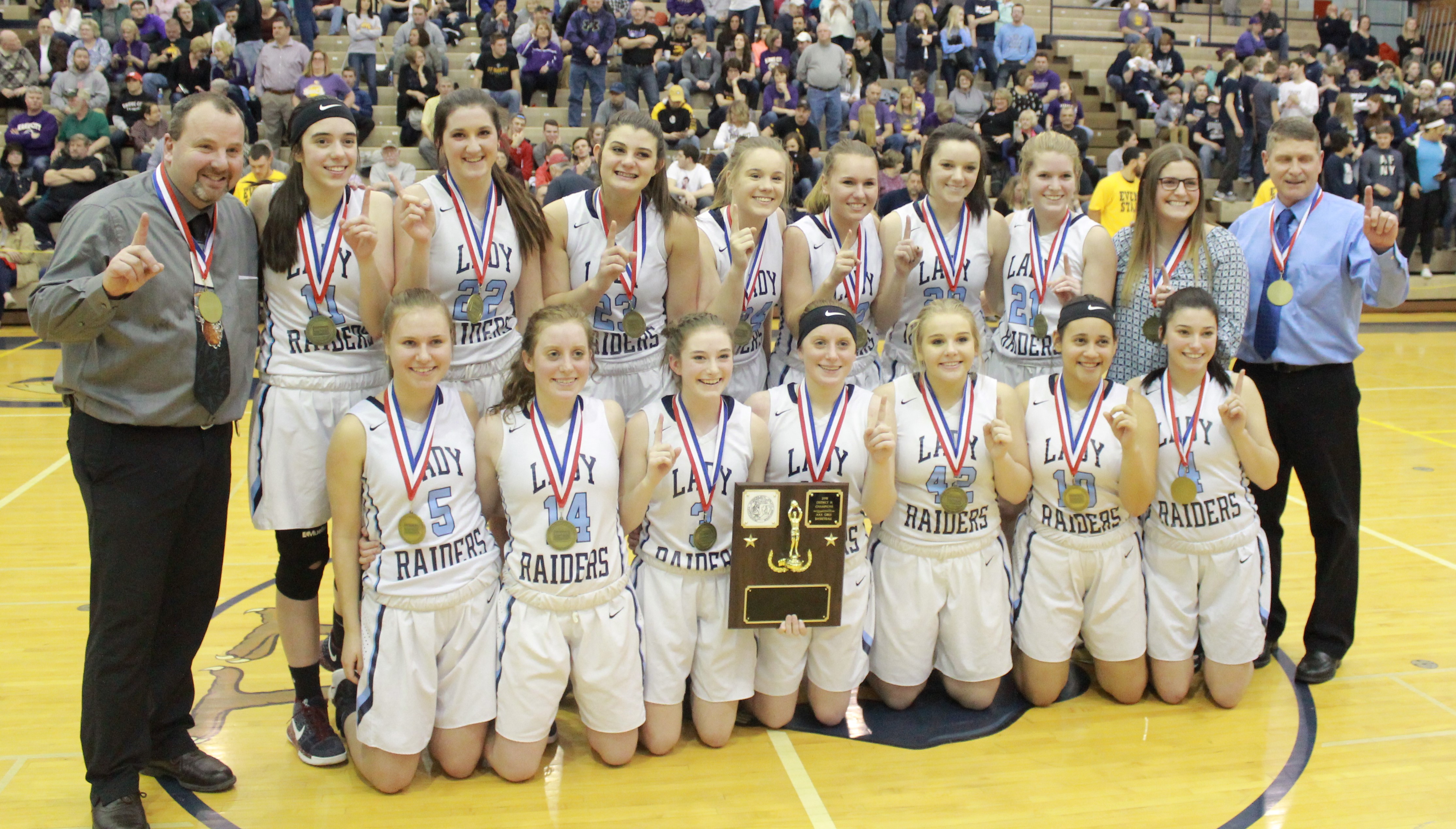 Between June 26 and July 30, D9Sports.com Sports Editor Chris Rossetti will be counting down his Top 25 favorites stories in District 9 from the 2017-18 school year starting with No. 25 June 25 and finishing with No. 1 July 30. Again these are Chris' favorite stories and are open for debate.
No. 14 Brookville girls' basketball goes from 6-16 to District 9 3A title and second round of PIAA playoffs
Not much was expected of the Brookville girls' basketball team in 2018. The Lady Raiders were coming off a 6-16 season in 2017, and while that was a young team, there weren't any concrete signs that pointed to championship caliber.
But championship-caliber was exactly what Brookville produced.
After a decent 5-3 start that included double-digit losses to North Clarion, Elk County Catholic and DuBois, Brookville turned things around starting with a 61-29 win over Johnsonburg Jan. 4.
That victory started a five-game win streak and a stretch that saw the Lady Raiders win 11 of their final 13 regular-season games with the only two losses coming to eventual Class 4A champion Punxsutawney.
Those victories earned Brookville the No. 1 seed in the District 9 Class 3A playoffs and a bye into the title game against four-time defending champion Karns City.
The Lady Raiders, without a senior on the roster, weren't intimidated by the champs and their 25 points per game player, Emily Hegedus.
Brookville used a strong pressure defense to build a 16-point lead two minutes into the fourth quarter, and despite Karns City rallying to within five points with just under two minutes to play, the Lady Raiders held on for a 46-39 win and an unlikely D9 title.
But Brookville wasn't done.
A week later, the Lady Raiders captured their first PIAA playoff victory since 1985, when head coach Mark Powell was in eighth grade, with a 53-46 win over Northwestern.
While the season ended in the second round with a loss to East Allegheny, the Brookville finished 19-6, a 13-win improvement over the previous season.
Head coach Mark Powell was named the co-All American Awards & Engraving D9Sports.com District 9 Coach of the Year and sophomore March Schindler was a third-team All-D9 performer after averaging 10.5 points, 8.7 rebounds, 2.3 blocks and 2.2 steals per game.
Chris Rossetti's Top 25 Sports Stories in District 9 for the 2017-18 School Year
No. 25 – A-C Valley girls win first PIAA playoff basketball game in school history
No. 24 – Two District 9 girls finish in Top 10 at District 9 Cross Country Meet
No. 23 – Jack Krug bursts onto the scene, helps Brookville football return to the postseason
No. 22 – Brendan Zerfoss wins D9 Track MVP Award, two PIAA medals
No. 21 – Cranberry wins District 9 Class 2A softball title
No. 20 – Ridgway/Johnsonburg Co-op Flourishing
No. 19 – Coudersport shoots lights out in beating unbeaten Ridgway for boys' 2A hoops title
No. 18 – Clarion stops Kane's run of D9 football titles; Win PIAA Game
No. 17 – Beimel's dash wins D9 4A baseball title for St. Marys 1st 2000
No. 16 – Led by 4×100-relay team, Brookville boys' track & field goes back-to-back in D9
No. 15 – Brookville Wrestling Continues Dominance
No. 14 – Brookville girls' basketball goes from 6-16 to District 9 3A title and second round of PIAA playoffs
No. 13 – Coming July 12
No. 12 – Coming July 13
No. 11 – Coming July 16
No. 10 – Coming July 17
No. 9 – Coming July 18
No. 8 – Coming July 19
No. 7 – Coming July 20
No. 6 – Coming July 23
No. 5 – Coming July 24
No. 4 – Coming July 25
No. 3 – Coming July 26
No. 2 – Coming July 27
No. 1 – Coming July 30