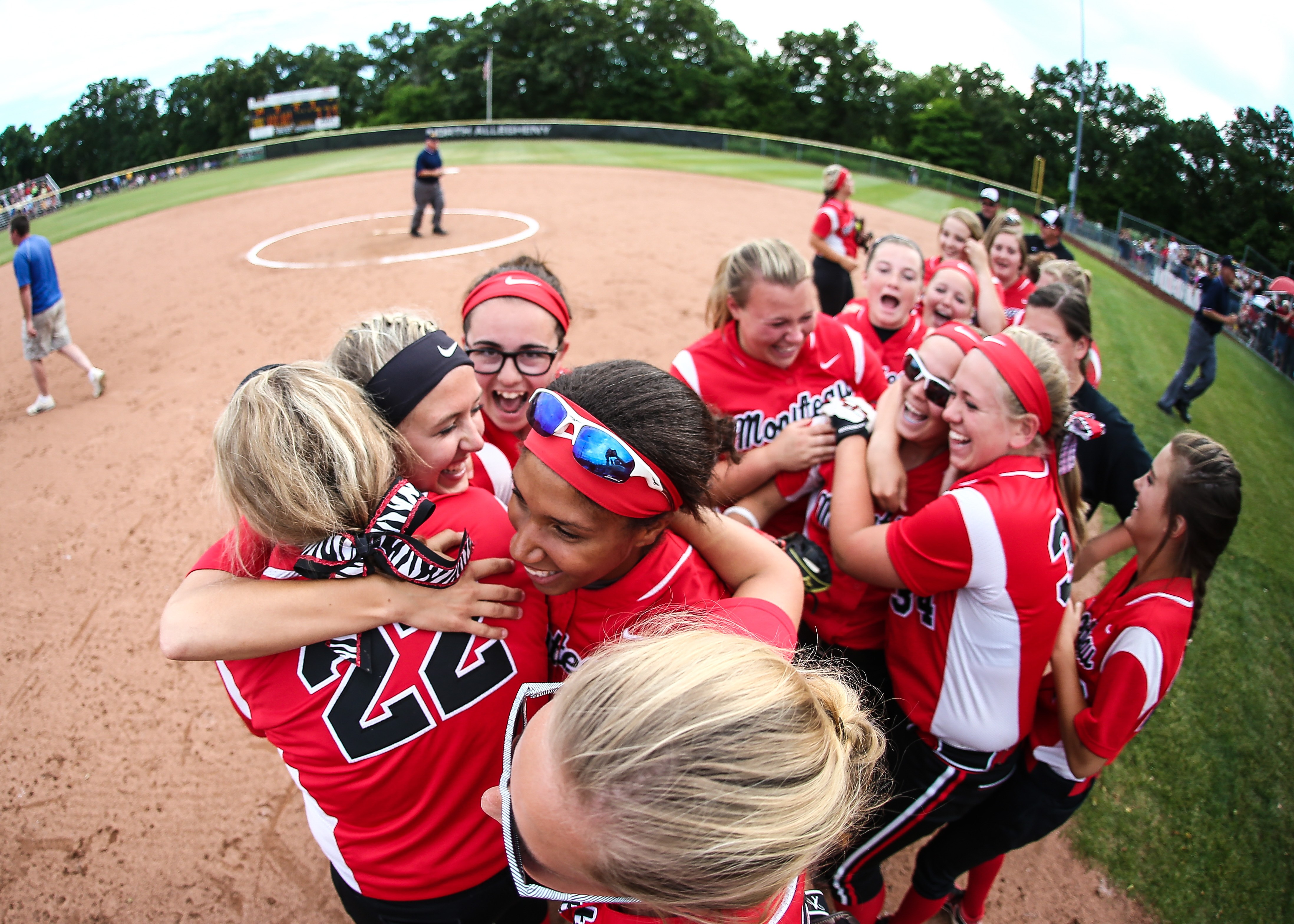 Between June 27 and July 22 we will be counting down the Top 20 Sports Stories in District 9 from the 2015-16 School Year starting with No. 20 June 27 and finishing with No. 1 July 22.
No. 6 Moniteau's Run to the PIAA Class AA Softball Title Game
Sometimes its about how you handle expectations that make a season great.
Make no mistake, the Moniteau softball team was heavily favored to win its third straight District 9 Class AA title when the season started. The Lady Warriors were loaded from pitcher Kennedy DeMatteis to shortstop Cortney Claypoole to catcher Kristina DeMatteis on down the bulk of the D9 championship teams from 2014 and 2015 returned for manager Dan Beebe.
But being the favorite and rolling through the season like one are two different things.
However, that is exactly what Moniteau did. The Lady Warriors weren't really challenged in District 9, and their only regular-season loss came to perennial state power Philipsburg-Osceola on the road.
The question that hung over the season, however, was how would Moniteau fair once the PIAA playoffs started. This group of Lady Warriors had been ousted in the opening round of the PIAA postseason in each of the two previous seasons.
This team was different.
Starting with a 6-0 win over Everett, the team that had eliminated it the year before, Moniteau went on a two week run that won't soon be forgotten in West Sunbury.
Three days after the win over Everett, WPIAL champion Ellwood City was the foe.
The Wolverines didn't stand a chance, as Moniteau blew right by them 11-0 in six innings.
That meant a date with WPIAL runner-up South Park. Another shutout followed, Moniteau's 11th straight, this time 3-0, to lift the Lady Warriors into the PIAA title game for the first time.
In the title contest against defending champion Holy Redeemer, a bogus first-inning call helped the champs take a 5-0 lead, and Moniteau never recovered falling 9-3.
But the accomplishments of the season still got the Lady Warriors a firetruck escort back into town where over 100 supporters were waiting for them at the high school at 11:30 p.m.
Top 20 Sports Stories in District 9 for the 2015-16 School Year
No. 20 – Punxsutawney wins 13th straight District 9 Class AAA Baseball Title
No. 19 – Clarion's Run to the PIAA Softball Playoffs
No. 18 – Elk County Catholic Boys' Basketball Back on Top
No. 17 – Keystone Girls' Basketball Wins Improbable District 9 Title
No. 16 – Kane Basketball Goes from 3 Wins to D9 Champs
No. 15 – DuBois Central Catholic Baseball Unseats the Champions
No. 14 – Karns City Girls' Soccer Advances to PIAA Semifinals
No. 13 – Keystone's Amber Hess finishes second at PIAA Girl' Golf Championships
No. 12 – Karns City football goes on old-school drive to beat Bedford in Class AA sub-regional playoff game
No. 11 – DuBois Central Catholic Softball reaches PIAA Class A semifinals
No. 10 – Thrush and Kimmel Claim PIAA Track & Field Gold
No. 9 – Ortz and Young give Jefferson County Two State Wrestling Champions
No. 8 – Clearfield Basketball Tops Obama Academy Plays State Runner-up Mars Tough to Cap Great Season
No. 7 – The Rolick Leap
No. 6 – Moniteau's run to the PIAA Class AA title game
No. 5 – Released July 18
No. 4 – Released July 19
No. 3 – Released July 20
No. 2 – Released July 21
No. 1 – Released July 22