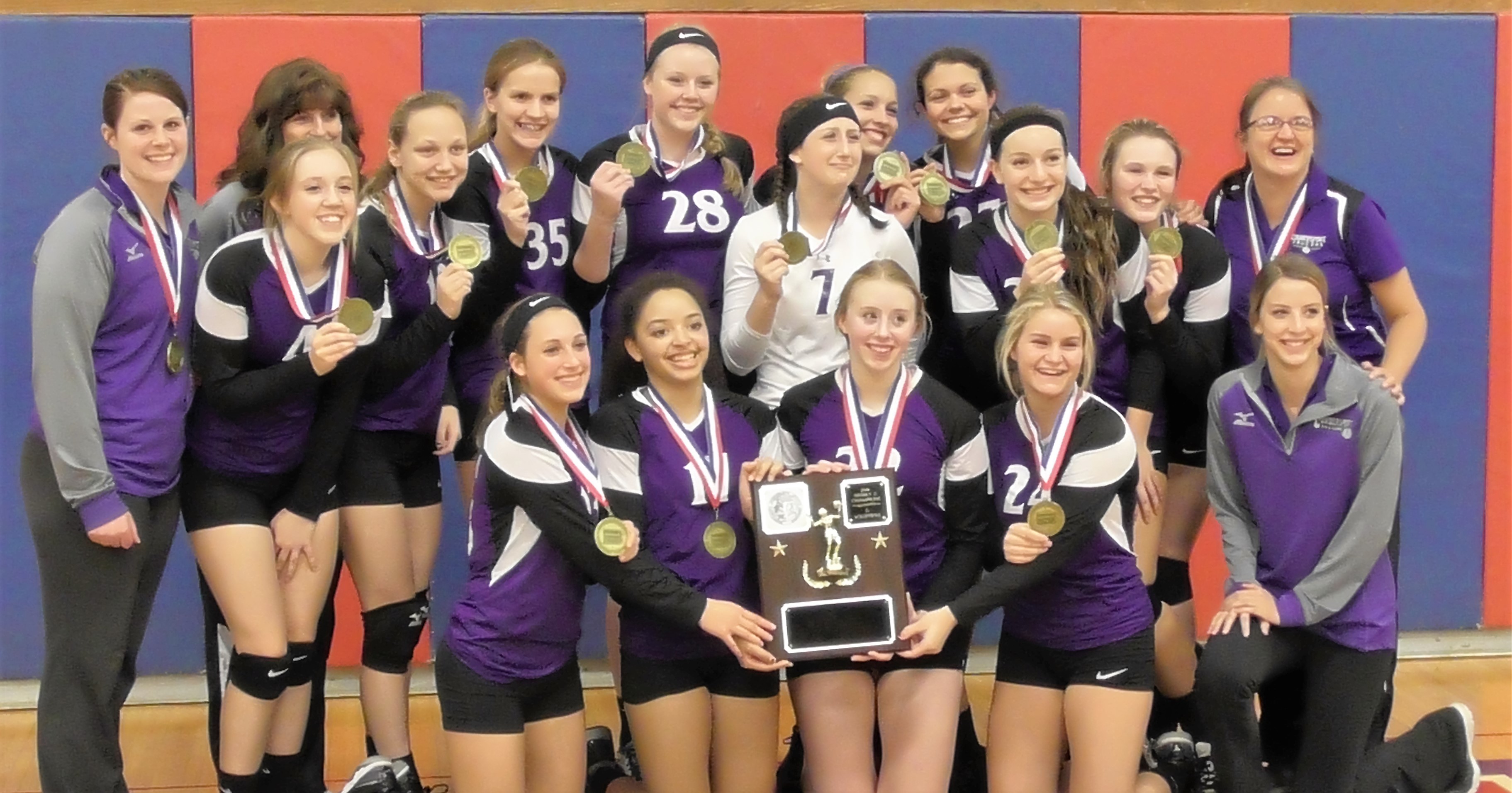 Between June 27 and July 24 D9Sports.com will be counting down the Top 20 stories in District 9 from the 2016-17 school year starting with No. 20 June 27 and finishing with No. 1 July 24.
No. 6: Coudersport Volleyball Comes Oh So Close to PIAA Championship Match
District 9 Class 1A volleyball has been in the hands of Clarion for a while now. The Lady Cats had won six straight D9 titles going into the 2016 campaign.
But things changed in 2016, as the Lady Cats were beaten by A-C Valley in the semifinals setting up a match between two Falcons – A-C Valley and Coudersport.
And it was Coudy that came out on top rolling past A-C Valley, 3-0 (25-11, 25-17, 25-16) for the school's first D9 volleyball championship since 2003. Ally Easton led the way with 21 kills and 10 blocks, while Kiara Perkins had 27 kills, EmmaRae Easton 14 kills and five blocks and Macy Gleason 14 kills and four blocks.
The Lady Falcons weren't satisfied with just the D9 title, however.
Fort Cherry was up first in the PIAA playoffs, and after splitting the first two sets (25-18, 22-25), Coudersport secured the PIAA victory with a 25-19 third-set win and a 25-14 fourth-set victory.
Ally Easton again led the way with a match-high 15 kills to go with four blocks and two aces. Perkins added eight kills and an ace with EmmaRae Easton adding seven aces and a block assist.
That set up a quarterfinal match with Bishop Guilfoyle, and the Lady Falcons quickly showed they were the superior team winning the first two sets by scores of 25-13 and 25-22 before BG rallied to take set three 25-23. But Coudersport put the match away with a 25-13 fourth-set win.
Joplin Osgood had 39 digs, Gleason added 28 digs, four kills and three service aces and Adrian Page 25 digs. Ally Easton chipped in 18 kills and nine blocks, Perkin 10 kills and Skyler VanWagenen seven kills and two aces.
In the PIAA semifinals, Greensburg Central Catholic proved to be too much for Coudy's dreams of a state title-winning a four-set match by scores of 25-16, 23-25, 25-9 and 25-23.
Top 20 Sports Stories in District 9 for the 2016-17 School Year
No. 20 – Three District 9 girls' place in the javelin at the PIAA Championships
No. 19 – Brockway Girls and Port Allegany Boys Claim First-Ever D9 Soccer Titles
No. 18 – Ridgway Boys' Basketball Marches to PIAA Elite Eight
No. 17 – Ridgway Claims D9 1A Football Title
No. 16 – Kane Football Wins Third Straight D9 Title
No. 15 – Elk County Catholic Boys' Cross Country Takes Second at PIAA Championships
No. 14 – Moniteau Softball Wins 4th Straight Title but Stunned in PIAA Playoffs
No. 13 – The Big Four Inside Junior Girls Dominate D9 Basketball
No. 12 – Punxsutawney's Streak of 13 Straight D9 Baseball Titles Ended by Clearfield
No. 11 – Karns City Girls' Soccer Dominance
No. 10 – Oswayo Valley Baseball Becomes District 9 Powerhouse
No. 9 – ECC Hoops Goes Back-to-Back Unbeaten Regular Seasons for First Time in School History
No. 8 – North Clarion Girls' Basketball Team Wins First D9 Title Advances to PIAA Quarterfinals
No. 7 – DCC Softball Wins Third D9 Title in Four Years Moves onto PIAA Semifinals for 2nd Straight Year
No. 6 – Coudersport Volleyball Comes Oh So Close to PIAA Championship Match
No. 5 – Released July 18
No. 4 – Released July 19
No. 3 – Released July 20
No. 2 – Released July 21
No. 1 – Released July 24