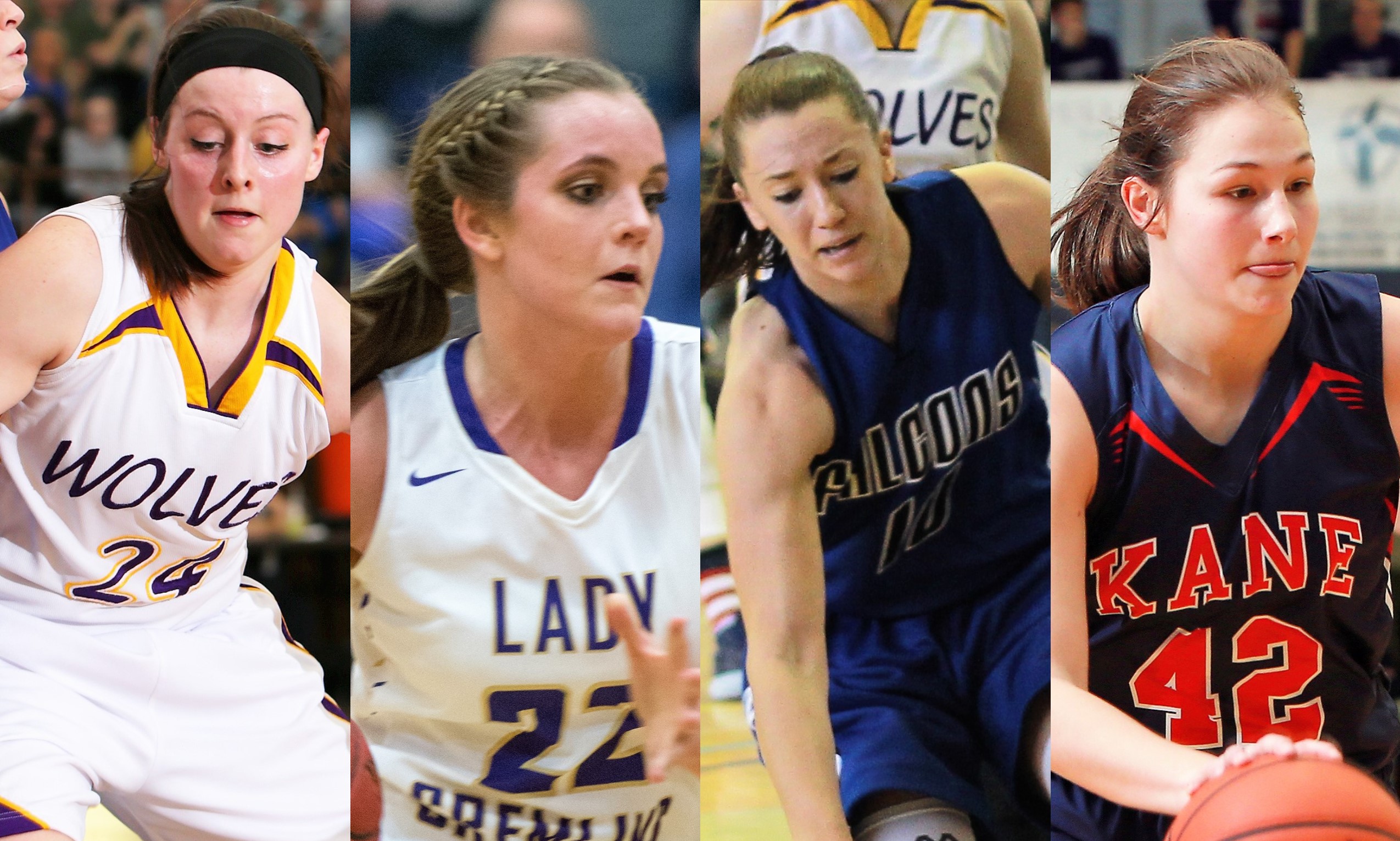 Between June 26 and July 30, D9Sports.com Sports Editor Chris Rossetti will be counting down his Top 25 favorites stories in District 9 from the 2017-18 school year starting with No. 25 June 25 and finishing with No. 1 July 30. Again these are Chris' favorite stories and are open for debate.
(Photo by Jared Bakaysa of JB Graphics. See more of Bakaysa's work here)
No. 13 Record setting players in D9 girls' basketball
In a good year, you might get to see one school scoring record in basketball broken.
But in 2018, we got to witness four girls' school records broken in District 9.
North Clarion's Tori Obenrader (2,115), Karns City's Emily Hegedus (1,735), A-C Valley's Ellie Thompson (1,527) and Kane's Trinity Clark (1,209) all set school records during the year.
Obenrader broke the mark held by her cousin, Wendy Obenrader, of 1,822 points that stood for 27 years, Hegedus broke the record of 1,496 set by Elizabeth Whitmer in 1987, Thompson knocked off the school mark of 1,265 set by Hillary McCall in 2002 and Clark topped the record of 1,185 points set in 2013 by Kaila Jamerson.
Three of the players earned All-State honors with Obenrader a first-team Class 1A choice, Hegedus a second-team Class 3A selection and Thompson a second-team Class 1A player.
Chris Rossetti's Top 25 Sports Stories in District 9 for the 2017-18 School Year
No. 25 – A-C Valley girls win first PIAA playoff basketball game in school history
No. 24 – Two District 9 girls finish in Top 10 at District 9 Cross Country Meet
No. 23 – Jack Krug bursts onto the scene, helps Brookville football return to the postseason
No. 22 – Brendan Zerfoss wins D9 Track MVP Award, two PIAA medals
No. 21 – Cranberry wins District 9 Class 2A softball title
No. 20 – Ridgway/Johnsonburg Co-op Flourishing
No. 19 – Coudersport shoots lights out in beating unbeaten Ridgway for boys' 2A hoops title
No. 18 – Clarion stops Kane's run of D9 football titles; Win PIAA Game
No. 17 – Beimel's dash wins D9 4A baseball title for St. Marys 1st 2000
No. 16 – Led by 4×100-relay team, Brookville boys' track & field goes back-to-back in D9
No. 15 – Brookville Wrestling Continues Dominance
No. 14 – Brookville girls' basketball goes from 6-16 to District 9 3A title and second round of PIAA playoffs
No. 13 – Record-setting players in D9 girls' basketball
No. 12 – Coming July 13
No. 11 – Coming July 16
No. 10 – Coming July 17
No. 9 – Coming July 18
No. 8 – Coming July 19
No. 7 – Coming July 20
No. 6 – Coming July 23
No. 5 – Coming July 24
No. 4 – Coming July 25
No. 3 – Coming July 26
No. 2 – Coming July 27
No. 1 – Coming July 30