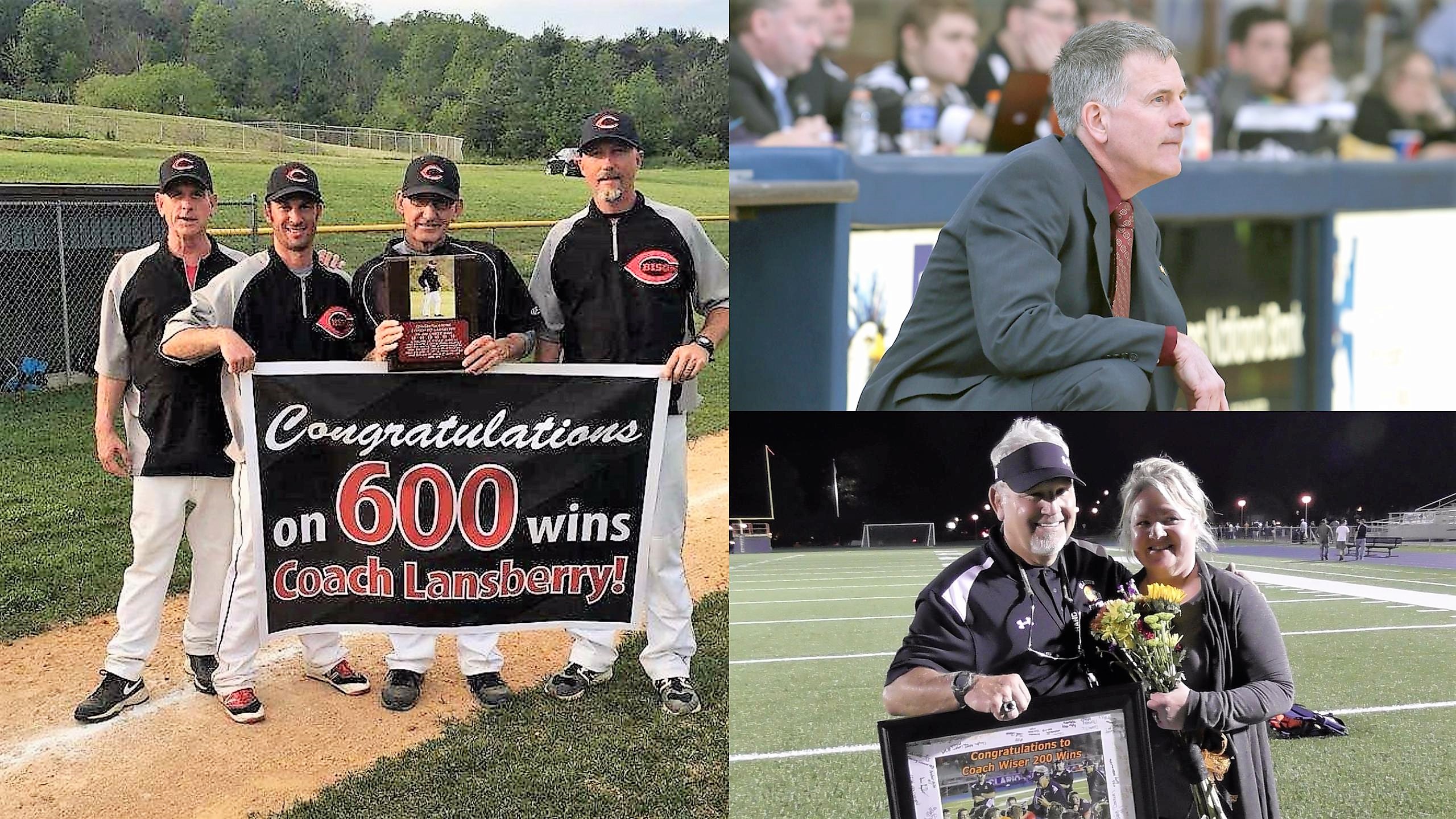 Between June 27 and July 24 D9Sports.com will be counting down the Top 20 stories in District 9 from the 2016-17 school year starting with No. 20 June 27 and finishing with No. 1 July 24.
No. 5: Three legendary District 9 Coaches Hit Coaching Milestones
Sid Lansberry. Aaron Straub. Larry Wiser.
If there is ever a District 9 Hall of Fame, those three coaches will be right near the front of the coach's wing – Lansberry in baseball, Straub in basketball and Wiser in football.
And during the 2016-17 school year, all three mentors added milestones to their coaching records.
For Lansberry, the long-time Clearfield baseball coach, it was win No. 600.
For Straub, the legendary ECC boys' basketball coach whose career actually started with the ECC girls' team, it was win No. 800 overall.
For Wiser, the heart-and-soul of the Clarion football program for four decades starting as an assistant coach and then becoming the head man, it was win No. 200.
Wiser was the first to reach the milestone-victory mark during the year becoming just the third District 9 football coach to win 200 career games.
The win came against none other than one of the Bobcats biggest rivals, crosstown Clarion-Limestone, 34-14, Sept. 23, 2016.
Mike McCloskey scored five touchdowns in the victory, as Wiser improved to 200-91-1 in a career that started in 1988 – he took 2010 off – and includes three District 9 titles. He finished the season, which saw Clarion end up as the D9 Class 2A runner-up, with a record of 205-93-1, the second-winningest coach in D9 history behind Clearfield's Tim Janocko, who is at 257 wins entering the 2017 season. Retired Coudersport head coach Paul Simcoe had 204 career victories.
Straub's milestone was up next, and probably in the manner he liked, flew pretty much under the radar.
Sitting with 799 career wins – 769 in 35 years as the ECC boys' coach and 30 in two as the girls' coach – Straub's Crusaders entertained DuBois Central Catholic the night of Jan. 6, 2017.
ECC wasted little time getting their long-time mentor the victory jumping out to a 19-7 lead at the end of a quarter and leading 43-17 at halftime on its way to a 76-42 win.
The Crusaders were hot from behind the 3-point line hitting 10 triples led by five from Gabe Kraus, who had a game-high 19 points. Ryan Newton added 15 points, Brad Dippold 13 and Nate DaCanal 12 in a game that was a carbon copy hallmark of Straub's career – well-balanced.
ECC went on to complete its second consecutive unbeaten regular season – a first in school history – while winning AML, D9 League and District 9 Class 1A titles and reaching the PIAA second round. Straub finished the year with a career mark of 820-250 including 790-229 as the boys' coach, the winningest boys' coach in D9 history.
Lansberry's milestone victory came May 17, 2017, in a 14-3, six-inning victory at Bald Eagle.
The Clearfield manager's career started during the tail end of the Vietnam War (1972) and has lasted 45 seasons. The first victory was April 10, 1972, a 2-1 win over St. Marys.
Zane Morgan led the way in the milestone victory with three hits, including a home run and a double, three RBIS and three runs scored. Tommy Hazel also had three hits, including a double and two RBIs, and Reese Wilson added three hits, including a double, to go with an RBI and three runs scored. Seth Bumbarger chipped in two doubles and two RBIs, Eli Glass had two singles and a sac fly and Ty Bender hit a solo home run and added two RBIs. Will Myers picked up the win going six innings allowing three runs, two earned, on five hits and three walks while striking out four.
Fitting for the season that saw him win game No. 600, Lansberry's squad delivered him his first D9 title in 14 years with a victory over Bradford in the District 9 title game. The 1964 Clearfield graduate finished the season with a career record of 602-414-3 – yes he has three ties – and has now guided Clearfield to 13 District 9 titles.
Top 20 Sports Stories in District 9 for the 2016-17 School Year
No. 20 – Three District 9 girls' place in the javelin at the PIAA Championships
No. 19 – Brockway Girls and Port Allegany Boys Claim First-Ever D9 Soccer Titles
No. 18 – Ridgway Boys' Basketball Marches to PIAA Elite Eight
No. 17 – Ridgway Claims D9 1A Football Title
No. 16 – Kane Football Wins Third Straight D9 Title
No. 15 – Elk County Catholic Boys' Cross Country Takes Second at PIAA Championships
No. 14 – Moniteau Softball Wins 4th Straight Title but Stunned in PIAA Playoffs
No. 13 – The Big Four Inside Junior Girls Dominate D9 Basketball
No. 12 – Punxsutawney's Streak of 13 Straight D9 Baseball Titles Ended by Clearfield
No. 11 – Karns City Girls' Soccer Dominance
No. 10 – Oswayo Valley Baseball Becomes District 9 Powerhouse
No. 9 – ECC Hoops Goes Back-to-Back Unbeaten Regular Seasons for First Time in School History
No. 8 – North Clarion Girls' Basketball Team Wins First D9 Title Advances to PIAA Quarterfinals
No. 7 – DCC Softball Wins Third D9 Title in Four Years Moves onto PIAA Semifinals for 2nd Straight Year
No. 6 – Coudersport Volleyball Comes Oh So Close to PIAA Championship Match
No. 5 – Three legendary District 9 Coaches Hit Coaching Milestones
No. 4 – Released July 19
No. 3 – Released July 20
No. 2 – Released July 21
No. 1 – Released July 24