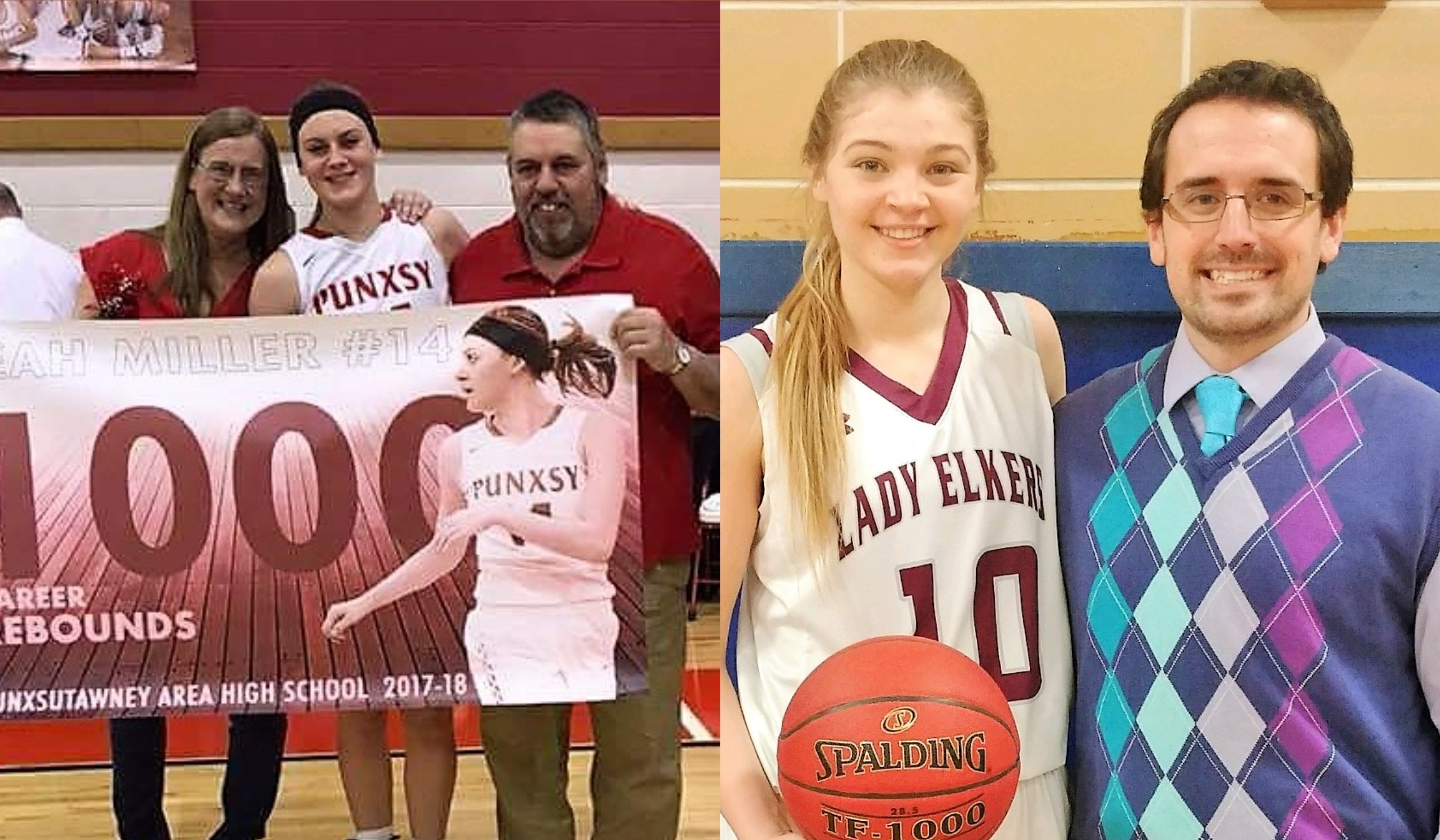 Between June 26 and July 30, D9Sports.com Sports Editor Chris Rossetti will be counting down his Top 25 favorites stories in District 9 from the 2017-18 school year starting with No. 25 June 25 and finishing with No. 1 July 30. Again these are Chris' favorite stories and are open for debate.
No. 9 Miller, Fullem both reach 1,000 points, 1,000 rebounds during the season
Scoring 1,000 points in basketball is special but not always looked at with greatness. After all, most players do it in four seasons which can average out to just a bit over 250 points per year.
The same can be said about 1,000 rebounds.
But when someone does it like Punxsutawney's Leah Miller it, you take notice.
See, not only was Miller a 1,000-point, 1,000-rebound performer in her career, she did it despite not playing varsity basketball as a freshman.
Yes, Miller went 1,000-1,000 in just three seasons finishing her career with 1,037 points and over 1,000 rebounds while being named a first-team All American Award & Engraving D9Sports.com District 9 All-District player for the second straight year and earning second-team Pennsylvania Sports Writers Class 4A All-State honors.
The Chestnut Hill recruit led District 9 with 16.2 rebounds per game and had a season double-double with 15.3 points per game while also adding 4.0 blocks, 2.4 steals and 1.0 assists per contest and recording 20 double-doubles on the season.
But Miller wasn't alone this season in becoming a 1,000-point, 1,000-rebound star, as Ridgway's Emily Fullem also achieved the feat during her four-year career that came to a close.
Fullem, who is headed to Clarion University to play volleyball, finished her career with 1,307 points and also went over the 1,000-board mark finishing with 1,050.
It was a great season for Fullem, who helped Ridgway to the District 9 Class 2A playoffs. She led District 9 with 5.3 blocks per game while adding 20.4 points and 14.7 rebounds per contest. She was named a second-team All American Awards & Engraving D9Sports.com All-District 9 player and a third-team Pennsylvania Sports Writers Class 2A All-State performer.
Miller and Fullem were just two of three D9 players to finish their careers in 2018 with 1,000 points and 1,000 rebounds, as North Clarion's Tori Obenrader also easily surpassed the mark. There will be much more on Obenrader's fantastic career later in the countdown.
Chris Rossetti's Top 25 Sports Stories in District 9 for the 2017-18 School Year
No. 25 – A-C Valley girls win first PIAA playoff basketball game in school history
No. 24 – Two District 9 girls finish in Top 10 at District 9 Cross Country Meet
No. 23 – Jack Krug bursts onto the scene, helps Brookville football return to the postseason
No. 22 – Brendan Zerfoss wins D9 Track MVP Award, two PIAA medals
No. 21 – Cranberry wins District 9 Class 2A softball title
No. 20 – Ridgway/Johnsonburg Co-op Flourishing
No. 19 – Coudersport shoots lights out in beating unbeaten Ridgway for boys' 2A hoops title
No. 18 – Clarion stops Kane's run of D9 football titles; Win PIAA Game
No. 17 – Beimel's dash wins D9 4A baseball title for St. Marys 1st 2000
No. 16 – Led by 4×100-relay team, Brookville boys' track & field goes back-to-back in D9
No. 15 – Brookville Wrestling Continues Dominance
No. 14 – Brookville girls' basketball goes from 6-16 to District 9 3A title and second round of PIAA playoffs
No. 13 – Record-setting players in D9 girls' basketball
No. 12 – Nick Stewart becomes District 9's all-time leading rusher
No. 11 – Lingenfelter records every out by strikeout
No. 10 – North Clarion girls' basketball perfect in D9
No. 9 – Miller, Fullem both reach 1,000 points, 1,000 rebounds during the season
No. 8 – Coming July 19
No. 7 – Coming July 20
No. 6 – Coming July 23
No. 5 – Coming July 24
No. 4 – Coming July 25
No. 3 – Coming July 26
No. 2 – Coming July 27
No. 1 – Coming July 30