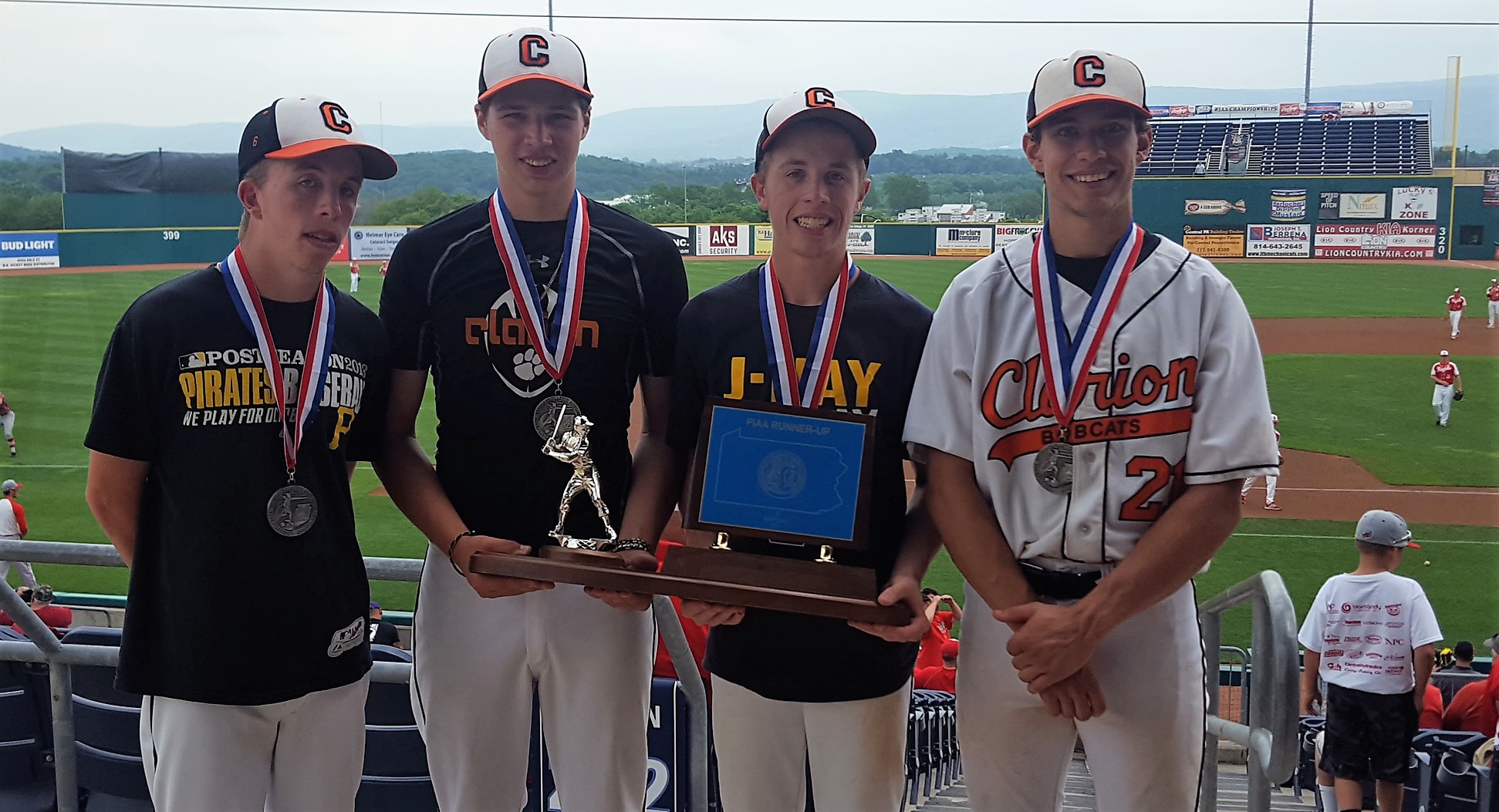 Between June 27 and July 24 D9Sports.com will be counting down the Top 20 stories in District 9 from the 2016-17 school year starting with No. 20 June 27 and finishing with No. 1 July 24.
No. 3: Clarion Baseball's Run to PIAA 1A Title Game
Someone believed in the 2017 Clarion baseball team – the Bobcats head coach Rob Jewett.
After the season, the seniors relieved that Jewett told them on the first day of practice he thought they had a shot to play for a state title.
He may have been the only one. As one of the senior recalled, he kind of looked at one of his teammates wondering what Jewett was smoking.
But it turns out Jewett had faith for a good reason.
These Bobcats could pitch and play defense.
Despite a team batting average of .259 – not all that great for a Major League team let alone a high school squad – Clarion went 21-4 on the year because it pitched the ball exceptional – team ERA of 1.14 – and it played solid defense – just 33 errors on the season and a team fielding percentage of .953.
Those attributes were on display no more so than in the PIAA semifinals against WPIAL runner-up Greensburg Central Catholic.
The Bobcats found themselves going up against Seton Hill recruit Neal McDermott, but it didn't matter.
Reed Anthony, who was the D9Sports.com District 9 pitcher of the year after going 11-1 with a 0.40 ERA, matched McDermott zero-for-zero through six innings, and with the GCC ace out of the game in the seventh Clarion struck.
Well, first they got struck.
Senior Kyle Patterson told Jewett before his at-bat to lead off the bottom of the seventh that he hoped he was hit by a pitch, which amazingly he was.
Dominic Fleming then bunted him to second, and, following an intentional walk to Spencer Miller, Ryan Anthony moved the runners up 90 feet each with a groundout. That brought Reed Anthony to the plate, and Reed Anthony's chopper to third couldn't be fielded sending Clarion to Penn State and the state title game.
But the Bobcats would have never been in the position to win the game in the seventh if it wasn't for some spectacular defense from center fielder Sterling Conner, who robbed GCC's Jack Liberatore, who is headed to Ohio University to play baseball, from not only extra-bases in the sixth but also two RBIs. Liberatore drove a ball into the right-center field gap that looked destined to end Clarion's season with two men on. But Conner raced over, dove, stretched out and came away with the game-saving catch.
Just being in the PIAA semifinals was a surprise considering Clarion lost the D9 title game in heartbreaking fashion, in eight innings to Oswayo Valley when the Green Wave scored three times in the top of the eighth after Reed Anthony and Oswayo's Ryan Graves had locked horns through seven with both pitchers allowing just one run.
Clarion started PIAA playoff against Berlin Brothersvalley, and for four innings the Bobcats looked like they were in trouble trailing 3-0. In the fifth, though, Clarion scored four teams with senior Dominic Fleming starting the rally with a one-out single that was followed by an infield single by Spencer Miller, a wild pitch and a two-run single to right by Ryan Anthony, who then stole second and went to third on a throwing error before scoring when Reed Anthony reached on an error that tied the game. Reed Anthony then scored the go-ahead run on an RBI double by Sterling Conner. Reed Anthony, the third of three Clarion pitchers, got the win going four scoreless inning allowing one hit while striking out four.
The second round of the PIAA playoffs saw Clarion face D9 rival and third-place finisher Elk County Catholic. Again it was all Reed Anthony as the senior lefty tossed a three-hit shutout allowing a walk while striking out seven. The Bobcats scored all three of their runs in the third thanks to a Miller sac fly and RBI singles from Ryan Anthony and Conner.
The championship game against Meyersdale saw the Bobcats run into Pitt recruit Riley Christner, who threw a two-hit shutout while hitting a batter and striking out 11 in a 2-0 Meyersdale win. The only two runs of the game came in the bottom of the first.
Despite the title-game loss, the Bobcats became the first Clarion County baseball team to ever reach the PIAA title game and the first Clarion County ball team to reach a PIAA title game since Keystone football in 1989.
Top 20 Sports Stories in District 9 for the 2016-17 School Year
No. 20 – Three District 9 girls' place in the javelin at the PIAA Championships
No. 19 – Brockway Girls and Port Allegany Boys Claim First-Ever D9 Soccer Titles
No. 18 – Ridgway Boys' Basketball Marches to PIAA Elite Eight
No. 17 – Ridgway Claims D9 1A Football Title
No. 16 – Kane Football Wins Third Straight D9 Title
No. 15 – Elk County Catholic Boys' Cross Country Takes Second at PIAA Championships
No. 14 – Moniteau Softball Wins 4th Straight Title but Stunned in PIAA Playoffs
No. 13 – The Big Four Inside Junior Girls Dominate D9 Basketball
No. 12 – Punxsutawney's Streak of 13 Straight D9 Baseball Titles Ended by Clearfield
No. 11 – Karns City Girls' Soccer Dominance
No. 10 – Oswayo Valley Baseball Becomes District 9 Powerhouse
No. 9 – ECC Hoops Goes Back-to-Back Unbeaten Regular Seasons for First Time in School History
No. 8 – North Clarion Girls' Basketball Team Wins First D9 Title Advances to PIAA Quarterfinals
No. 7 – DCC Softball Wins Third D9 Title in Four Years Moves onto PIAA Semifinals for 2nd Straight Year
No. 6 – Coudersport Volleyball Comes Oh So Close to PIAA Championship Match
No. 5 – Three legendary District 9 Coaches Hit Coaching Milestones
No. 4 – Young Brookville Baseball Team Makes Dream Run to PIAA Semifinals
No. 3 – Clarion Baseball's Run to PIAA 1A Title Game
No. 2 – Released July 21
No. 1 – Released July 24