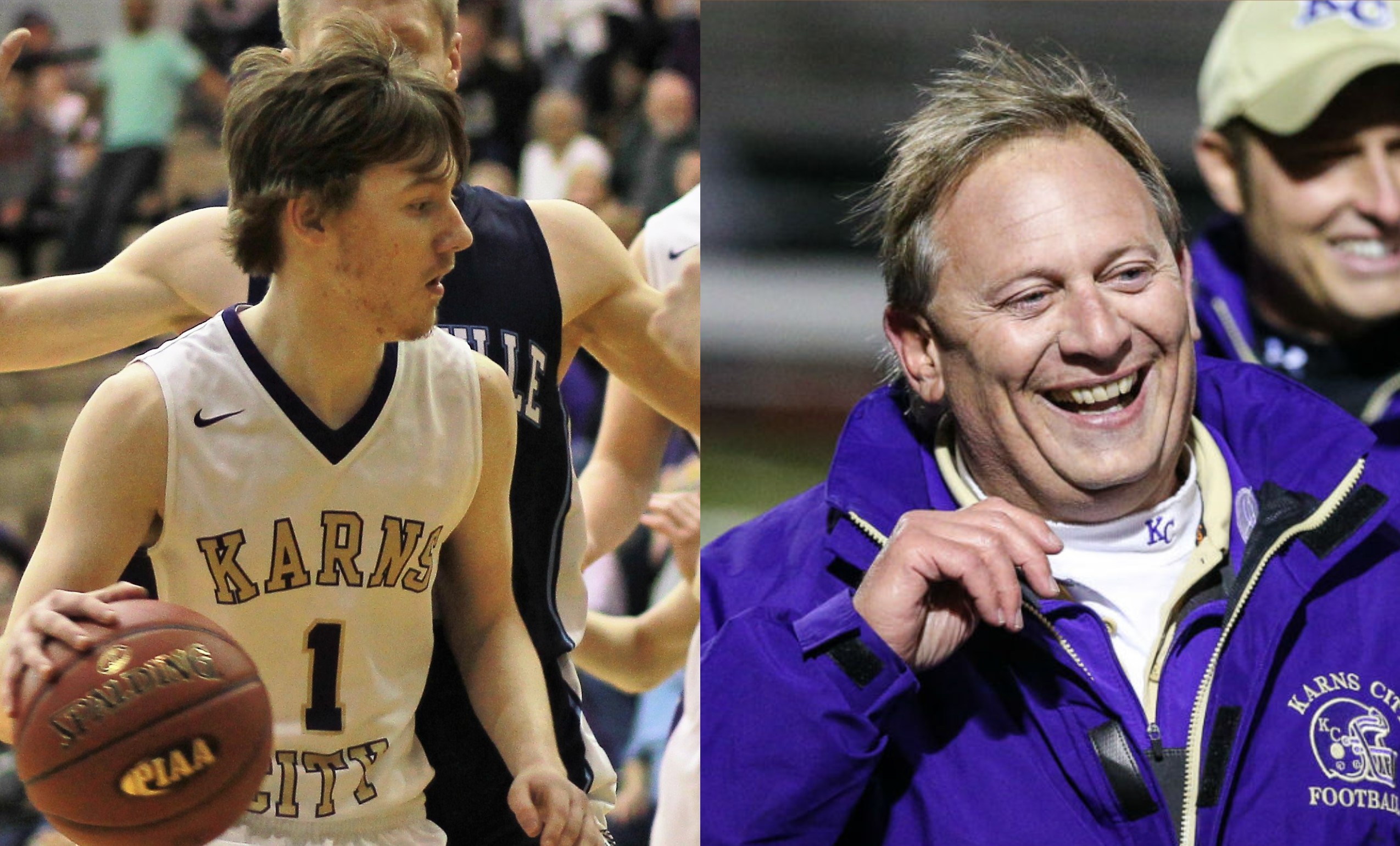 Between June 26 and July 30, D9Sports.com Sports Editor Chris Rossetti will be counting down his Top 25 favorites stories in District 9 from the 2017-18 school year starting with No. 25 June 25 and finishing with No. 1 July 30. Again these are Chris' favorite stories and are open for debate.
No. 7 Conto's 200th win leading into retirement, Fahlor's wild District-title winning shot highlights another banner year at Karns City
Karns City has long stood as one of the stalwart athletic programs top to bottom in District 9, and the 2017-18 school year was no different with the Gremlins/Lady Gremlins taking home team District 9 titles four times including in girls' soccer, football, boys' basketball and softball.
The most exciting of those titles – well ok all the titles were exciting from a Gremlins' fan perspective – was the boys' basketball championship when Austin Fahlor's crazy 3-pointer as time expired gave Karns City its second straight Class 3A title, 34-31, over Brookville.
Fahlor wasn't even the intended target on the play, which began with a mere 4/10th of a second left, as Karns City was hoping to get the ball inside. But the first option was taken away, and Fahlor ended up with the ball with just enough time to catch and heave up a shot, which went in sparking a wild celebration on the Karns City side and disbelief from the Brookville faithful, who were sure the game was headed to overtime.
But as great as Fahlor's shot was, it wasn't the No. 1 story at the school during the year.
That was reserved for long-time football coach Ed Conto, who became just the fourth coach in District 9 history to win 200 games – he did it combined at A-C Valley and Karns City.
And then Conto decided to go out on top.
The longtime coach guided the Gremlins to their sixth straight District 9 (or in this case sub-regional) title while winning his 200th career game during the year then called it quits after 30 years as a head football coach.
The fourth-winningest head coach in District 9 history, Conto finished his career with a record of 203-126-3. The last 18 years were spent at Karns City where he guided the Gremlins to a 167-52 record with 11 District 9 titles (nine in Class 2A and two in Class 3A as a sub-regional title). Karns City went to the District 9 title game 15 times in his 18 years, and he also guided A-C Valley to the 1998 Class 3A championship game.
Win No. 200 came Sept. 29 against Keystone, 58-14.
Conto's 203 wins stand fourth in D9 history behind just Tim Janocko of Clearfield (273-108-3 in 33 years at Clearfield and counting), Larry Wiser of Clarion (217-94-1 in 29 years at Clarion and counting) and Coudersport's Paul Simcoe (204 wins).
Chris Rossetti's Top 25 Sports Stories in District 9 for the 2017-18 School Year
No. 25 – A-C Valley girls win first PIAA playoff basketball game in school history
No. 24 – Two District 9 girls finish in Top 10 at District 9 Cross Country Meet
No. 23 – Jack Krug bursts onto the scene, helps Brookville football return to the postseason
No. 22 – Brendan Zerfoss wins D9 Track MVP Award, two PIAA medals
No. 21 – Cranberry wins District 9 Class 2A softball title
No. 20 – Ridgway/Johnsonburg Co-op Flourishing
No. 19 – Coudersport shoots lights out in beating unbeaten Ridgway for boys' 2A hoops title
No. 18 – Clarion stops Kane's run of D9 football titles; Win PIAA Game
No. 17 – Beimel's dash wins D9 4A baseball title for St. Marys 1st 2000
No. 16 – Led by 4×100-relay team, Brookville boys' track & field goes back-to-back in D9
No. 15 – Brookville Wrestling Continues Dominance
No. 14 – Brookville girls' basketball goes from 6-16 to District 9 3A title and second round of PIAA playoffs
No. 13 – Record-setting players in D9 girls' basketball
No. 12 – Nick Stewart becomes District 9's all-time leading rusher
No. 11 – Lingenfelter records every out by strikeout
No. 10 – North Clarion girls' basketball perfect in D9
No. 9 – Miller, Fullem both reach 1,000 points, 1,000 rebounds during the season
No. 8 – Tori Obenrader scores 2,000 points, grabs 1,500 rebounds in her career
No. 7 – Conto's 200th win; Fahlor's wild D9 title-winning shot highlight another banner year at Karns City
No. 6 – Coming July 23
No. 5 – Coming July 24
No. 4 – Coming July 25
No. 3 – Coming July 26
No. 2 – Coming July 27
No. 1 – Coming July 30