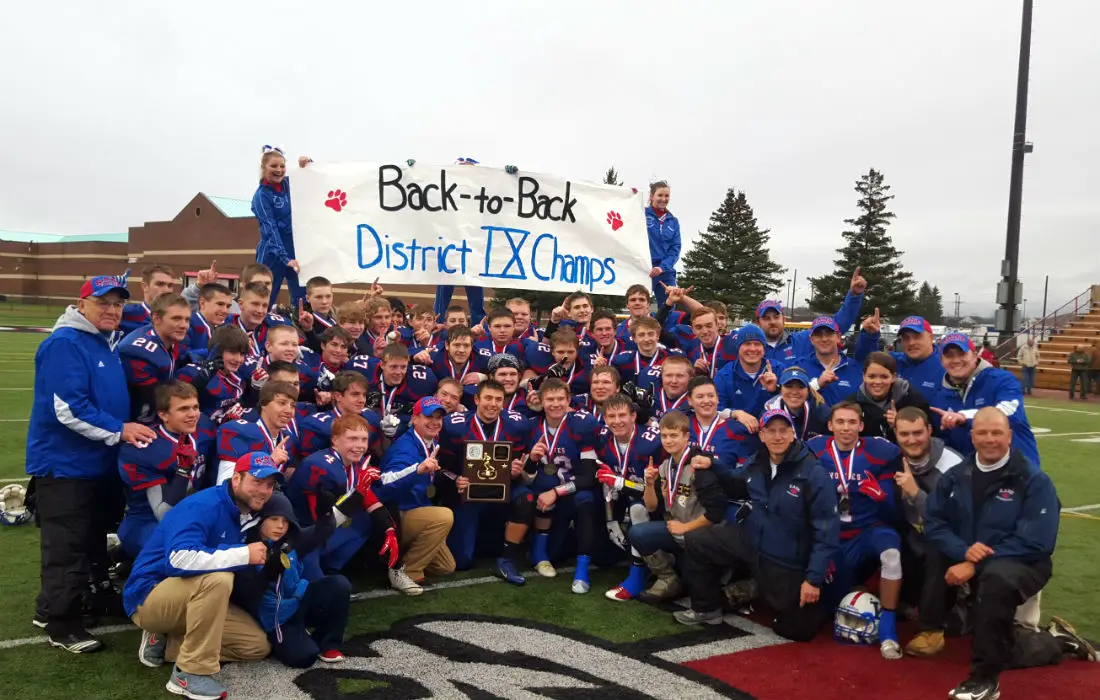 Between June 27 and July 22 we will be counting down the Top 20 Sports Stories in District 9 from the 2015-16 School Year starting with No. 20 June 27 and finishing with No. 1 July 22.
No. 3 Kane Football Defends Title With Miracle Ending
Heading into the District 9 Class A football championship, Kane looked to be the odds-on-favorite to defend its title. And when the Wolves scored less than three minutes into the game against Brockway it looked like those odds were going to come true.
But after the early touchdown, the game became a defensive struggle with the Wolves holding a 7-3 lead until the final play of the first half when Shane Rolick tucked the ball on what was supposed to be a Hail Mary pass and instead went on a 35-yard Hail Mary run to give Kane a 14-3 halftime lead.
Up by two scores, things looked good for the Wolves.
But Brockway fought back cutting the lead to 14-10 early in the second half.
Then, with just 1:23 to play, Mark Latuska scored from two yards out and all of a sudden the underdog Rovers had a 17-14 lead, and Kane's magical unbeaten season looked lost.
Following the kickoff after the Latuska touchdown, Kane needed to go 79 yards in just 75 seconds with no time outs to win the game.
Seventy-five seconds ended up being more than enough time for the Wolves. In fact, it was way too much time.
Kane needed just four plays and 25 seconds to snatch victory from the jaws of defeat.
On first down, Shane Rolick scrambled for three yards to the 24.
On second down, he found his older twin brother Tyler streaking down the near sideline for a 51-yard pass to the Brockway 25-yard line.
From the 25, Shane threw an incomplete pass setting up a second down, and this time he found Tyler again with 47.2 seconds left to put Kane back ahead, 21-17, which ended up the final score.
Top 20 Sports Stories in District 9 for the 2015-16 School Year
No. 20 – Punxsutawney wins 13th straight District 9 Class AAA Baseball Title
No. 19 – Clarion's Run to the PIAA Softball Playoffs
No. 18 – Elk County Catholic Boys' Basketball Back on Top
No. 17 – Keystone Girls' Basketball Wins Improbable District 9 Title
No. 16 – Kane Basketball Goes from 3 Wins to D9 Champs
No. 15 – DuBois Central Catholic Baseball Unseats the Champions
No. 14 – Karns City Girls' Soccer Advances to PIAA Semifinals
No. 13 – Keystone's Amber Hess finishes second at PIAA Girl' Golf Championships
No. 12 – Karns City football goes on old-school drive to beat Bedford in Class AA sub-regional playoff game
No. 11 – DuBois Central Catholic Softball reaches PIAA Class A semifinals
No. 10 – Thrush and Kimmel Claim PIAA Track & Field Gold
No. 9 – Ortz and Young give Jefferson County Two State Wrestling Champions
No. 8 – Clearfield Basketball Tops Obama Academy Plays State Runner-up Mars Tough to Cap Great Season
No. 7 – The Rolick Leap
No. 6 – Moniteau's run to the PIAA Class AA title game
No. 5 – Clarion Volleyball Rallies from Down Two and Down 12-6 in Fifth Set to Keep D9 Title Streak Alive
No. 4 – Union pulls epic upset of Clarion-Limestone in D9 Boys' Hoops Playoffs
No. 3 – Kane Football Defends Title With Miracle Ending
No. 2 – Released July 21
No. 1 – Released July 22