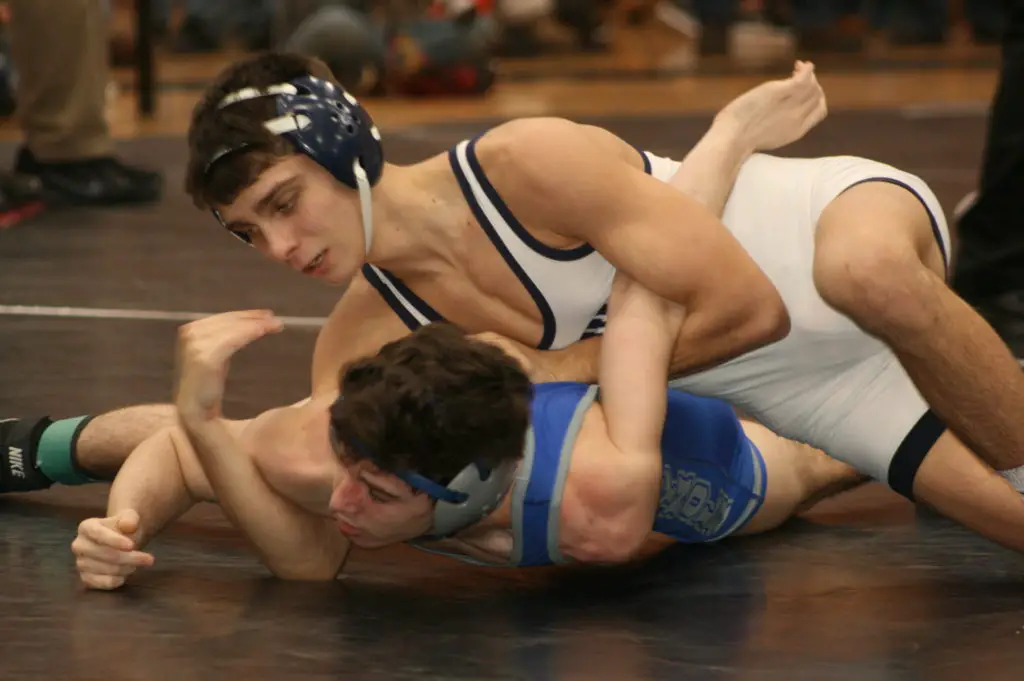 Between June 27 and July 24 D9Sports.com will be counting down the Top 20 stories in District 9 from the 2016-17 school year starting with No. 20 June 27 and finishing with No. 1 July 24.
No. 2: Brookville's Gavin Park Wins PIAA Wrestling Title
The legacy of Brookville wrestling is well known, and in 2017 120-pounder Gavin Park added to that legacy won he won the Raiders second PIAA state title in as many years in Class 2A.
Park added his name to the list of Brookville state champions when he became the sixth Raider to win a PIAA title doing so by beating Benton's Cole Rhone, 4-3.
Trailing 3-2 in the second period, Park got an escape to tie it at 3, and then Rhone conceded an escape early in the third period which ended up costing him when Park didn't give him a chance to score any more points.
Park, who was seventh in 2016, started his PIAA gold run with back-to-back pins first downing Isaiah Bryner of Newport in 1:03 then pinning Cole Hauck of Line Mountain in 1:12. In the semifinals, Park defeated Colin Pasone of E.L. Meyers, 10-9.
Also the District 9 and Northwest Regional Champion, Park, who finished the season 43-3, helped Brookville to the District 9 dual-meet and team titles as well as a fourth-place PIAA 2A team dual-meet finish.
Top 20 Sports Stories in District 9 for the 2016-17 School Year
No. 20 – Three District 9 girls' place in the javelin at the PIAA Championships
No. 19 – Brockway Girls and Port Allegany Boys Claim First-Ever D9 Soccer Titles
No. 18 – Ridgway Boys' Basketball Marches to PIAA Elite Eight
No. 17 – Ridgway Claims D9 1A Football Title
No. 16 – Kane Football Wins Third Straight D9 Title
No. 15 – Elk County Catholic Boys' Cross Country Takes Second at PIAA Championships
No. 14 – Moniteau Softball Wins 4th Straight Title but Stunned in PIAA Playoffs
No. 13 – The Big Four Inside Junior Girls Dominate D9 Basketball
No. 12 – Punxsutawney's Streak of 13 Straight D9 Baseball Titles Ended by Clearfield
No. 11 – Karns City Girls' Soccer Dominance
No. 10 – Oswayo Valley Baseball Becomes District 9 Powerhouse
No. 9 – ECC Hoops Goes Back-to-Back Unbeaten Regular Seasons for First Time in School History
No. 8 – North Clarion Girls' Basketball Team Wins First D9 Title Advances to PIAA Quarterfinals
No. 7 – DCC Softball Wins Third D9 Title in Four Years Moves onto PIAA Semifinals for 2nd Straight Year
No. 6 – Coudersport Volleyball Comes Oh So Close to PIAA Championship Match
No. 5 – Three legendary District 9 Coaches Hit Coaching Milestones
No. 4 – Young Brookville Baseball Team Makes Dream Run to PIAA Semifinals
No. 3 – Clarion Baseball's Run to PIAA 1A Title Game
No. 2 – Brookville's Gavin Park Wins PIAA Wrestling Title
No. 1 – Released July 24