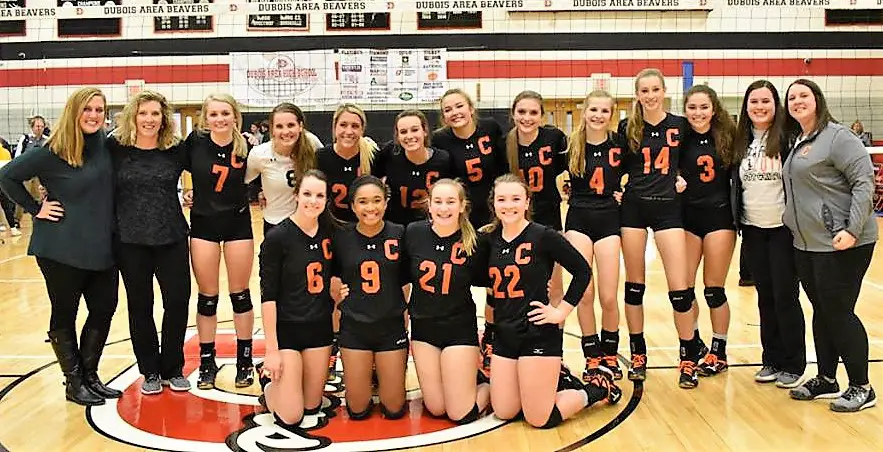 Between June 26 and July 30, D9Sports.com Sports Editor Chris Rossetti will be counting down his Top 25 favorites stories in District 9 from the 2017-18 school year starting with No. 25 June 25 and finishing with No. 1 July 30. Again these are Chris' favorite stories and are open for debate.
(Photo by Jared Bakaysa of JB Graphics. See more of Bakaysa's work here)
No. 5 Clarion Volleyball: From 3rd in D9 to PIAA semifinals
When the Clarion volleyball team fell to powerhouse Otto-Eldred, 3-0, in the District 9 Class 1A semifinals, a PIAA playoff run was the farthest thing from the Lady Cats minds.
No, what they needed to worry about was putting that loss behind in finding a way to beat Coudersport in the consolation match just to reach the PIAA playoffs.
That was no easy task, especially after Clarion lost the first set, 25-27. But the Lady Cats rallied to take the next three, 25-16, 25-18 and 27-25, to advance to the PIAA playoffs.
Still, a long run wasn't really on many people's minds considering Clarion had to start the PIAA postseason against WPIAL champion, Bishop Canevin.
But in a back-and-forth match at Norwin High School, the Lady Cats pulled off a stunner knocking off the WPIAL champs in their backyards, 3-2 (25-19, 23-25, 25-18, 20-25, 15-6) thanks in part to 15 kills and 13 digs from Sydney Kiser and 11 kills each from Maya Thornton and Hailey Sintobin.
Things didn't get any easier in the second round with District 6 champion Northern Cambria awaiting Clarion.
But after dropping a 27-25 set one, the Lady Cats rolled off three straight-set victories (25-20, 25-15 and 25-16) to advance to the PIAA semifinals.
Thornton led the way with 16 kills and 14 digs, with Lexi Lauer adding 10 digs and four blocks, Alexis Constantino 18 digs and Brenna Campbell 38 set assists.
The fun run was ended in the semifinals by a powerful Maplewood team that swept Clarion to reach the title match, but it was an amazing run from third in D9 to a step from a state-title game berth.
Chris Rossetti's Top 25 Sports Stories in District 9 for the 2017-18 School Year
No. 25 – A-C Valley girls win first PIAA playoff basketball game in school history
No. 24 – Two District 9 girls finish in Top 10 at District 9 Cross Country Meet
No. 23 – Jack Krug bursts onto the scene, helps Brookville football return to the postseason
No. 22 – Brendan Zerfoss wins D9 Track MVP Award, two PIAA medals
No. 21 – Cranberry wins District 9 Class 2A softball title
No. 20 – Ridgway/Johnsonburg Co-op Flourishing
No. 19 – Coudersport shoots lights out in beating unbeaten Ridgway for boys' 2A hoops title
No. 18 – Clarion stops Kane's run of D9 football titles; Win PIAA Game
No. 17 – Beimel's dash wins D9 4A baseball title for St. Marys 1st 2000
No. 16 – Led by 4×100-relay team, Brookville boys' track & field goes back-to-back in D9
No. 15 – Brookville Wrestling Continues Dominance
No. 14 – Brookville girls' basketball goes from 6-16 to District 9 3A title and second round of PIAA playoffs
No. 13 – Record-setting players in D9 girls' basketball
No. 12 – Nick Stewart becomes District 9's all-time leading rusher
No. 11 – Lingenfelter records every out by strikeout
No. 10 – North Clarion girls' basketball perfect in D9
No. 9 – Miller, Fullem both reach 1,000 points, 1,000 rebounds during the season
No. 8 – Tori Obenrader scores 2,000 points, grabs 1,500 rebounds in her career
No. 7 – Conto's 200th win; Fahlor's wild D9 title-winning shot highlight another banner year at Karns City
No. 6 – ECC boys' cross country finished second in the state for second straight year
No. 5 – Clarion Volleyball: From 3rd in D9 to PIAA semifinals
No. 4 – Coming July 25
No. 3 – Coming July 26
No. 2 – Coming July 27
No. 1 – Coming July 30