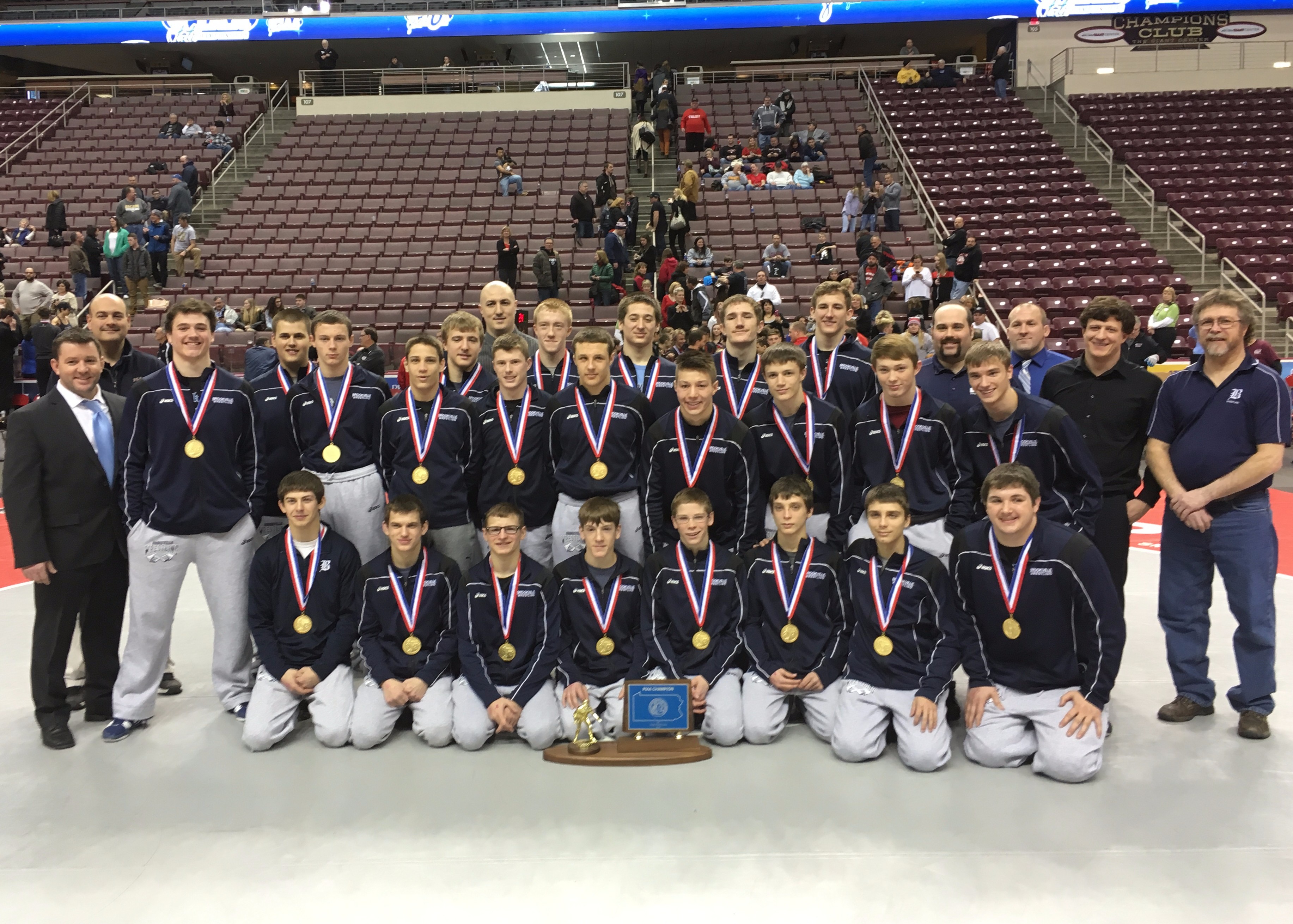 Between June 27 and July 22 we will be counting down the Top 20 Sports Stories in District 9 from the 2015-16 School Year starting with No. 20 June 27 and finishing with No. 1 July 22.
No. 2 Brookville wins PIAA Team Gold in Wrestling (Twice)
This wasn't necessarily unexpected with many seeing the Raiders as the favorites going into the PIAA dual-meet championships. But how often do we see the pressure of expectations keep a team from winning?
Not this time.
Led by pins from Gavin Park and Tate Ortz, Brookville defeated Saucon Valley, 33-24, Feb. 13 to claim the second dual-meet title in school history.
The Raiders also got a technical fall from Keelan Kunselman, a major decision from Cole Aaron and decisions from Calen Hetrick, Dane Clever, Noah Cieleski and Tyler Cook in getting the championship match victory.
The victory was also the 600th dual-meet win in school history adding a double-special to a special day.
And while beating Saucon Valley was the capper of a magnificent run, the semifinal match victory, 29-27, might have been the sweetest.
With three weight classes left to wrestle, Brookville trailed rival Reynolds, 21-20.
But Ortz pinned Ryan Harnett to put the Raiders up five, 26-21. Then Aaron, beat Set Hogue, 5-1, to clinch the victory for Brookville, which didn't need to wrestle the final bout.
Brookville also went on to win a second team title at the individual championships, but that one isn't quite as special as winning the dual-meet title.
Top 20 Sports Stories in District 9 for the 2015-16 School Year
No. 20 – Punxsutawney wins 13th straight District 9 Class AAA Baseball Title
No. 19 – Clarion's Run to the PIAA Softball Playoffs
No. 18 – Elk County Catholic Boys' Basketball Back on Top
No. 17 – Keystone Girls' Basketball Wins Improbable District 9 Title
No. 16 – Kane Basketball Goes from 3 Wins to D9 Champs
No. 15 – DuBois Central Catholic Baseball Unseats the Champions
No. 14 – Karns City Girls' Soccer Advances to PIAA Semifinals
No. 13 – Keystone's Amber Hess finishes second at PIAA Girl' Golf Championships
No. 12 – Karns City football goes on old-school drive to beat Bedford in Class AA sub-regional playoff game
No. 11 – DuBois Central Catholic Softball reaches PIAA Class A semifinals
No. 10 – Thrush and Kimmel Claim PIAA Track & Field Gold
No. 9 – Ortz and Young give Jefferson County Two State Wrestling Champions
No. 8 – Clearfield Basketball Tops Obama Academy Plays State Runner-up Mars Tough to Cap Great Season
No. 7 – The Rolick Leap
No. 6 – Moniteau's run to the PIAA Class AA title game
No. 5 – Clarion Volleyball Rallies from Down Two and Down 12-6 in Fifth Set to Keep D9 Title Streak Alive
No. 4 – Union pulls epic upset of Clarion-Limestone in D9 Boys' Hoops Playoffs
No. 3 – Kane Football Defends Title With Miracle Ending
No. 2 – Brookville wins PIAA Team Gold in Wrestling (Twice)
No. 1 – Released July 22