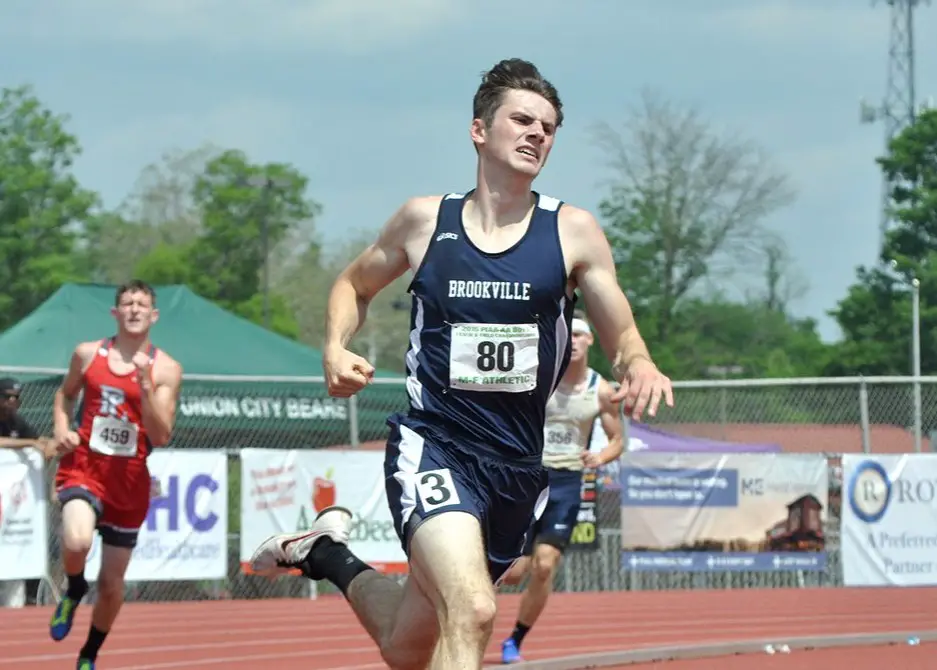 Between June 27 and July 24 D9Sports.com will be counting down the Top 20 stories in District 9 from the 2016-17 school year starting with No. 20 June 27 and finishing with No. 1 July 24.
No. 1: Brookville's Ryan Thrush Defends PIAA Title in 400
Win one state title in any sports and it's a special moment.
Do it twice, two years in a row, in an individual sport where it's you vs. the rest of the state, that's history-making stuff.
That's exactly what Brookville 400-meter runner Ryan Thrush did in late May at the PIAA Class 2A Track & Field Championships.
A week after leading the Raiders to the District 9 title, Thrush defended his 400 title at the state meet when he edged out Hill-Freedman's Armonte Paulk 48.18 seconds to 48.56 seconds at Shippensburg's Seth Grove Stadium.
A year ago, Thrush topped Javon McIntyre of Columbia by 14/100th of a second to become the first Brookville boys' track and field athlete to win a PIAA title running a championship time of 48.71 seconds.
Thrush also helped Brookville to the District 9 Class 2A team championship scoring 38 of the Raiders 105 ½ points while winning the James Manners Award as the boys' MVP.
He scored 28 points in individual races winning the 400 in a time of 50.03 and the 800-meter run in a time of 2:00.81 while finishing second in the 200-meter dash in a PIAA-qualifying time of 22.73. He also anchored the 4×400-meter relay team that won the D9 title in a time of 3:28.09 and also included John Frank, John Matheny and Ian Thrush.
Top 20 Sports Stories in District 9 for the 2016-17 School Year
No. 20 – Three District 9 girls' place in the javelin at the PIAA Championships
No. 19 – Brockway Girls and Port Allegany Boys Claim First-Ever D9 Soccer Titles
No. 18 – Ridgway Boys' Basketball Marches to PIAA Elite Eight
No. 17 – Ridgway Claims D9 1A Football Title
No. 16 – Kane Football Wins Third Straight D9 Title
No. 15 – Elk County Catholic Boys' Cross Country Takes Second at PIAA Championships
No. 14 – Moniteau Softball Wins 4th Straight Title but Stunned in PIAA Playoffs
No. 13 – The Big Four Inside Junior Girls Dominate D9 Basketball
No. 12 – Punxsutawney's Streak of 13 Straight D9 Baseball Titles Ended by Clearfield
No. 11 – Karns City Girls' Soccer Dominance
No. 10 – Oswayo Valley Baseball Becomes District 9 Powerhouse
No. 9 – ECC Hoops Goes Back-to-Back Unbeaten Regular Seasons for First Time in School History
No. 8 – North Clarion Girls' Basketball Team Wins First D9 Title Advances to PIAA Quarterfinals
No. 7 – DCC Softball Wins Third D9 Title in Four Years Moves onto PIAA Semifinals for 2nd Straight Year
No. 6 – Coudersport Volleyball Comes Oh So Close to PIAA Championship Match
No. 5 – Three legendary District 9 Coaches Hit Coaching Milestones
No. 4 – Young Brookville Baseball Team Makes Dream Run to PIAA Semifinals
No. 3 – Clarion Baseball's Run to PIAA 1A Title Game
No. 2 – Brookville's Gavin Park Wins PIAA Wrestling Title
No. 1 – Brookville's Ryan Thrush Defends PIAA Title in 400