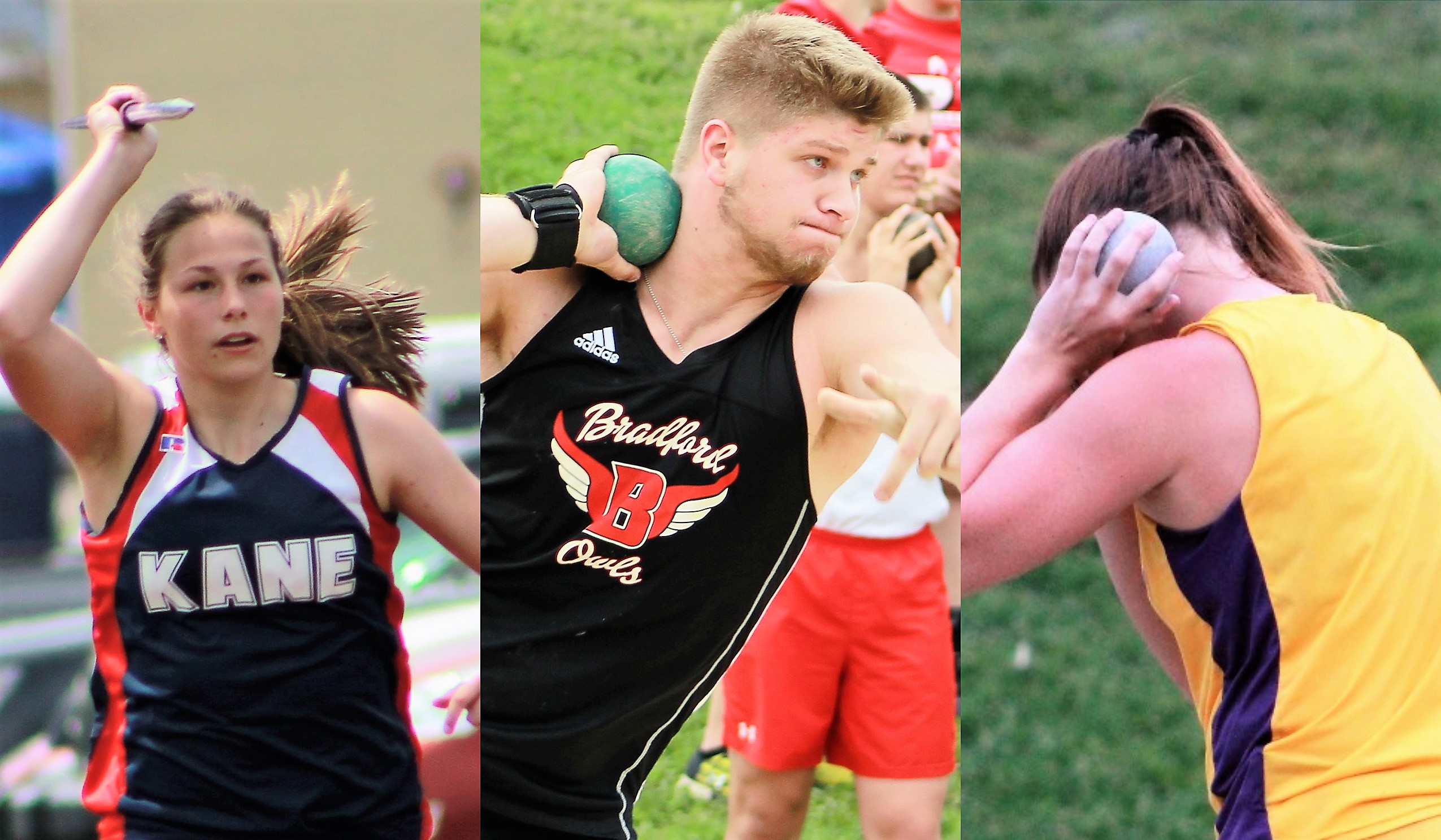 Between June 26 and July 30, D9Sports.com Sports Editor Chris Rossetti will be counting down his Top 25 favorites stories in District 9 from the 2017-18 school year starting with No. 25 June 25 and finishing with No. 1 July 30. Again these are Chris' favorite stories and are open for debate.
(Photo from left Trinity Clark, John Eakin and Tori Obernader. Photos by Jared Bakaysa of JB Graphics. See more of Bakaysa's work here)
No. 2 Clark, Eakin, Obenrader win PIAA Track & Field titles
The 2018 PIAA Track & Field Championships turned out to be a special one for District 9 throwers with three of them claiming PIAA titles in Shippensburg.
On the girls' side, Kane's Trinity Clark and North Clarion's Tori Obenrader both won Class 2A crowns, while on the boys' side, Bradford's John Eakin took home a Class 3A championship.
Clark, who had a high school career to remember as a 1,000-point, 1,000-rebound performer for the Lady Wolves (she finished her career in hoops as the all-time leading scorer) while also helping Kane to a District 9 volleyball title, capped her career by taking home PIAA gold in the javelin with a throw of 146-feet, 9-inches. That toss bested Johnsonburg's Skylar Sherry by six-feet, seven-inches to win the PIAA crown. Moniteau's Cambria Campbell was third. Clark also went on to finish sixth in the shot put.
Obenrader, North Clarion's own fantastic multiple-sport athlete who had over 2,000 points and 1,500 rebounds in hoops, capped her terrific high school career by taking home the PIAA shot put title on her final throw of the event. In third place going into her final throw of the competition, Obenrader heaved the shot put 45-feet, 5 ¾-inches to win the title by an entire inch over Greenwood's Mallory Kaufman. With Clark's sixth-place finish coupled with Punxsutawney's Sam Dyson taking third, it was a second throwing event that saw three D9 athletes medal.
Eakin, a standout football player as well, was one of the favorites going into the PIAA 3A shot put championship, and he didn't disappoint. A throw of 58-feet, 10 ¾-inches helped Eakin claim the title by over a foot against Somerset's Nickolas Hyde, who threw 57-7 ¾ to take second place.
Chris Rossetti's Top 25 Sports Stories in District 9 for the 2017-18 School Year
No. 25 – A-C Valley girls win first PIAA playoff basketball game in school history
No. 24 – Two District 9 girls finish in Top 10 at District 9 Cross Country Meet
No. 23 – Jack Krug bursts onto the scene, helps Brookville football return to the postseason
No. 22 – Brendan Zerfoss wins D9 Track MVP Award, two PIAA medals
No. 21 – Cranberry wins District 9 Class 2A softball title
No. 20 – Ridgway/Johnsonburg Co-op Flourishing
No. 19 – Coudersport shoots lights out in beating unbeaten Ridgway for boys' 2A hoops title
No. 18 – Clarion stops Kane's run of D9 football titles; Win PIAA Game
No. 17 – Beimel's dash wins D9 4A baseball title for St. Marys 1st 2000
No. 16 – Led by 4×100-relay team, Brookville boys' track & field goes back-to-back in D9
No. 15 – Brookville Wrestling Continues Dominance
No. 14 – Brookville girls' basketball goes from 6-16 to District 9 3A title and second round of PIAA playoffs
No. 13 – Record-setting players in D9 girls' basketball
No. 12 – Nick Stewart becomes District 9's all-time leading rusher
No. 11 – Lingenfelter records every out by strikeout
No. 10 – North Clarion girls' basketball perfect in D9
No. 9 – Miller, Fullem both reach 1,000 points, 1,000 rebounds during the season
No. 8 – Tori Obenrader scores 2,000 points, grabs 1,500 rebounds in her career
No. 7 – Conto's 200th win; Fahlor's wild D9 title-winning shot highlight another banner year at Karns City
No. 6 – ECC boys' cross country finished second in the state for second straight year
No. 5 – Clarion Volleyball: From 3rd in D9 to PIAA semifinals
No. 4 – Brockway boys' soccer makes a rare run to PIAA semifinals
No. 3 – Clearfield's McGonigal wins PIAA 3A wrestling title; D9 has 2 runners-up
No. 2 – Three D9 athletes come home as PIAA Track & Field champions
No. 1 – Coming July 30