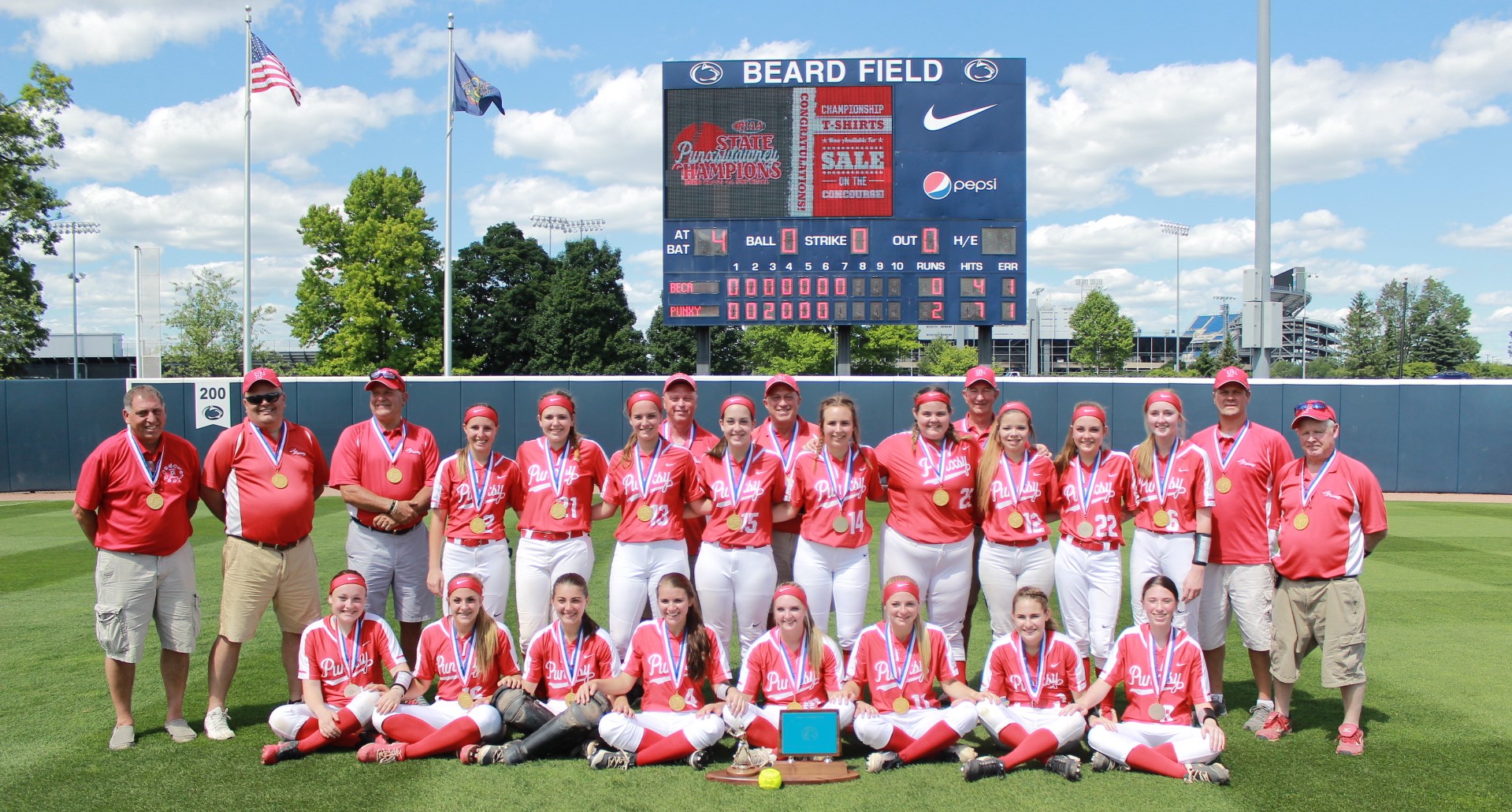 Between June 26 and July 30, D9Sports.com Sports Editor Chris Rossetti will be counting down his Top 25 favorites stories in District 9 from the 2017-18 school year starting with No. 25 June 25 and finishing with No. 1 July 30. Again these are Chris' favorite stories and are open for debate.
(Photo by Jared Bakaysa of JB Graphics. See more of Bakaysa's work here)
1. Punxsutawney softball wins Class 4A PIAA title
Heading into 2018, Punxsutawney softball was thought to be an interesting case study.
The Lady Chucks obviously had one of the best pitchers in the commonwealth in senior Kylee Lingenfelter, who had committed to Penn State as only a sophomore and had helped Punxsutawney to three straight District 9 titles (two in 3A and one in 4A).
But at the same time, Punxsutawney had struggled to get any traction at all going in the PIAA playoffs running into WPIAL teams in the first round and going home after one round. The Lady Chucks hadn't been out of the PIAA first round since 2009.
Add that to the fact Punxsy had to replace six starters from the 2017 team, and while a D9 title looked like a strong possibility, a PIAA title was only a dream.
But then something happened, the young players blossomed and all of a sudden Punxsutawney had an offense to match Lingenfelter's pitching prowess.
An 8-0 win over WPIAL runner-up Elizabeth Forward in the opening round of the PIAA playoffs – Holly Hartman hit a home run and drove in five – gave the Lady Chucks the confidence that 2018 was going to be different.
When Punxsutawney followed up the win over EF with an 8-0 victory over West Perry, things seemed like they might be falling into place.
But it wasn't going to be easy.
Awaiting the Lady Chucks in the semifinals was defending PIAA Class 4A champion Mt. Pleasant, who had knocked off archrival Belle Vernon, who were led by another Penn State pitching recruit, to reach the semifinals
On a cold, wet day at St. Francis University the two heavyweight teams found themselves in a zero-zero battle with two outs in the bottom of the third inning when Lingenfelter played hero with the bat breaking the scoreless tie with an 0-2 home run. Freshman Sarah Weaver followed with another home run to make it 2-0 Punxsutawney, and all of a sudden things started to look real.
When Punxsutawney went up 3-0, you almost got the feeling the game was over with Lingenfelter in the circle. And while the senior gave up the only run she allowed all postseason in the sixth, she was able to close out the 3-1 win in the seventh sending the Lady Chucks to the PIAA title game for the first time since 2006.
In the championship contest, Punxsutawney met District 11 champion Bethlehem Catholic.
The Hawks entered the game hitting over .400 in the postseason, but Lingenfelter silenced their bats limiting Beth Catholic to just four hits – three couldn't have broken glass – while recording 15 strikeouts.
And again, Lingenfelter brought her bat to play with her RBI double scoring freshman Riley Presloid with the game's first run before she scored on a single by sophomore Madison Stonbracker.
Lingenfelter then worked around a two-on, no-out jam in the top of the seventh striking out the final hitter she faced on three pitches to bring Punxsutawney its first-ever PIAA title in softball.
Chris Rossetti's Top 25 Sports Stories in District 9 for the 2017-18 School Year
No. 25 – A-C Valley girls win first PIAA playoff basketball game in school history
No. 24 – Two District 9 girls finish in Top 10 at District 9 Cross Country Meet
No. 23 – Jack Krug bursts onto the scene, helps Brookville football return to the postseason
No. 22 – Brendan Zerfoss wins D9 Track MVP Award, two PIAA medals
No. 21 – Cranberry wins District 9 Class 2A softball title
No. 20 – Ridgway/Johnsonburg Co-op Flourishing
No. 19 – Coudersport shoots lights out in beating unbeaten Ridgway for boys' 2A hoops title
No. 18 – Clarion stops Kane's run of D9 football titles; Win PIAA Game
No. 17 – Beimel's dash wins D9 4A baseball title for St. Marys 1st 2000
No. 16 – Led by 4×100-relay team, Brookville boys' track & field goes back-to-back in D9
No. 15 – Brookville Wrestling Continues Dominance
No. 14 – Brookville girls' basketball goes from 6-16 to District 9 3A title and second round of PIAA playoffs
No. 13 – Record-setting players in D9 girls' basketball
No. 12 – Nick Stewart becomes District 9's all-time leading rusher
No. 11 – Lingenfelter records every out by strikeout
No. 10 – North Clarion girls' basketball perfect in D9
No. 9 – Miller, Fullem both reach 1,000 points, 1,000 rebounds during the season
No. 8 – Tori Obenrader scores 2,000 points, grabs 1,500 rebounds in her career
No. 7 – Conto's 200th win; Fahlor's wild D9 title-winning shot highlight another banner year at Karns City
No. 6 – ECC boys' cross country finished second in the state for second straight year
No. 5 – Clarion Volleyball: From 3rd in D9 to PIAA semifinals
No. 4 – Brockway boys' soccer makes a rare run to PIAA semifinals
No. 3 – Clearfield's McGonigal wins PIAA 3A wrestling title; D9 has 2 runners-up
No. 2 – Three D9 athletes come home as PIAA Track & Field champions
No. 1 – Punxsutawney softball wins Class 4A PIAA title